Together as a community, we will take direct action on behalf of people around the world who have been denied their basic human rights.
About this event
One letter can change a mind. A hundred letters can save a life. This winter, join in the world's largest writing event.
Take action at Write for Rights Sacramento-Area! We will provide materials to write, email or post messages to advocate for human rights defenders around the world who have been harmed or jailed.
This in-person event is designed for maximum safety. Our space will be ventilated with outside air, writing areas will be distanced and masks are required.
Friday December 10th (International Human Rights Day!) Drop in between 3:30 - 6:30 PM
Location: the Sierra 2 Center Garden Room. 2791 24th Street (where 24th Street meets 3rd Avenue in Curtis Park).
At Write for Rights 2021, we will affirm the right of everyone to have a life of basic human rights and dignity.
Listen to music, sip hot cocoa or cider while you write. Raffles will be awarded every 30 minutes.
All materials, samples and instructions will be provided.
You can bring your favorite pen and/or a laptop computer.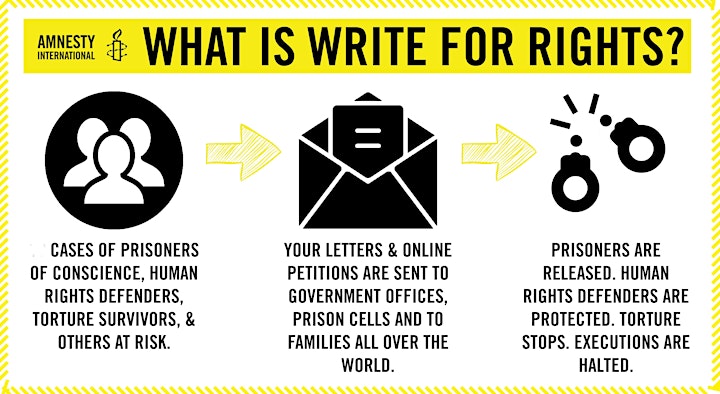 Read some success stories here from past years.
Contact us for more information at: amnestysacramento@gmail.com