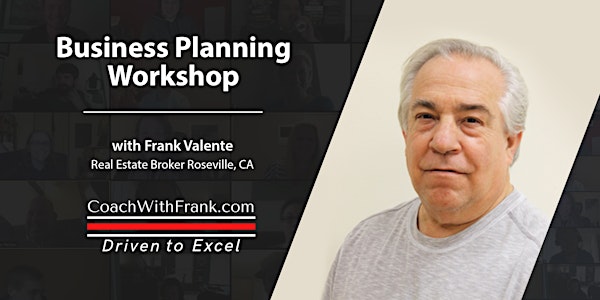 Sacramento Real Estate Business Planning Workshop
Join me to write a simple real estate agent business plan so you know exactly what to do to earn a consistent income selling real estate.
When and where
Location
Finance of America Mortgage Office 2281 Lava Ridge Court Suit 210 Roseville, CA 95661
About this event
Are you a licensed real estate agent in California who wants to sell more homes?
I remember when I started in the business in 2003. It seems everywhere we go now there's another coach, trainer, Facebook group, seminar, or "idea" to help us sell more real estate. I can't even imagine how to make sense of all this noise now newer agents receive.
In the past 18 years, I've successfully sold over 600 homes right here in the Sacramento region. Best of all, it does not take up all my time. I work decently predictable hours and I know where my next listing or buyer is coming from thanks to a few solid marketing systems I put in place that leave room for a healthy profit.
It's been a long road trying to figure all this out. The ups and downs of inconsistent commission income would keep up at 3am. I stayed up late watching YouTube videos, reading every book, and ultimately tried to piece together a "plan" to find someone who wants to sell their home, and then get it sold – all while keeping money for myself after paying endless expenses to do it.
You're invited to 100% educational workshop I'm holding with a simple promise – to help you write a clear business plan so you leave knowing exactly what to do to sell more homes.
You'll learn how I run my business so you can model it. I think I've cracked the code to earn a stable income in this business, and if you would spend 3 hours with me, I would like to share what I know to help you, too. I have 18 years of insight so I know what really works.
Here's the agenda for our time together:
--- 15min Introductions ---
1. My Story (15min) – I figure it's a good idea you hear a little bit about my background and why I got into this business. You'll learn how I was in the Navy before getting into real estate. I'll explain the struggle I went through during the transition into a 100% commission direct sales business we call real estate. I think you'll learn a lot and you'll be able to relate to know I've been where you are now. After we all get to know each other and a bit about myself, we'll get right to the material. The material is strong.
2. How to Generate Leads (30min) – You'll learn exactly what we do to generate buyer and seller leads. You'll learn we reach out to homeowners to ask them if they want to sell their home and how we attract potential buyers to call us. You'll learn the scripts we use, how we get our phone numbers, and you'll see examples of Facebook ads and direct mail campaign we run. You'll get a copy you can use for yourself in the workbook, including my vendors.
3. How to Convert Leads to Appointments (30min) – You'll learn the CRM we use and how it's all set up to manage all our leads. You'll learn how we respond to people, what we say, and our plan to nurture all our contacts so when they are ready to buy or sell real estate – they call us. There is a very specific strategy to get someone to respond to you without being a pest. You'll learn exactly how that's done with video email, phone calls, texting and more.
----15min Break----
4. How to Win the Listing Presentation (30min) – You'll learn how we win our listing appointments. You'll see my "secret" pre-listing packet every seller gets before we arrive. You'll also see all the materials we share with the seller to show them exactly how we'll market their home. I'll cover how we handle the difficult questions seller's ask and you'll even practice with me in a mock listing presentation, too. You'll leave with a copy of my listing presentation you can tweak for yourself.
5. How to Market and Sell the Home (30min)– You'll learn how we actually sell the home (this is important!). I'll go over how we get our MLS descriptions written, pictures taken, trackable phone numbers set up, handle buyer feedback from showings, and more. This is what we get paid to do as real estate agents, and I have a great system to share with you on how to provide really great service to your clients. We have some really nifty tech tools that make this easy, and I'm excited to share those with you as well.
6. How to Get Referrals and Reviews (30min) – Now that the home is sold, it's really important you get a review and make sure there's a plan to stay in touch. Most of the business we get as real estate agents over the long term will come from referrals and repeat business. You'll learn the plan we have in place to make sure we continue communication with our clients after the sale, including how we ask for a review so they actually get written.
---15 Min Q&A ---
You'll get a recording of the workshop, too. I'll have it recorded. You'll also get a notebook when you arrive so you have one place to write everything down. There's a handout with examples from the presentation you can take home with you to put into your business, too.
To be clear, there zero intention to "recruit" you in this class. I would love for the opportunity to work with you, but I'm sure we'll do business together someday here in the Sacramento region. This is a great way for us to get to know each other and I just want to do this because I enjoy it.
So, if you're interested in learning how I do business so you can apply it too, come join me!
I'll have a seat for you with your name on it when you arrive. I'll do everything I can to make sure you're comfortable and you get all your questions answered so you have a clear business plan to sell more homes.