SACRAMENTO FREE DACA RENEWAL WORKSHOP
Description
State funding to cover the DACA renewal fee is running out!
Come out to our DACA renewal workshop and be guided through completing the forms step-by-step by our licensed attorneys and accredited representatives. They will make sure you're eligible to re-file, review your application forms, and mail your submission, all for completely free. The best news? Because of a grant, for income-eligible individuals, we can even cover your $495 renewal application fee!
There's no reason not to file!
NOTE: We will be serving clients whose current DACA will expire between now and April 2020 and who do not have a criminal history. If you have a criminal history, please call us for a separate appointment.
Documents you must bring to your appointment to be served:
- Two (2) passport photos
- Employment Authorization Document (EAD) Card/Work Permit
- Proof of income or school enrollment
- Previous travel documents, if any
- Your most recently issued passport
Additional documents to bring to your appointment:
- Previously submitted DACA applications
- Social Security card
- California State ID, if any
- Any other immigration documents (Past I-797C receipt or Approval Notices, etc)
- Marriage certificate, if name has legally changed due to marriage

How is this workshop different than your past renewal workshops?
In order to more efficiently meet the needs of the community and help as many DACA-holders renew as possible, we are moving away from an individual appointment model. All attendees will be instructed by an attorney in a classroom setting on how to complete their own forms, following the presenting attorney's instructions step-by-step. Each application will be reviewed for completeness by legal staff before it is submitted, and World Relief Sacramento's attorney will be the attorney of record on your case. If there are any additional questions, contact wrs-ils@wr.org.

How to tell if you are eligible for the $495 renewal application fee to be covered by our office (any one of the following three possibilities qualifies you):

You receive a means-tested benefit (Medi-Cal, CalFresh, etc.)
You are a full-time student
Your household income is at or less than 250% of the Federal Poverty Guidelines (To assess, use the chart below. For example, if you are married and have a child, your household size is three and your combined household income would have to be $51,050 or less to have your application fee covered.)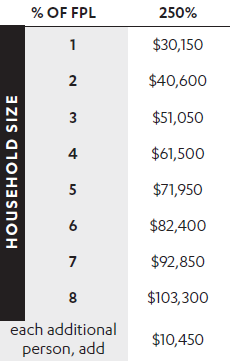 If you have any questions, don't hesitate to call us at (916) 640-2624 or email us at wrs-ils@wr.org.