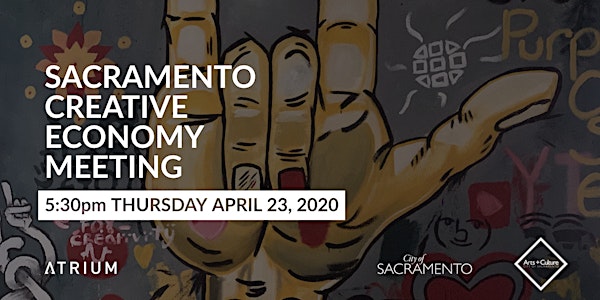 Sacramento Creative Economy Virtual Meeting - April 23
Creative Economy Meeting - The pivot, hustle and what opportunities are on the horizon.
Refund Policy
Contact the organizer to request a refund.
Eventbrite's fee is nonrefundable.
About this event
THIS MEETING IS RECORDED AND FOUND ON ATRIUM916 WEBSITE - Sacramento Creative Economy Meeting April 23, 2020
Some of us have learned how to be uniquely scrappy during this pandemic and some of us have franticly shifted everything we know to keep something afloat - welcome to pivoting.
Companies around the world are pivoting and partnering their way into helping navigate the COVID-19 pandemic.In this meeting we are going to talk about how some creatives and have pivoted, what lessons and advice they can offer and what job opportunities are becoming available to put food on the table.
No matter what type of creative you are, your clients, fans or followers are looking for help and assurance right now. The more value you can offer right now, the more successful you'll be as we shift to a new way of living. Life will not go back to normal soon, there is going to be a new normal, and those who adapt swiftly will succeed in this new era.
We are excited to bring a number of stellar creative entrepreneurs to talk about their overnight upside downs, what is happening within our community and what opportunities are surfacing for the Creative Community.
Flyer showcases the artwork of Treble T
FREE VIDEO CONFERENCE FOR THE CREATIVE ECONOMY - Please sign up for the video conference link. Speakers: - Our final list of speakers will be updated on Tuesday April 21st.
This event is free but registration is requested so we are best prepared. Please see our resource page for daily updates and opportunities.
With kindness :)
The Atrium Team
What is the creative economy?
The creative economy has no single definition. It is an evolving concept which builds on the interplay between human creativity and ideas and intellectual property, knowledge, and technology. Essentially it is the knowledge-based economic activities upon which the 'creative industries' are based.
The creative industries – which include advertising, architecture, arts and crafts, design, fashion, film, video, photography, music, performing arts, publishing, research & development, software, computer games, electronic publishing, and TV/radio – are the lifeblood of the creative economy. They are also considered an important source of commercial and cultural value.
The creative economy is the sum of all the parts of the creative industries, including trade, labor, and production. Today, the creative industries are among the most dynamic sectors in the world economy providing new opportunities for developing countries to leapfrog into emerging high-growth areas of the world economy.