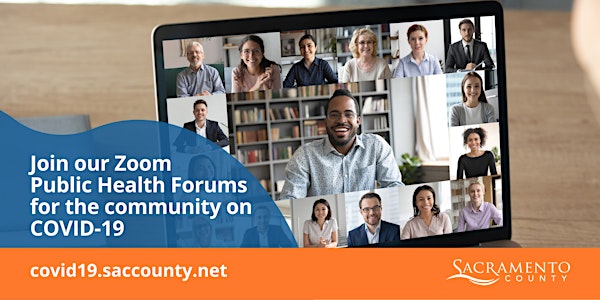 Sacramento County Public Health COVID-19 Community Forum
Online Zoom COVID-19 Public Health Forum with Sacramento County Public Health Officer, Dr. Olive Kasirye
About this event
Sacramento County is hosting a series of online Zoom Public Health Forums on COVID-19 featuring a question and answer format with Public Health Officer, Dr. Olivia Kasirye and Dr. Stuart Cohen. These forums will take place on the third Thursday of each month from 6 - 7:30 p.m.
The forum format allows the community to get updated on COVID-19 and have the opportunity to ask questions.
Advanced registration is required and pre-registered individuals will be sent a link to their eventbrite confirmation where they can access the zoom link. If you have any accessibility issues don't hesitate to email evansn@saccounty.net.