Description
The Sacramento Burger Battle is an epic one night restaurant burger cook off and charity tasting event benefiting the Crohn's and Colitis Foundation.
All proceeds raised from the event benefit the Crohn's and Colitis Foundation charity. To date our event has raised over $200,000 with the help and support of local restaurants, breweries, wineries and sponsors.
On Thursday, September 12, 2019, after an evening of burgers, beverages (beer, wine, cider, and more), desserts, live music, and fun, one local restaurant will be crowned the Best Burger in Sacramento.
The Sacramento Burger Battle was founded by 2012 by local burger blogger, Rodney Blackwell, to help raise money and awareness for the Crohn's and Colitis Foundation because his oldest daughter has been affected by Crohn's disease since she was 5 years old.
This event is for ages 21 and up.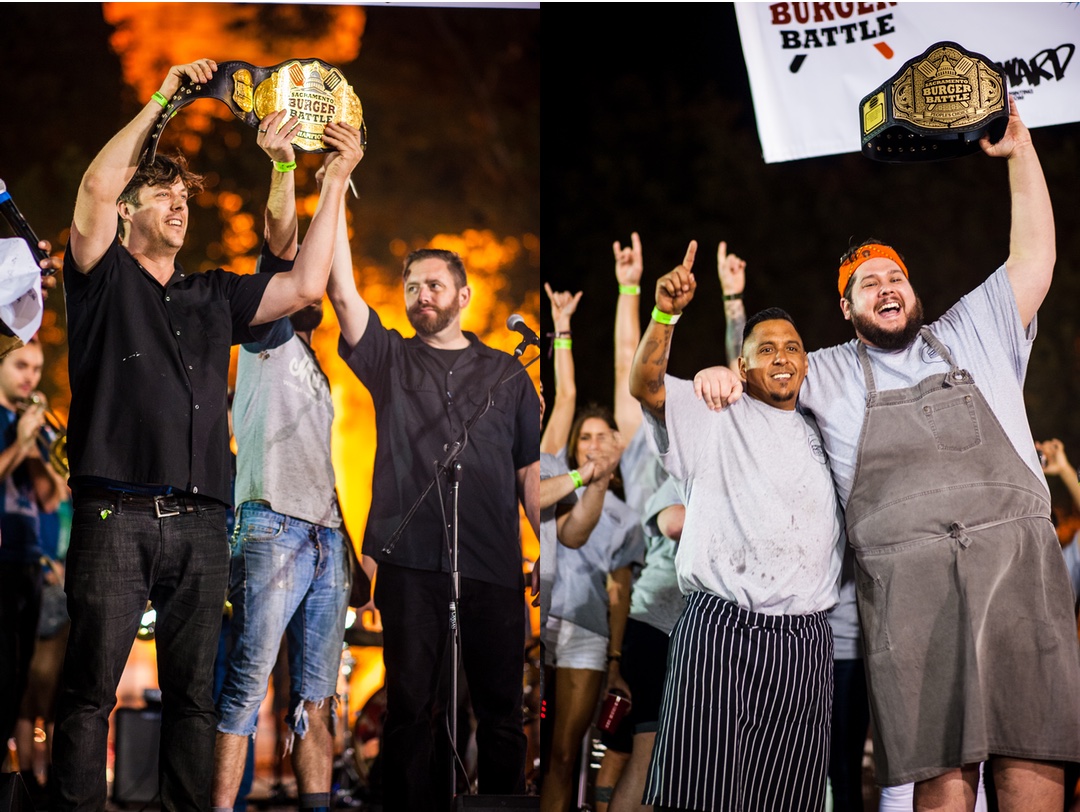 We'll have an esteemed panel of official judges and we'll also let YOU, the burger loving citizens, cast your vote for the People's Choice burger favorite.
Imagine a burger tasting event with some of the best burgers in town, great drinks, prize drawings and live music. Check out a video from our previous event here!
We want to showcase the amazing dining scene we have here in Sacramento while raising funds and awareness for a great cause!
If you are interested in being a sponsor of this event, please contact us.
Organizer of Sacramento Burger Battle 2019
The Crohn's & Colitis Foundation of is a non-profit, volunteer-driven organization dedicated to finding the cures for Crohn's Disease and ulcerative colitis. It was founded in 1967 by Irwin M. and Suzanne Rosenthal, William D. and Shelby Modell, and Henry D. Janowitz, M.D.
Since our founding over four decades ago, the Crohn's and Colitis Foundation has remained at the forefront of research in Crohn's disease and ulcerative colitis. Today, we fund cutting-edge studies at major medical institutions, nurture investigators at the early stages of their careers, and finance underdeveloped areas of research. In addition, our educational workshops and programs, along with our scientific journal, Inflammatory Bowel Diseases, enable medical professionals to keep pace with this rapidly growing field. We are very proud that the National Institutes of Health has commended us for "uniting the research community and strengthening IBD research." 
A quick overview of who we are:
Our Mission
To cure Crohn's disease and ulcerative colitis, and to improve the quality of life of children and adults affected by these diseases. Learn more about our mission.
Your Dollars at Work
The Crohn's and Colitis Foundation consistently meets standards established by the Better Business Bureau Wise Giving Alliance as well as other charity watchdog organizations. Read more about how we steward your dollars.
Our Constituents
We serve more than 300,000 patients annually through our 40 chapters as well as our national education and support programs. We have a constituent base of more than two million people. Since the Crohn's and Colitis Foundation is not a government-supported agency, we rely on the support of our members and donors to continue our work.
Our Sponsors
Our dedicated corporate sponsors and foundations provide us with significant grants, which have made many of our research, support, and education programs possible.
Global Partners
We maintain informal partnerships with a variety of Crohn's and colitis-related organizations around the world for the cooperative purposes of research and information sharing.