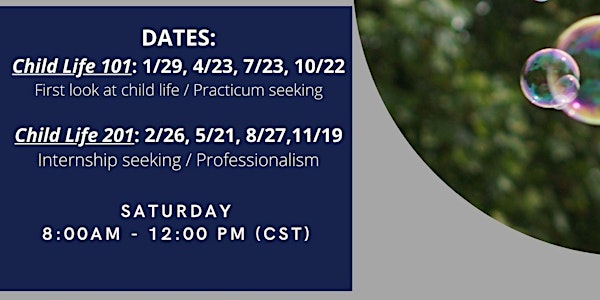 SACLP (TACLP) Regional VIRTUAL Child Life 101/201 Workshops
Get excited and join us in navigating the journey of becoming a Certified Child Life Specialist!
Refund Policy
Contact the organizer to request a refund.
About this event
Have you ever wondered what it takes to be a Certified Child Life Specialist? Our VIRTUAL Regional Child Life 101 Workshop is a way for those interested to learn about the field of child life and ask questions about the career path. The Regional Child Life Workshops will provide general knowledge of the child life profession as well as an overview into the process of becoming a Certified Child Life Specialist. A panel of Certified Child Life Specialists from across our region (Texas, Oklahoma, Louisiana, and Arkansas) will be hosting the session and will have a panel discussion at the end. This Child Life 101 Workshop will include insight into the practicum process and our 201 session will focus on the internship process and professionalism.
These VIRTUAL workshops are open to high school seniors, college students, and adults considering a possible career change. Please be mindful of which session (101 vs 201) you are wanting to attend by referencing our flyer for the possible dates for your desired session.
*These sessions are NOT recorded and students are welcome to attend both 101 and 201, but are not required to attend both workshops - please choose which sessions fit your needs best.
*Zoom links are sent via Eventbrite the week of the event AND the morning of the event. Make sure to check your spam box if you don't receive the information.