About this Event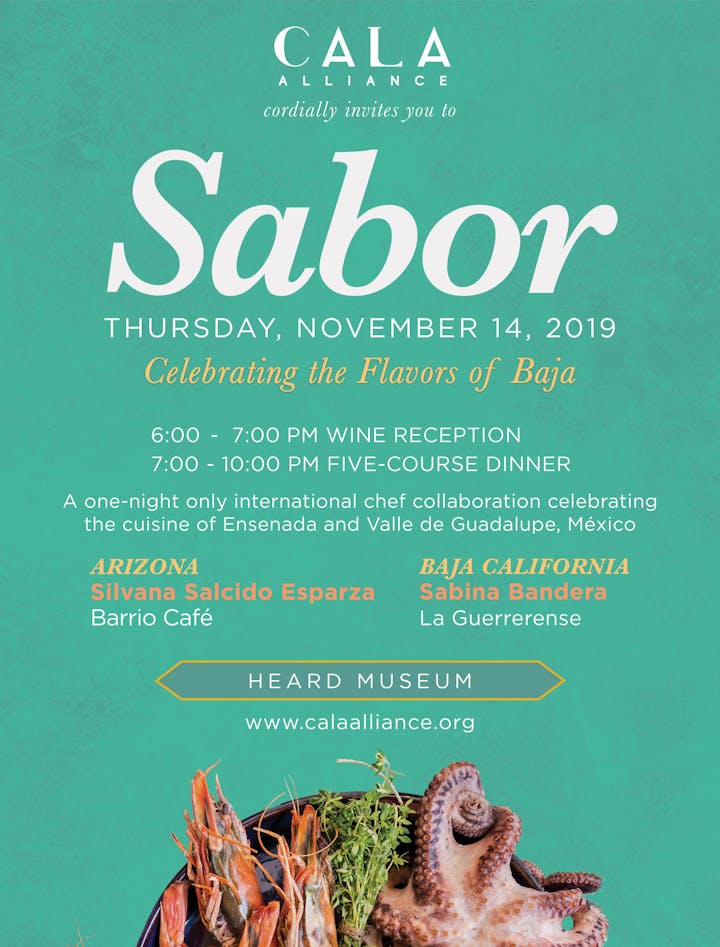 Join us for CALA's annual culinary event Sabor, celebrating the distinct and diverse cuisines of the Americas.
This year, CALA is pleased to present an international collaboration inspired by the coastal flavors and wines from Valle de Guadalupe and Ensenada, México. At the event, beloved Phoenix chef Silvana Salcido Esparza from Barrio Café, and Ensenada culinary legend Sabina Bandera from La Guerrerense will create a one-night only menu that will transport the senses to the heart of Mexico's wine country.
Sabor proceeds benefit CALA and its mission to connect Arizona, Mexico and Latin America through arts and culture. A multidisciplinary Latino arts organization based in Phoenix, CALA presents innovative public programming, artist commissions, international residencies, and cultural exchanges that reimagine Arizona's place in the Americas.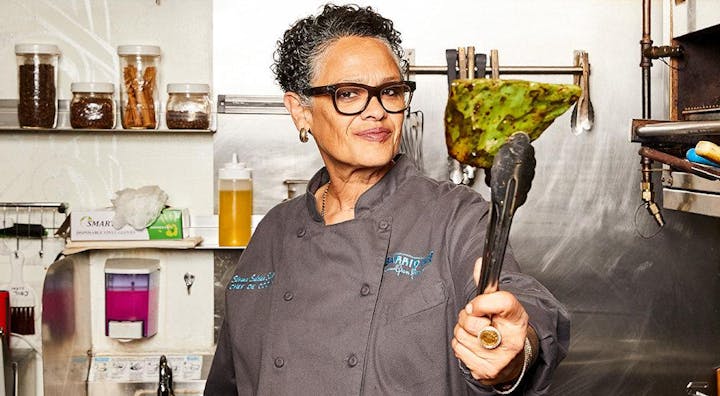 Chef Silvana Salcido Esparza has been redefining Mexican food in Phoenix since 2002, when she first opened Barrio Café on 16th Street. Her interpretations of regional Mexican favorites are recognized as some of the best Mexican cuisine in Phoenix, the Southwest, and the nation. She has been the recipient of many awards and honors, including the Arizona Culinary Hall of Fame, and several nominations for the James Beard Award. She has appeared on Food Network's Diners, Drive-Ins and Dives, and has been profiled in Phoenix Magazine, Esquire and American Way. In the summer of 2016, Chef Silvana opened the doors to Barrio Café Gran Reserva, a 27-seat restaurant where she serves a tasting menu along with a small selection of her iconic dishes. Barrio Café Gran Reserva was named one of Opentable's 100 Best Restaurants in America in 2016. In addition to her culinary contributions, Chef Silvana endeavors to make Phoenix a better place through her tireless support of Latinx and indigenous artists.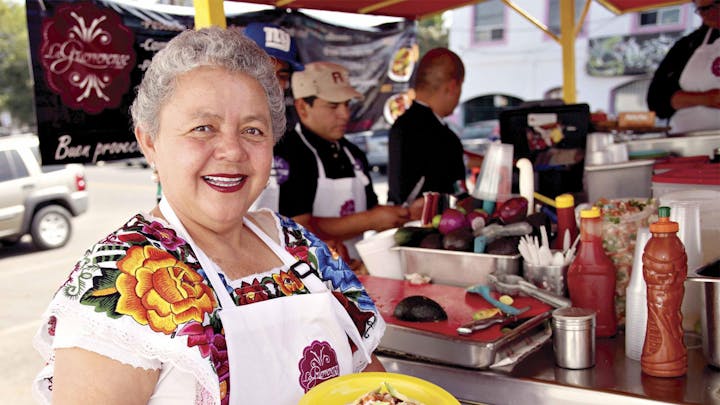 Sabina Bandera of Ensenada's La Guerrerense has been a seafood legend for over 40 years. A native of the inland state of Guerrero, Bandera first visited Ensenada in 1976—her husband's hometown—on her honeymoon, and never left. Over the years, her seafood has reached international street food celebrity status. In his show No Reservations, Anthony Bourdain called Bandera's seafood some of "the best in the world." In 2012, Newsweek named La Guerrerense among the 101 best places to eat in the world. Bandera has been featured on Rick Bayless's México: One Plate At a Time, National Geographic, the Discovery Channel, Eater, and Gourmet. One of her greatest honors was representing Mexico at the 1st Annual World Street Food Congress in Singapore, in 2013. She has also participated in MesAmerica, Mexico's most prestigious international chef conference, and in the Foro Mundial de la Gastronomía Mexicana.