Description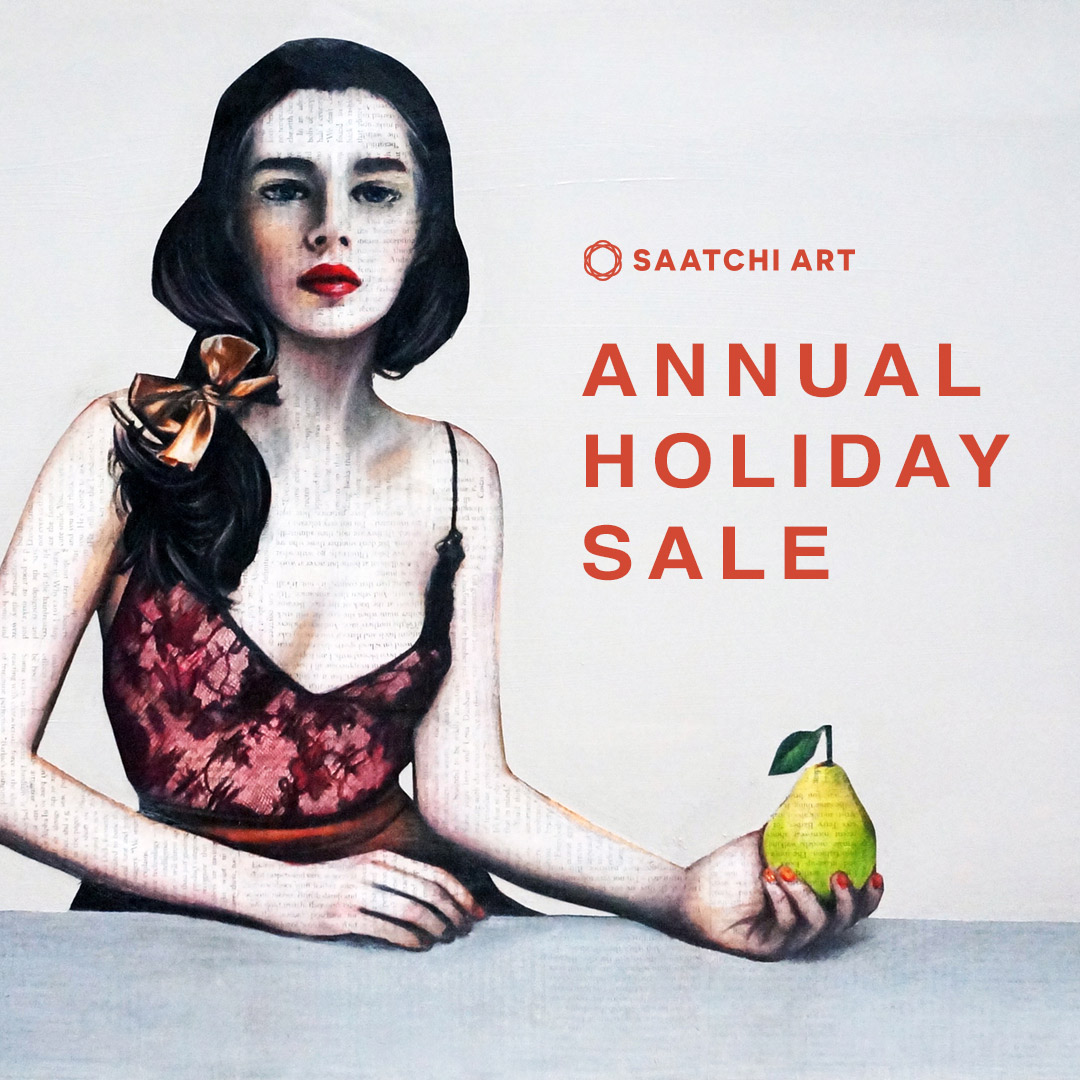 Please join
Rebecca Wilson
Chief Curator and VP of Art Advisory at Saatchi Art
for refreshments at
Get Holiday-Ready with New Works by Emerging Artists
Thursday, November 3 2016
6-7pm VIP Preview
7-9pm Opening Reception
With special guest artist Kevin Bradley and his Church of Type featuring his Limited Edition 2016 U.S. Presidential Election print series
Complimentary valet parking on site
Please RSVP by October 27th
SAATCHI ART'S ANNUAL HOLIDAY SALE is a new exhibition on view in Santa Monica and online at Saatchi Art. Curated by Saatchi Art curators Katherine Henning and Jessica McQueen, the exhibition continues our series of shows around the world.
The exhibition highlights the work of 30 emerging artists represented by Saatchi Art, the world's leading online gallery: Isabelle Alford-Lago, Amy Bernays, Clara Berta, MB. Boissonnault, Kevin Bradley, Karen Clark, Fabio Coruzzi, Charlotte Evans, Matthew Farrar, Ed Freeman, Bruce Gray, Lukas Griffin, Helena Gullstrom, Jenny Hager, Thomas Hammer, Deniz Hotamisligil, Angie Jones, Erick Laubach, Koen Lybaert, Harry Moody, Gregory Prescott, Kelly Puissegur, Ronald Rupert Santos, Jill Sykes, Stephen Rowe, Annie Terrazzo, Robert von Bangert, Stephanie Vovas, Dean West, and Vahe Yeremyan.
In addition, artist Kevin Bradley and his Church of Type will be in attendance to present a special limited edition print series inspired by the 2016 U.S. Presidential Election—just in time for Election Day. All prints are signed and numbered by the artist.
The exhibition is on view from November 3 through January 30, 2016 at Saatchi Art, located at 1655 26th Street, Santa Monica, CA. Gallery hours: Monday through Friday 10am-5pm and Saturday by appointment. Please email to schedule a visit during gallery hours. Gallery contact: curator@saatchiart.com.
All works will be on sale at the exhibition and online at Saatchi Art. #SaatchiArtHoliday
Artwork detail: Annie Terrazzo, "The Girl and The Pear"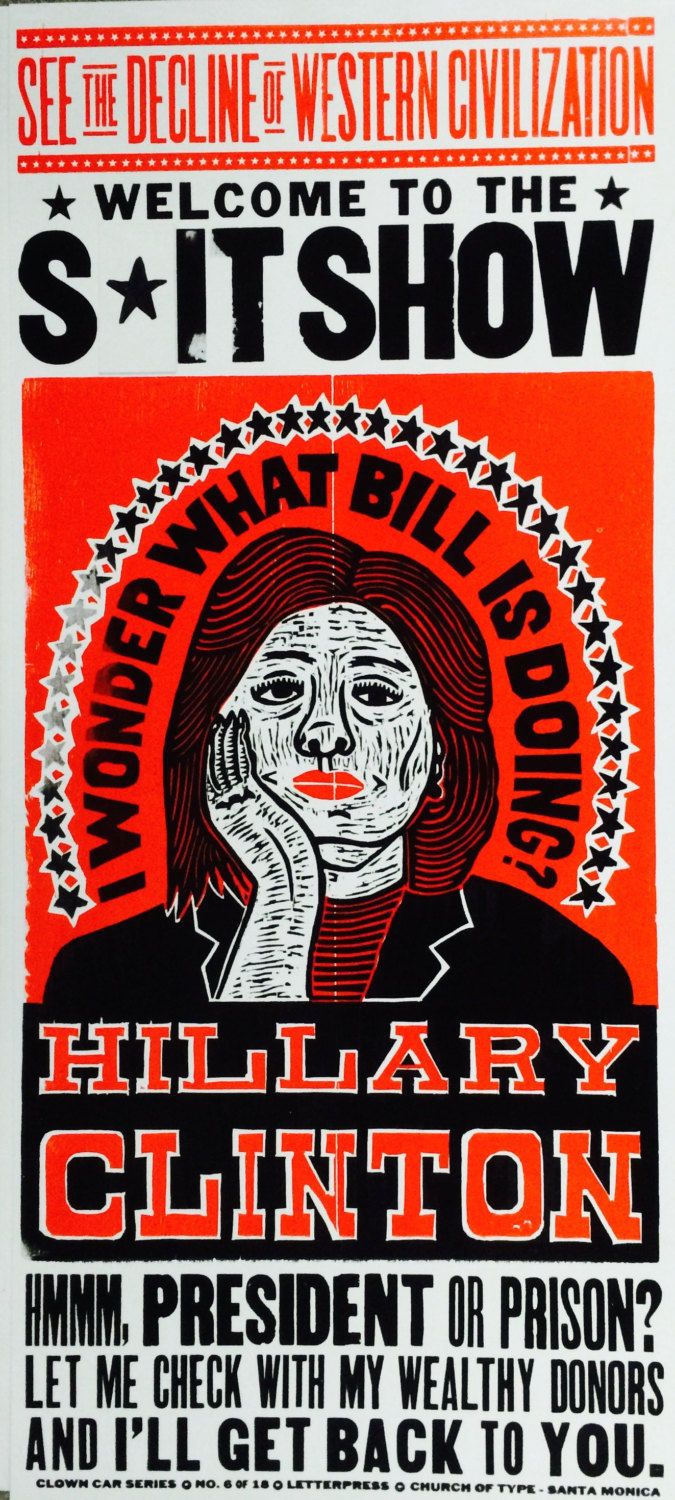 "Hillary" from The Clown Car Series by Kevin Bradley and His Church of Type.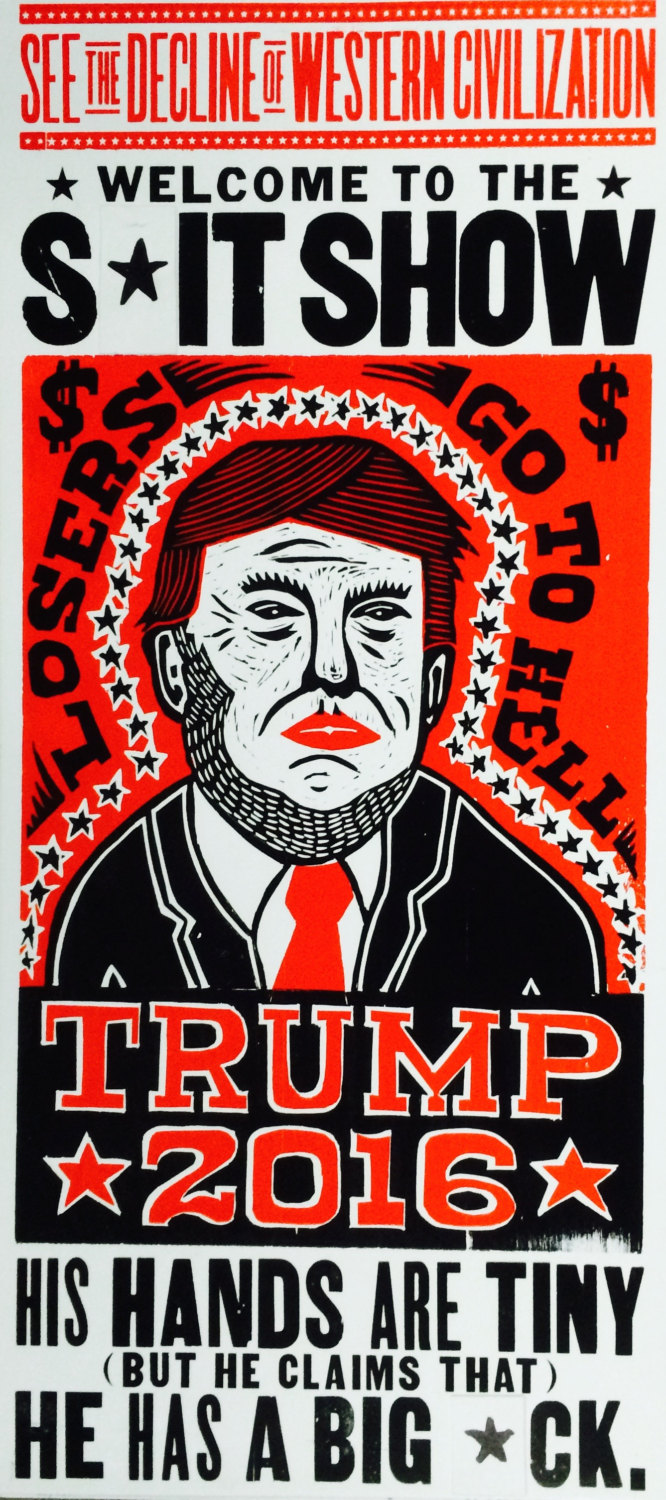 "Trump" from The Clown Car Series by Kevin Bradley and His Church of Type.