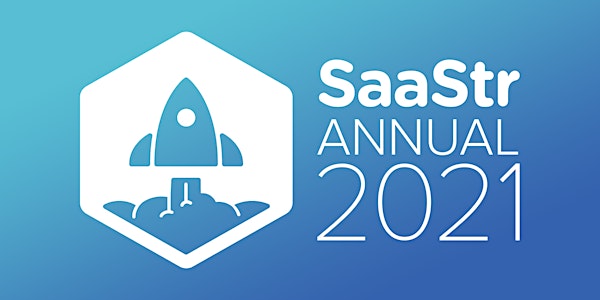 SaaStr Annual 2021
WHERE THE CLOUD MEETS. 50,000+ SaaS executives, founders, and VCs come together both in-person and digitally for SaaStr Annual 2021.
When and where
Location
San Mateo County Event Center 2495 S Delaware St. San Mateo, CA 94403
About this event
WHERE THE CLOUD MEETS
Setting a SaaStr record! 50,000+ SaaS executives, founders, and VCs come together both in-person and digitally for SaaStr Annual 2021, the largest non-vendor SaaS event on the planet:
3 full days with 100+ sessions from the best-of-the-best on how to scale faster
350+ VCs
150+ speakers from the best SaaS companies across the world
1000+ Networking meetings, AMAs, mentoring sessions, 1-on-1s
100+ of the best sponsors in the world
Get ready for specific, SaaStr-style actionable advice and learnings to help grow your business from $0 to $100M ARR. No commercials, no paid content, no boring panels. Every session is hand-screened and vetted to help you learn.
SaaStr is all about our community. We provide endless opportunities to share and learn with peers from every role, function, industry, company size, and beyond.
You have never experienced an event quite like this. It's all here to help you, and your team, scale. If you are a B2B founder, exec or investor, SaaStr 2021 is a must-attend event!
You'll walk away from the Annual empowered with everything you need to know to scale faster:
√ Get the playbook from the best founders, execs and investors in SaaS
√ Hear from 300+ speakers and immerse yourself in more than 40+ hours of content
√ Grab a notebook (or two) and brace yourself for information overload as founders and execs of the most successful SaaS companies candidly share their playbooks, learnings and expertise
√  No 'commercials.' No pitches. No fluff.
HEALTH & SAFETY GUIDELINES:
SaaStr is committed to hosting a safe gathering for our community in 2021. Please ensure you read through all of our SaaStr Annual 2021 Health & Safety guidelines.
Registration Rates and Discount:
It is your responsibility to confirm the price displayed at checkout is the price you expect and agree to pay prior to completing the purchase. Upon submission of a complete registration form, the purchase and rate paid are final. We are unable to adjust, return, or refund previously purchased tickets for any reason, except as provided in our 24-Hour Worry-Free Guarantee below.
SaaStr may offer a discount code as part of a limited-time sale. That code may only be applied towards the designated type of individual or group registration, and the value will not transfer to another type of individual or group registration if you upgrade later. SaaStr honors only one discount code per ticket per Event. Discount codes cannot be applied retroactively.
Cancellations/Refund Policy: 24-Hour Worry-Free Guarantee
We understand that life happens, so for purchases made more than 30 days prior to the Event, you may cancel your purchase for a full refund within 24 hours after purchase, minus a ticket processing fee. Purchases made within 30 days of the Event are non-refundable. We will not provide refunds under any other circumstances, including if you need to cancel due to illness or for any other reasons outside your control.
To cancel your registration and receive your refund within 24 hours, if eligible, please notify us in writing at annual@saastrinc.com. If you qualify for a refund, the amount refunded will be based on the actual fees paid for the registration(s) canceled and will be returned to your original payment method within ninety (90) days. 
BOUGHT A TICKET TO ANNUAL 2020?
Check your email for information from us on how to attend SaaStr Annual 2021. If you can't find it, reach out to annual@saastrinc.com.