SaaStr Annual 2016: From Impossible to Inevitable

Tuesday, February 9, 2016 at 8:00 AM

-

Thursday, February 11, 2016 at 5:00 PM (PST)
Event Details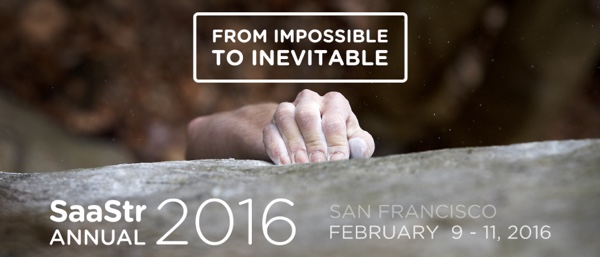 Get Ready for More.
We're Taking it to the Next Level.
We've got a lofty goal here at SaaStr: to be the largest non-vendor confab in the world by uniting the global SaaS community both online and off. We want to help everyone do better, more quickly and with less stress. The SaaStr Annual is your opportunity to join your peers in SaaS - 5K SaaS founders, execs and investors - to learn from the best in the business, to avoid the big mistakes, to strengthen your ties, to do better - so we can all achieve The Impossible.
SaaStr is hosting SaaStr Annual 2016: From Impossible to Inevitable, where 5,000 attendees will come together over three action-packed days of high-quality networking, learning from those who've done it, and of course, great food, generously-poured drinks, and plenty of fun.
Visit www.saastrannual.com for the full agenda and speakers.
All of the 2015 sessions are available here.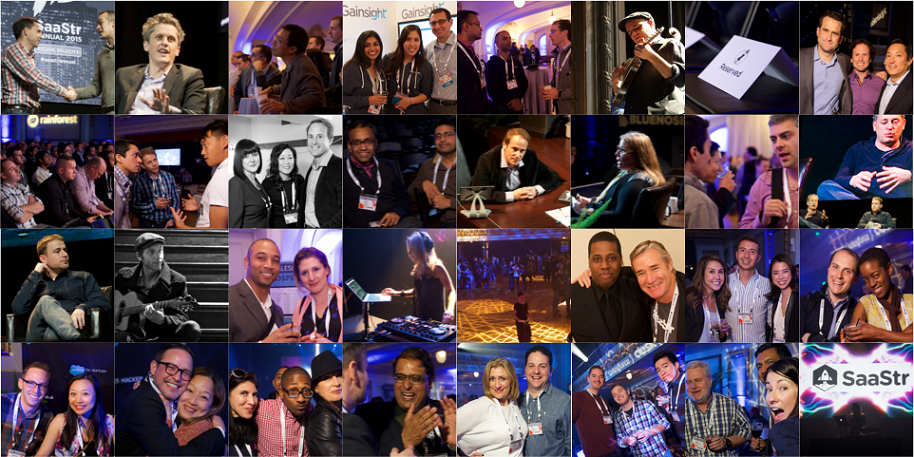 ---
Details
---
Date

     

February 9-11, 2016

Agenda


 

Tuesday, February 9th

7:30 AM- Doors Open for Registration Check-In

9:00 AM- How have we done? Where are we going? Why are we here?

9:20 AM- Inside Story Behind a $5B IPO

10:00 AM- New Relic: Scaling Even Faster the Second Time

10:30 AM- Break

11:00 AM- Hiring that Great (First) VP of Sales

11:45 AM- Lunch

1:00 PM- CXO Talk Live

1:30 PM- Building a World-Class Sales Organization

2:15 PM- Customer Success and Expansion

3:00 PM- Break

3:30 PM- From Day 0 to IPO: What Went to Plan, What Most Certainly Didn't

4:00 PM- The Journey to a Unicorn - And How We're Doing It Even Better This Time

6:30PM- Sponsor Parties around San Francisco

Wednesday, February 10th

8:00 AM- Doors Open for Registration Check-In

9:00 AM- Bubble? What Bubble? How It's Different This Time. And How It Most Certainly Isn't

9:15 AM- What's Happening in the Markets: The Real Data

10:00 AM- The Insider's Guide to Becoming a Pre-nicorn

10:30 AM- Break

11:00 AM- The Real Story Behind Mergers, Acquisitions & Corporate VC

11:30 AM- Big Arse Companies: Why They Buy from Startups - The Real Stories

12:00 PM- Lunch

1:30 PM- Benchmarking Your Startup

2:00 PM- 15 Ways SaaS Startups Scale

2:30 PM- 10 Laws of Building a Unicorn

3:00 PM- Break  

3:30 PM- Building a Killer Company in a Nonobvious Market

4:15 PM- Building - And Monetizing - A Partner Ecosystem

6:00 PM- Epic After Party @ 1015 Folsom (Must be 21 or up!)

Thursday, February 11th

8:00 AM- Doors Open for Registration Check-In

9:00 AM- What Makes A Great SaaS CEO? 

9:30 AM- Winning, IPO'ing, and Going Upmarket

10:00 AM- Scaling from 30-1,500 in SaaS: Lessons From the Frontlines

10:30 AM- Break

11:00 AM- Running the Box Playbook: Even Better The Second Time

11:45 AM- Building Amazing Teams

12:15 PM- Academy of Villains

12:20 PM- Lunch

1:30 PM- How to Break Out and Really Scale

2:45 PM- Break

3:00 PM- PR Playbook: The Real Truth. How to Get It. What It Means

3:40 PM- "When Last We Met ..."

There's also a whole second track of sessions! To check those out and see more details from the above agenda visit saastrannual.com/agenda.  

 

 

 

Location

 

Masonic Center, San Francisco, CA

 

 

 

Policies

 

Refunds:

We know that things come up. SaaStr Annual upholds a 30-day refund policy from the date the ticket was purchased. Please note, no refunds can be issued within 21 days, January 19, of the event date, February 9.

Discounts:

To apply a discount code to your order, choose your desired ticket type and quantity first. After doing that, click 'Enter Promotion Code' above 'Order Now'. When the text box appears, enter your code and click 'Apply'. Finally, click 'Order Now'. Please note, SaaStr honors one discount code per ticket and that we are unable to (re)apply additional discount codes to previously purchased tickets.

Ticket Transfers:

If you're unable to make it,  you can transfer your ticket. To do so, email saastrannual@reinventingevents.com with the new attendee's name, email, title, company, and phone number. Please note, tickets can only be transferred to another ticket holder until February 2, 7 days prior to the event.

 

 

 

Want to Sponsor?

 

Visit www.saastrannual.com for more details or email sponsors@saastrinc.com


 

 

 

Press Opportunities?

 

Email hello@saastrinc.com
In partnership with
When & Where

Nob Hill Masonic Center
1111 California Street
San Francisco, CA 94108


Tuesday, February 9, 2016 at 8:00 AM

-

Thursday, February 11, 2016 at 5:00 PM (PST)
Add to my calendar