Description
We're running an Online Hiring Event on September 29th, 2018, to hire SaaSOps Architects ($60K/yr)
Online Hiring Events are live forums designed to enable you to understand the role and requirements through an interactive Q&A session followed by a self-directed testing process. The testing takes between 3-5 hours to complete. It's worth taking the time to finish all the tests because we evaluate every single complete application to find the top talent.
This event will include all testing required to apply for the role. Upon grading the tests, and if you advance, we will set up an interview with the hiring manager.
You can see more details about this role here:
https://www.crossover.com/cloud-software-architect?utm_campaign=Sep29event
---
The SaaSOps Architect is responsible for providing seasoned and experienced support to both internal and external clients for resolving incidents and service requests. You adhere to internal processes for incident and service request resolution and change management through proper execution and documentation.
We are seeking for hands-on professionals who are comfortable reverse-engineering legacy products with manual build/deploy processes, ancient dependencies, fragile architecture, weak security and lack of scalability and performance.
You leverage your technical depth as a former engineer and architect to set high service standards for SaaSOps excellence. This position is 100% remote.
Expectations
Deep dive on all outages and perform root cause analysis to improve the uptime.

Leveraging the change management process.

Drive continuous product improvement.
Candidate Requirements:
Bachelor's degree in Computer Science, MIS, or related fields
5+ years experience in systems administration support of web-enabled service application environments and technologies
1+ year experience in SaaS Ops / Tech Ops / Infrastructure Ops / DevOps
1+ year experience using infrastructure monitoring tools
Experience building and maintaining production systems on AWS using EC2, RDS, S3, ELB, Cloud Formation, etc. and familiarity interacting with the AWS APIs or strong VMWare / Azure experience
Strong experience administering Linux (Centos, RHEL, Ubuntu) systems
Knowledge of web application technology, including IIS, Tomcat, Apache, elasticsearch, nginx, haproxy etc
Good network and file system skills
Experience with monitoring tools
Experience with application performance assessment and improvement
Relative autonomy to pick up new skills
Demonstrated success as a problem solver, result-oriented, self-starter
Comfortable "working virtually" with teammates and customers around the world. We do a lot of Skype and video conferencing
Good proficiency in the English language

Nice to have:

• SHAREPOINT experience
• Experience with Docker
• Experience with Kubernetes
• Databases experience: MySQL, MSSQL, Oracle, PostgreSQL
• Scripting experience
BOOTCAMP PROGRAM

To be considered for this position you are required to take part in a mandatory training series and tests included in our 4-week Bootcamp program.

After grading your tests, you will be eligible to take the Bootcamp which is usually held within a week of obtaining your test results. You will be paid the full-time rate for 40 hours per week for four weeks.

Once the Bootcamp tests are complete, we will be able to evaluate you for the position correctly. Bootcamp is a very tough training program, and only an average of 50% of attendees can finish it. Taking the Bootcamp doesn't guarantee that you will be hired, but it is a requirement as part of the hiring process.
Register by clicking the green button. The Webinar address and test platform link will be sent to confirmed candidates by email.
Join our community of remote professionals!
We have over 4,000 Crossover team members and are growing our network around the world. Watch this video to hear from team members in Brazil, Russia, Poland, Argentina, Turkey, Romania, Ukraine, and Hungary. https://youtu.be/L_hhRUutsko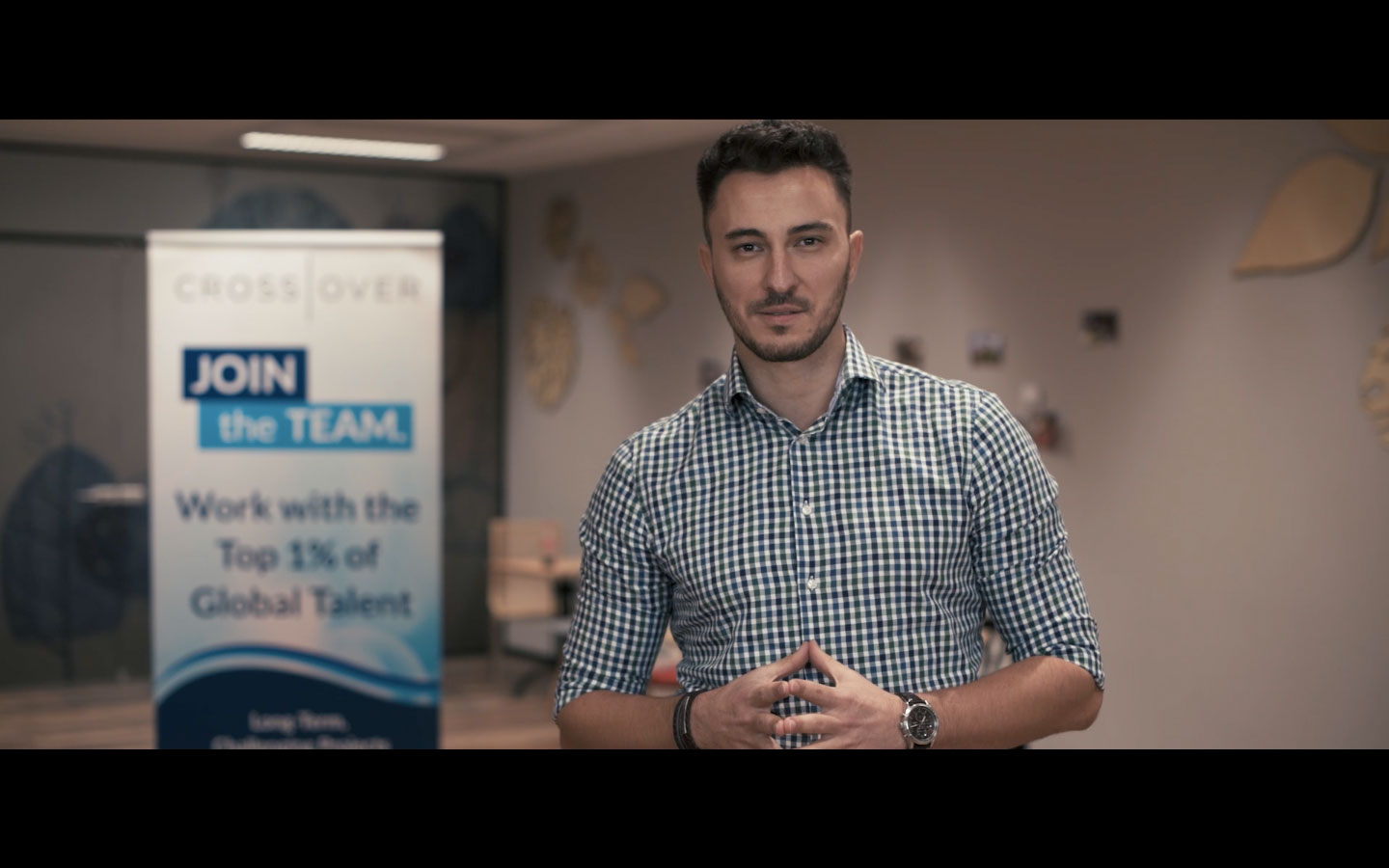 Watch our Pre-Event Checklist Video!