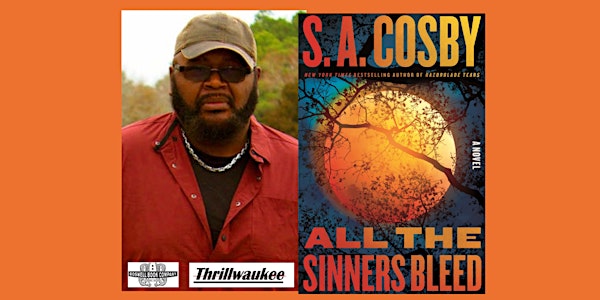 SA Cosby, author of ALL THE SINNERS BLEED - an in-person Boswell event
SA Cosby, author of ALL THE SINNERS BLEED - an in-person Boswell event
Date and time
Starts on Thursday, June 15 · 6:30pm CDT
Location
Boswell Book Company 2559 North Downer Avenue Milwaukee, WI 53211
About this event
Boswell Book Company presents an evening with SA Cosby, author of All the Sinners Bleed. In conversation with Chris Lee of Boswell.
Here is Chris Lee's take on the book: "Phew! Crime fiction kingpin SA Cosby grabs the police procedural by the throat and dunks it into the murkiest depths of the Chesapeake Bay. This book is very seriously not playing around and gets about as dark as a moonshine blackout. Cosby and his hero (the first black sheriff in a rural, Eastern Virginia county) stare straight into the heart of the South's (let's be honest, America's) worst bugaboos - race, religion, good ol' boy politics, fanaticism, and violence - the blackest parts of broken men's hearts. Yet what makes this one special are the sparks of kindness between characters that Cosby clings too – both calloused-hand country tough love and the tender care that passes between father and son – it's a reminder of what grace can be. Oh, and that voice! Cosby bends language to his will and coins more than a couple delightful new Southernisms along the way. As long as the creek don't rise and the good Lord's willing, I'll keep reading Cosby's excellent books."
Daniel Goldin adds: " Edge of your seat thrills, masterful storytelling, and what a voice – another winner from SA Cosby!" And from Rachel Copeland: "The real staying power comes from SA Cosby's voice and the undeniable truth of life in a small Southern town. If you assumed everyone in a small town knows each other, All the Sinners Bleed is here to disabuse you of that notion."
A year to the day after former FBI agent Titus Crown becomes the first Black sheriff of his small home town, a young Black man is fatally shot by Titus's deputies. Titus pledges to follow the truth wherever it leads. But no one expected he would unearth a serial killer who has been hiding in plain sight, haunting the dirt lanes and woodland clearings of Charon. Now Titus must pull off the impossible: stay true to his instincts, prevent outright panic, and investigate a shocking crime in a small town where everyone knows everyone yet secrets flourish—all while breaking up backroad bar fights and being forced to protect racist Confederate pride marchers. For a Black man wearing a police uniform in the American South, that's no easy feat. But Charon is Titus's home and his heart, and he won't let the darkness overtake it. Even as it threatens to consume him.
SA Cosby is the author of My Darkest Prayer; Razorblade Tears, which won two ITW Thriller Awards and was named to more than thirty Best of the Year lists; and Blacktop Wasteland, which won the Los Angeles Times Book Prize, and was a New York Times Notable Book named a Best Book of the Year by NPR, The Guardian, and Library Journal, among others.
Click here to order your copy of All the Sinners Bleed from Boswell. Signed copies and personalization available on pre-orders. Please note that signed copies will not be shipped until after the event.