Sales Have Ended
Registrations are closed
Thank you for registering to Sa Aming Tahanan. We are excited that you have chosen to join this unique public program. See you at the Emilio Aguinaldo Shrine!
Sales Have Ended
Registrations are closed
Thank you for registering to Sa Aming Tahanan. We are excited that you have chosen to join this unique public program. See you at the Emilio Aguinaldo Shrine!
Description
Leave that dusty, heavy, moldy history book behind. Forget (just for now) about memorizing boring names, dates and places. History is alive!
Join us for a FREE and INTERACTIVE public program: Sa Aming Tahanan.


Who was Emilio Aguinaldo before and after the 1896 Revolution? Let's travel back in time to find out. First stop, 1886 where we will meet Trinidad Famy, Emilio's mother. She's busy managing the family business. Where is her son, at ano ang pinagkaka-abalahan niya? Next stop, the year 1920. Roberto Magsilang is waiting for the General. They have important business to discuss. Let's keep Roberto compay. He is a veteran of the Revolution and has a lot of stories to share. Finally, sit in Emilio's living room. Relax as Caridad, a trusted katulong of the family relates the General's routines in 1939. What secrets does she know about the General and what is she willing to share? Ask her for yourself when you meet her!
This interactive dramedy performance - discussion will have you (re)thinking about Aguinaldo, history and the heritage sites. Tickets are limited so book now!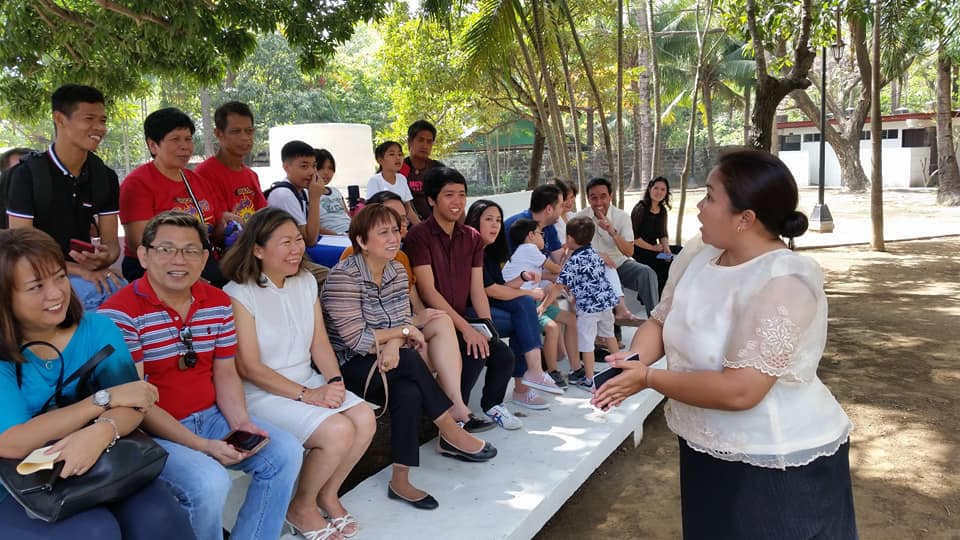 Doña Trinidad Aguinaldo y Famy (portrayed by NHCP's Lean Aldea) takes some questions from her guests.


---
FAQs
What is First Person Interpretation?
No, we will not be translating the General's speeches from Spanish to Filipino. That's a lot of work!
In heritage speak, first person interpretation is a living history technique. In first person interpretation, costumed actors - called Interpreters - portray historical characters, living in a particular moment in the past. Audience members are encouraged to converse with the actors or participate in historical reenactments done by the Interpreter.
In our program Sa Aming Tahanan, we will have Interpreters (aka actors), speak about General Emilio Aguinaldo from their point of view. Three Interpreters are "living" in the year 1886, 1920 and 1939. As an interactive activity, you will have the opportunity to ask them questions about the General, the Revolution of 1896, Kawit, or anything else that strikes your interest. You may even ask questions about the General's family life! Just remember to stay in the right time.
In a first person interpretation program, you get to have a "real conversation" with people who "know" the General.


Who should join this event?
The program is open to all but might be especially interesting to teachers, students, mga chismoso at chismosa, lovers and haters of history, theater aficionados, heritage enthusiasts, repeat and first time visitors to the Emilio Aguinaldo Shrine.
How many persons can attend the program?
The program was designed as an interactive experience. Each show is limited to 20 audience members. For group bookings of eight (8) or more persons, please email the organizer at measaamingtahanan@gmail.com.
What are show schedules?
At the moment, the program will only be avialable two Saturdays a month. We will be posting the additional dates as these become available.
What is the format of the show?
The program runs for about 1.5 hours. You will listen to monologues, have time to ask questions, and share your ideas about the show. We don't want to give too much away. It is better to experience it for yourself.
I have been to the EAS before. What makes it different from other tours?
In this facilitated program you will meet historical and fictional composite characters and they will speak of General Emilio Aguinaldo from their point of view. You will also have the opportunity to experience the home as some of its previous occupants once did.
What language will be used?
We will be time traveling. All monologues will be delivered in Tagalog, in a style we think appropriate for the time.
Is there an age requirement to join the program?
We'd love to host everyone, but the program is only open to individuals 12 years old and above.
What should I bring into the event?
Imagination, enthusiasm for learning and some good vibes will be perfect.
Can I take photos or videos during the event?
Our actors love the spotlight but are also easily distracted by cameras and camera phones. Photo and video recording of the performances are not allowed.
Do I have to bring my printed ticket to the event?
Let's save paper. Just bring a digital copy of your ticket to register.
Can I cancel my registration?
Absolutely. Sometimes plans change and we cannot attend the activities we originally set out to do. CANCEL your reservation if you will not be able to attend. This gives others the chance to join the show. We will try to schedule you for the next possible show.
Can I update my registration information?
Absolutely. As the philosophers have said "change is the only constant in life." Kindly UPDATE your reservation here on Eventbrite.com.
Is my registration ticket transferrable?
It certainly is. Pass your ticket onto someone you think will enjoy the show.
Is it ok if the name on my ticket or registration doesn't match the person who attends?
Yes. So long as they are over the age of 12.
I still have questions. How can I contact the organizer with any questions?
Emails may be sent to measaamingtahanan@gmail.com. You can also contact the Museo ni Emilio Aguinaldo at (046) 484 7643.