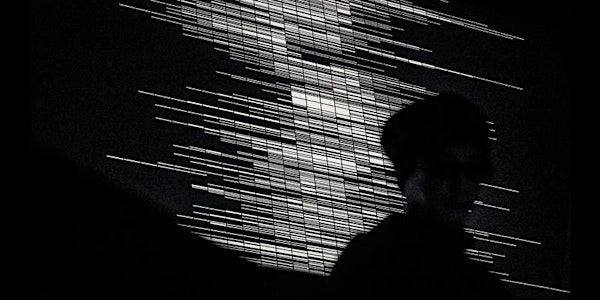 Ryoji Ikeda: supercodex [live set]
When and where
Location
Gray Area 2665 Mission Street San Francisco, CA 94110
Description
Capacity is limited | 18+ | Doors at 7:00pm | Show 8:00pm
Ryoji Ikeda: supercodex [live set], co-presented by Gray Area and Ars Citizen as part of Ars Citizen's "Ryoji Ikeda in San Francisco."

Credits:
concept, composition: Ryoji Ikeda
computer graphics, programming: Tomonaga Tokuyama
supercodex [live set] is a concert taken from the eponymous 2013 album that has been exploring the potential between 'data of sound' and 'sound of data'. Taking the shape of an audiovisual concert supercodex [live set] uses raw data and mathematical models to generate music and projections. A continuation of superposition (2012) which focuses on quantum information, the concert reworks musical concepts from this work into an immersive club show.
What at first sounds like a battle of digital noise, blips and bass drones, gradually engages the listener with elements of techno and dance music, Live, the use of stark visuals add textures of percussion making it difficult to distinguish between the senses. Ikeda uses different and continuous fragments to construct one
flux; creating a union between visual and auditory dimensions which reveals, between codes and calculations, a beating heart as well as the arithmetical and computational essence of sound
Japan's leading electronic composer and visual artist, Ryoji Ikeda focuses on the minutiae of ultrasonics, frequencies and the essential characteristics of sound itself. Fascinated by data, light and sound, he shapes music, time and space by mathematical methods and explores these phenomena as sensation, pulling apart their physical properties to reveal their relationships with human perception.
Ikeda has gained a reputation as one of the few international artists working convincingly across both visual and sonic media. Since 1995, he has been intensely active through concerts, installations, and recordings, integrating sound, acoustics and sublime imagery. He has been hailed by critics as one of the most radical and innovative contemporary composers for his live performances, sound installations and album releases.
Alongside of pure musical activity, Ikeda has been working on long-term projects through live performances, installations, books and CD's such as 'datamatics' (2006-), 'test pattern' (2008-), 'spectra' (2001-), 'cyclo.' a collaborative project with Carsten Nicolai, 'superposition' (2012-), 'supersymmetry' (2014-) and 'micro | macro' (2015-).
He performs and exhibits worldwide at spaces such as Museum of Contemporary Art Tokyo, The Metropolitan Museum New York, Singapore Art Museum, Ars Electronica Center Linz, Elektra Festival Montreal, Grec and Sonar Festivals Barcelona, Aichi Triennale Nagoya, Palazzo Grassi Venice, Park Avenue Armory New York, The Whitechapel Gallery London, The Barbican Centre and Somerset House London, Museo de Arte Bogota, Hamburger Bahnhof Berlin, DHC/Art Montreal, Festival d'Automne à Paris, Sharjah Biennale, Carriageworks Sydney, Auckland Triennale, MONA Museum Hobart – Tasmania, Ruhrtriennale, Telefonica Foundation Madrid and Kyoto Experiment Festival, ACT Centre Gwangju (Korea), Singapore Art Science Museum, Kunstverein Hannover, RuhrTriennale, Festival d'Automne and Pompidou Center , Barbican, The Vinyl Factory, among others.
In 2016 he premiered a new acoustic stage piece music for percussion in collaboration with ensemble Eklekto (Geneva) currently on tour.
In 2017, he was part of group exhibitions such as Elevation 1049: Avalanche (Gstaad, CH), Nikolaj Kunsthal (Copenhagen, DK), Centre Pompidou Metz (FR), La Villette/Festival d'Automne (Paris, FR), UCLA's Center for the Art of Performance (Los Angeles, USA). He recently presented a drone symphony, A [for 100 cars], commissioned by Red Bull Music Academy Festival Los Angeles.
His albums +/- (1996), 0°C (1998), matrix (2000), dataplex (2005), test pattern (2008) and supercodex (2013) pioneered a new minimal world of electronic music through his razor-sharp techniques and aesthetics. The Solar System (2016) a limited edition vinyl was released by The Vinyl Factory in 2016. In 2017 he released the vinyl music for percussion with a CD to come.
Ikeda is the award winner of the Prix Ars Electronica Collide@CERN 2014.