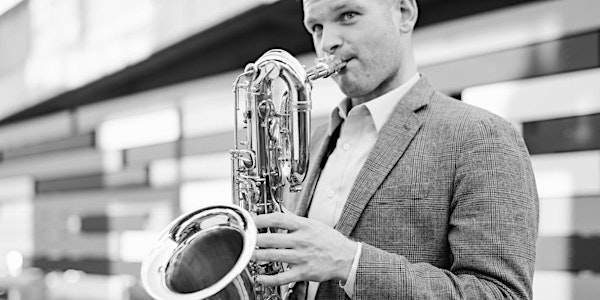 Ryan Middagh Quartet with Special Guest Jon Hamar
Ryan Middagh Quartet with Special Guest Jon Hamar
When and where
Location
Rudy's Jazz Room 809 Gleaves Street Nashville, TN 37203
About this event
Ryan Middagh is an innovative composer, arranger, saxophonist, band leader and clinician who has traveled the globe sharing his unique blend of talents and musical influences with audiences and music students. Middagh's quartet has performed at jazz festivals around the world, including tours and performances on behalf of the U.S. State Department. While at home, he is a studio musician and performs in a wide array of genres. In addition to leading his own jazz small groups, he has recently started the Ryan Middagh Jazz Orchestra, which features some of Nashville's finest musicians and acts as a vehicle for his new compositions and arrangements. His album "Live From Nashville" is the recipient of a Global Music Award, and was nominated for Best Jazz Group and Best Jazz Album in the 2020 Nashville Industry Music Awards. The Nashville Scene named Middagh "Best Jazz Educator and Advocate" in its 2020 Best of Nashville awards.
Bassist Jon Hamar is a versatile artist whose ability to find a tasteful, unique voice in any musical situation has made him a staple in the music scene. Hamar's work ethic and discipline have kept him busy over his career that spans more than twenty years. Jon has performed with Ernestine Anderson, Benny Golson, Terell Stafford, Pete Christlieb the Jeff Hamilton Trio, the Clayton Hamilton Jazz Orchestra. In 2012 Jon joined the faculty at the Centrum Jazz Workshop under Artistic Director John Clayton and in 2015 joined the faculty at the University of Tennessee.
This evening with the quartet will include a balance of new compositions from Ryan; fresh arrangements; and cherished standards from the jazz tradition. Featured in the band this evening is pianistic phenom Bruce Dudley and one of the most swinging drummers in Nashville - Marc Widenhofer.
This show is 18 and over with a $10 food and beverage minimum for anyone under 21 years of age.

This show is 18 and over with a $10 food and beverage minimum for anyone under 21 years of age. All sales are final and we unfortunately cannot offer any refunds. Additional tickets may be available at the door on the day of the show even if it is sold out online.
Please try to arrive 15 minutes prior to the show start time. If you do not arrive within 45 minutes after the show start time on your ticket your seat may be resold to other patrons at the door. If you arrive after 45 minutes from the start time of the show and your ticket has been resold, although we cannot guarantee it, we will try our best to make space for you to attend the show.