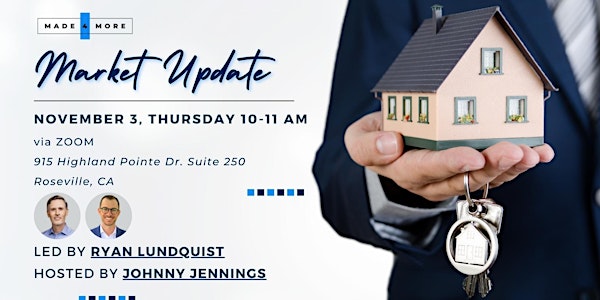 Ryan Lundquist Market Update
Ryan Lundquist Market Update
About this event
About this event
Come learn more about updates on the market!
REGISTER NOW!
November 3, 10-11 AM
via Zoom
Guest Speaker: Ryan Lundquist
Ryan Lundquist is a certified residential appraiser and housing market analyst in the Sacramento area. Ryan runs the Sacramento Appraisal Blog, which is a top-ranking appraisal blog in the United States. He has been quoted in local and national publications and has been involved with local real estate associations for more than a decade. Ryan is a member of the Real Estate Appraisers Association of Sacramento. His clients include homeowners, real estate agents, CPAs, and attorneys. In his spare time, Ryan does woodworking. He also loves to walk.
*By registering for this event you shall agree to the condition that all events come with inherent risks. By this agreement, you shall fully defend, indemnify, and hold harmless Made 4 More and its members from any and all claims, lawsuits, demands, causes of action, liability, loss, damage, and/or injury, of any kind whatsoever. By checking the box you agree to these terms and conditions.