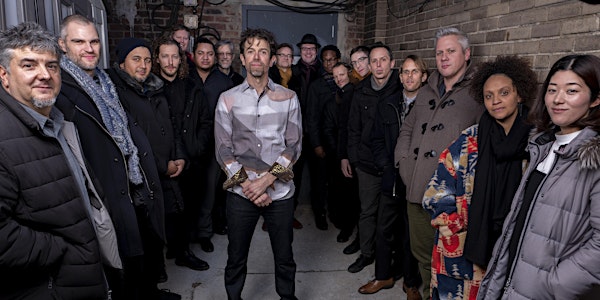 Ryan Keberle's All Ears Orchestra
Don't miss Ryan Keberle's All Ears Orchestra performing at Birdland on September 25th at 5:30pm!
When and where
Location
Birdland Jazz Club 315 W 44th St. New York, NY 10036
About this event
Acclaimed trombonist and composer Ryan Keberle formed his All Ears Orchestra as a platform for his large-ensemble writing and arranging, and as a new communal space for some of his favorite colleagues. He named the aggregation All Ears with multiple meanings in mind: "It refers to how we listen, how we work together," Keberle says, "because the greatest musicians are the greatest listeners. And listening is all about being a more empathetic human being, spreading the word on how to use our ears again when visual stimuli is the dominant force."
The group's instrumentation — five reeds, four trumpets, two trombones, French horn, tuba, piano, bass and drums plus vocals — calls forth shimmering tone colors and sonorities that evoke a heightened classical influence. And the book is steadily growing, comprising new original works as well as repertoire from earlier Keberle projects including his celebrated small group Catharsis, his brass-centric Double Quartet and his chamber jazz trio Reverso.
All Ears' members boast cumulative credits including the Maria Schneider Orchestra, Vanguard Jazz Orchestra, Darcy James Argue's Secret Society, Ryan Truesdell's Gil Evans Project and the Pedro Giraudo Jazz Orchestra. These musicians, Keberle included, are serious practitioners of the big band tradition, with impressive track records working in the idiom. "The goal," Keberle says, "is to present sophisticated, accessible music that allows the audience and the performers to engage their listening skills."
Hailed in the Downbeat Critics Poll as #1 Rising Star trombonist, Keberle writes music that integrates his wide-ranging experiences into a highly personal vernacular — immersed in jazz tradition, drawing on world music, indie rock and other influences. Since 2004 he has served as the Director of Jazz and Brass Studies at CUNY's Hunter College in Manhattan. He has worked in endlessly varied settings with musicians ranging from superstars to up-and-coming innovators, including indie singer-songwriter Sufjan Stevens, Brazilian superstar Ivan Lins and soul hit-makers Alicia Keys and Justin Timberlake as well as jazz legends Rufus Reid and Wynton Marsalis. A frequently featured soloist with the GRAMMY-winning Maria Schneider Orchestra, he collaborated with David Bowie on his 2015 single "Sue (Or in a Season of Crime)."