About this Event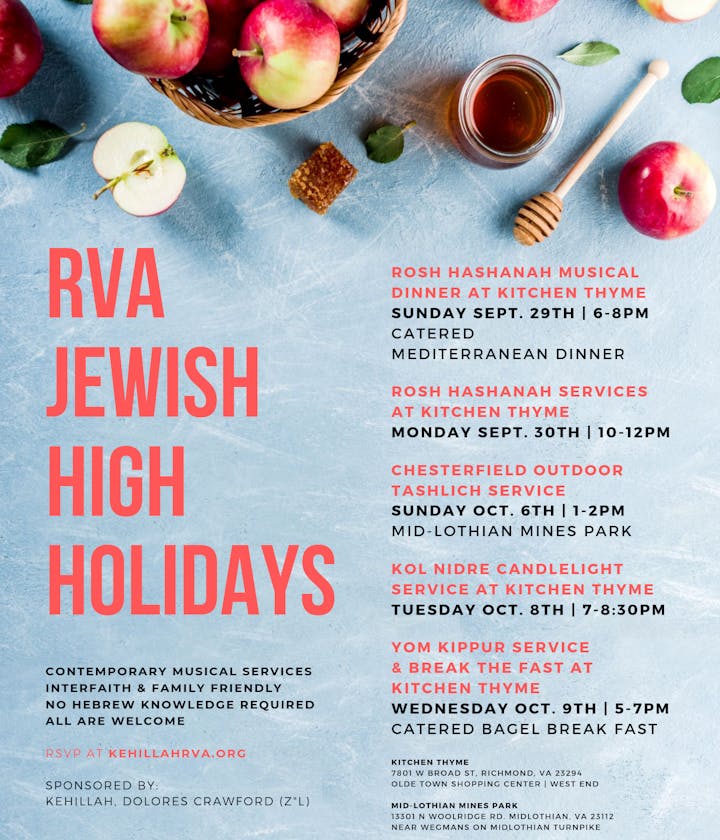 Erev Rosh Hashanah Musical Dinner | September 29th | 6-8PM
Enjoy the Rosh Hashanah songs and readings in a family-like atmosphere. Vegetarian and gluten free options.
Rosh Hashanah Day | September 30th | 10-12PM
Can't do an all-day Rosh Hashanah? Join us for abbreviated, interactive Rosh Hashanah services with religious and contemporary Jewish music, prayers, poetry, bibliodrama and more. Refreshments to follow.
Both Rosh Hashanah events held at Kitchen Thyme.
Chesterfield Outdoor Tashlich Service | October 6th | 1-2PM
Great for families with young children. Blow a shofar and cast your sins into water (and feed the ducks at the same time!)
Held at Mid-Lothian Mines Park (13301 N Woolridge Rd. Midlothian near Chesterfield Mall)
Kol Nidre Candlelight Service | October 8th | 7-8:30PM
Deep, meditative musical service with storytelling and thought provoking ideas.
Yom Kippur Service + Break Fast | October 9th | 5-7PM
Can't do Yom Kippur all day? No problem! Join us for an abbreviated Yom Kippur service combining elements from the morning and afternoon service, Yikzor (memorial) and Neilah (evening service). Interactive rituals, prayers, poetry, song and storytelling. Bagel break-fast afterward.
FREQUENTLY ASKED QUESTIONS
Can I wait to RSVP at the last minute? Or just pay when I get there?
No tickets will be available after we sell out. We'd hate for you to miss out, so please RSVP.
I can't figure out how the ticket registration works. Help!
Shoot us an email to rabbi@rabbipatrick.com and we'll gladly help you. We know, technology isn't always so fun or easy.
I don't have anyone to go with. Will I have anyone to talk to?
Want to make a friend or two before you come? Email us! We're very friendly. We promise you will not feel out of place.
Jewish events always start late. Should I make sure to arrive late so that I'm not just sitting and waiting?
No. Please arrive on time.
What are the services like?
Evenings will include Jewish prayers you may remember from your childhood played to acoustic guitar. We will also have poetry and a few reflections from Rabbi Patrick. Both events will feel Reform or Reconstructionist in style. You do not need to know Hebrew or be Jewish to enjoy either celebration. All are welcome.
What should I wear?
However you would like.