About this Event
20 € Maksu paikan päällä | 20 € payment on spot
30:lle ensimmäiselle joogamatto ja viltti paikan päällä. Muuten oma matto ja viltti mukaan
Yoga mat and quilt provided for first 30 on spot. Otherwise take your own.
Peruutusehdot: Peruuta ilmoittautumisesi vahvistussähköpostissa olevan linkin kautta, mikäli et pääsekään tulemaan.
Cancellation: Please cancel your booking through the link in the confirmation email, in case you can not make it to the event.
FIN: Sointukylpy on äänten ja äänien resonanssiin perustuva Peter Hess® syvärentoutus-metodi, jonka voit tuntea eheyttävän sekä kehoa että mieltä. Kehossamme oleva vesi kuljettaa äänen värähtelyn syvälle lihaksiin ja jopa solutasolle asti, mahdollistaen syvän rentoutumisen tilan. Istut tai lepäilet mukavasti peiton alla, alustalla lattialla ja annat erityisten äänimaljojen harmonisten sointujen huuhdella kehoasi, mieltäsi ja sieluasi. Sointukylpy kestää noin tunnin ja pitää sisällään alustuksen, äänikylvyn sekä palautumisen tähän hetkeen. Tervetuloa löytämään äänen ja hiljaisuuden kautta oman mielen sekä kehon harmonia. Osallistujilla olisi hyvä olla mukanaan makuualusta, peitto ja halutessa tyyny sekä vesipullo. Rentoutuksessa ei tarvitse itse pyrkiä luomaan minkäänlaisia mielikuvia tai ohjaamaan itse huomiotaan. Sointukylvyssä saa vain olla. Ona Kamu on Suomenlinnalainen muusikko, näyttelijä ja v 2017 valmistunut sointukylpyrentouttaja.
ENG: This relaxing experience facilitated by Ona Kamu will deeply relax you and will take you on a journey to get to know the sound-resonance-method and guide you on how to deep-relax listening to the sound of the singing bowls and harmonious sounds of gongs. You will be lying cozy under a quilt, on a mattress on the floor with your clothes on, and let the harmonious sounds rinse your body, mind and soul. The sointukylpy lasts for about an hour and includes an introduction, the Sointukylpy and finally a return to the present moment. Welcome to explore the harmony of the mind nd body through sound. Participants should bring with them a thin mattress, a quilt, a small pillow if you will, and a water bottle. In this relaxation session you don't need to do any imagining excercises or control your concentration; in this session you can just be.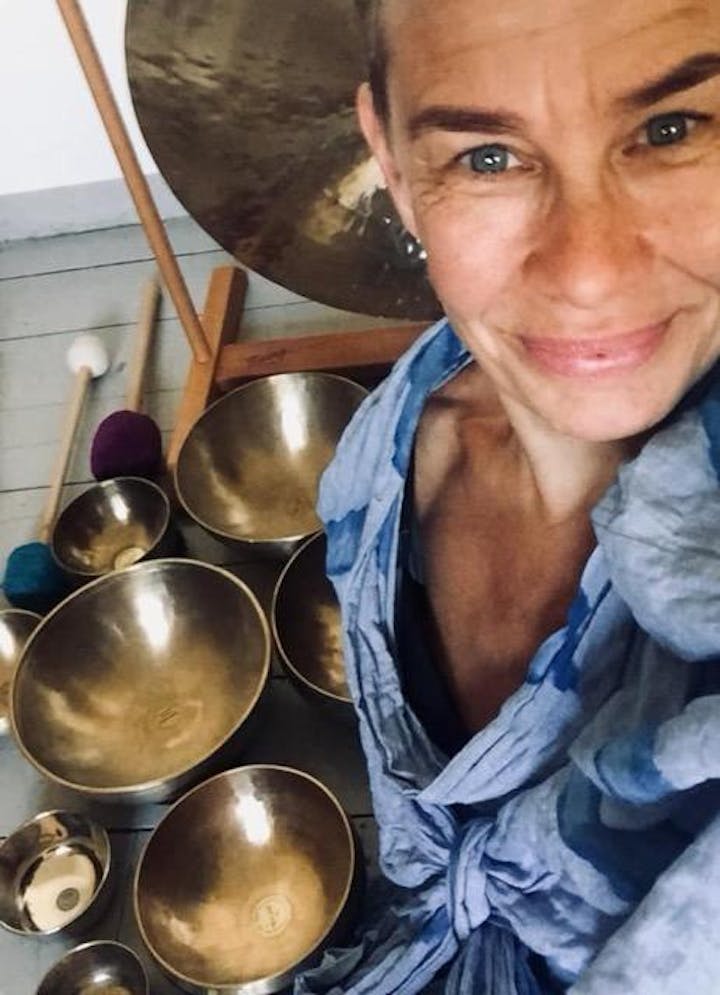 Ohjaaja | Facilitator Ona Kamu