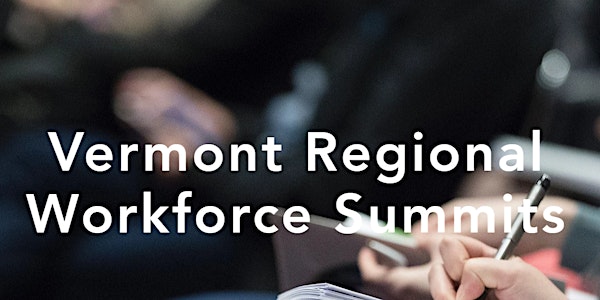 Rutland County Workforce Summit: Employer Session
When and where
Location
Castleton University 49 University Drive 1787 Room Castleton, VT 05735
Description
Ongoing demographic challenges have produced a consistent decline in the number of Vermonters in our workforce. As a result, Governor Phil Scott, his administration, and the regional development corporations have made workforce development a priority.
This Fall, the Regional Development Corporations (RDCs) of Vermont, in partnership with Vermont Department of Labor and the Statewide Workforce Development Board, are hosting 12 regional workforce summits. Building on recent collaborations that have taken place over the past year, these Summits will provide actionable solutions for employers and better coordination and partnerships among regional and statewide service providers and educators.
The Rutland Economic Development Corporation is hosting the workforce summit for the Rutland County region on Tuesday, November 21 at Castleton University.
The full day will include employers - the beneficiaries of a good workforce system - and the wide range of service providers, trainers, and educators who locate, motivate, and prepare workers to be successful. The morning program is designed for employers. The afternoon program is set aside for workforce development service providers and educators. Both groups will overlap during lunch, providing the opportunity to connect and network.
We hope you will attend to lend your ideas and voice to this regional workforce conversation. If you have any questions, comments, or concerns, please feel free to call or email Kim Rupe at kim@rutlandeconomy.com or (802) -770-7061 or visit Vermontworkforce.com.