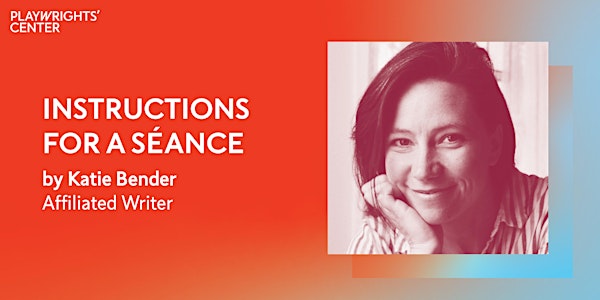 Ruth Easton: INSTRUCTIONS FOR A SÉANCE by Katie Bender
In Person Reading
When and where
Location
Playwrights' Center 2301 East Franklin Avenue Minneapolis, MN 55406
About this event
INSTRUCTIONS FOR A SÉANCE
by Katie Bender
Affiliated Writer
❖ Mon, Nov 7 at 7 p.m.
❖ Tues, Nov 8 at 7 p.m.
Instructions for a Séance is a DIY séance hosted by writer/performer Katie Bender. It invites a small audience to conjure escape artist Harry Houdini, in order to learn how to escape our own lives. But another presence haunts the edges of the séance; a figure overlooked for far too long, who set aside her own needs for others, who has things she still wants to say, and dammit, she's going to get her say. Part magic show, part historical drag, Instructions for a Séance explores the gauntlet that is motherhood, artistic ambition, and escapism.
From Katie: "More theatrically ambitious and personal than previous plays I've written, Instructions for a Séance combines sleight-of-hand with personal narrative. The Ruth Easton series at the Playwrights' Center gives me the rare and necessary opportunity as writer and performer to try out pieces of the performance before a live audience."