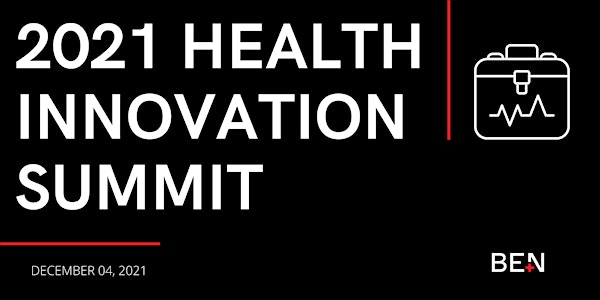 Rutgers BEN 2021 Health Innovation Summit
Rutgers BEN 2021 Health Innovation Summit!
About this event
The Rutgers Biomedical Entrepreneurship Network (BEN) is an organization led by students at Robert Wood Johnson Medical School that aims to cultivate a culture of healthcare innovation and entrepreneurship at Rutgers. BEN aims to empower members of the Rutgers community to become leading healthcare disruptors.
Each year, we host the Health Innovation Summit, an event aimed at promoting our goals of innovation, collaboration, and education across the RBHS community and beyond. The Summit features speakers from a variety of backgrounds discussing topics such as evolving innovation and business planning. Along with this is the annual pitch competition, where teams can present their ideas to industry experts and have the chance to win seed money to make their ideas into realities!
This year's virtual event will focus on innovation to overcome healthcare disparities. Join us to hear amazing pitch ideas and learn about healthcare innovation from our exceptional speakers.
Speakers
Keynote: Andrew Trister, MD, PhD - Digital Health and Innovation Director, Bill and Melinda Gates Foundation
Racism in Healthcare: Gary C Butts, MD - Chief Diversity and Inclusion Officer, Mount Sinai Health System
Maternal Health: Gloria Bachmann, MD - Associate Dean of Women's Health, Robert Wood Johnson Medical School
LGBTQ+ Health: Billy Caceres, PhD, RN - Center for Sexual and Gender Minority Health Research, Columbia University
Immigrant Health: Francesca M Gany, MD, MS - Chief Immigrant Health and Cancer Disparities Service, Memorial Sloan Kettering Cancer Center
Environmental Health: Yvette Arrellano- Founder/Director of Fenceline Watch
Access to Care: Stephen Brown, MSW, LCSW - Program Director for Better Health Through Housing, University of Illinois Chicago
Pitch Competition
Create or join a team and pitch your idea to compete for up to $2,500
Submissions close on 12/1/21, and finalists will be announced by 12/3/21. If selected as a finalist, the Summit team will reach out with further details about the creation of a slide deck, what to include, and the specific timing of the pitch.
BEN Event Coordinators will evaluate pitches for content and select 10 finalist teams.
All teams with accepted submissions will have the opportunity to hear feedback at the Summit from healthcare industry experts.
Each finalist team will have 6 minutes at the Summit to present their honed pitch (A/V support will be available) followed by a 3 min Q&A.
A panel of independent judges will choose the top three pitches, and confer 1st, 2nd, 3rd place prizes.
Pitch Competition Instructions
Visit the 2021 Health Innovation Summit Pitch Submission form for detailed rules and instructions:
https://docs.google.com/forms/d/e/1FAIpQLSdwl6L69I_fI8ZJhbec060SZ9Gg6NYyG4nRy9av2vXwqO_Aqw/viewform
This year's prompt:
Fighting the pandemic: COVID-19 Innovations
Digital Health/Telemedicine
Low-cost/Low-resource innovations
Racial discrimination and injustice in medicine
Something undiscovered
Hackathon
A hackathon is an overnight competition where teams identify and solve problems using technology. Events like these are great networking and socializing opportunities as there will be games and workshops to help you get to know each other as well as meet others in the healthcare field.
​The theme of the hackathon is health equity. You are encouraged to solve problems that you face while studying healthcare, listening to the summit speakers, or through your personal healthcare experience. The problems you identify and solve with your products would better the lives of patients and healthcare practitioners. You may even begin to use your product after the event!
To learn more visit: https://www.benhacks.org/
Workshops
App Development: Catt Hofman - Development of QSPACES, an app designed to match LGBTQ+ patients with friendly providers
Curriculum development and inspiring young innovators: Gary Butts, MD - Diversity Innovation Hub
Nonprofit organizing: Yvette Arellano-working toward safe and healthy living spaces
Hospital-Based Innovations: Stephen Brown, MSW, LCSW - Developing supportive housing programs
Agenda
9:00-9:05 Introductions
9:05-9:45 Keynote Speaker
9:45-9:55 Keynote Q&A
9:55-10:00 Break
10:00-12:00 Speakers and Panelists
10:00-10:15 Maternal Health
10:15-10:30 Combating Racism
10:30:10:45 LGBTQIA Health
10:45-11:00 Panelist Q&A
11:00-11:15 Immigrant Health
11:15-11:30 Environmental Injustice
11:30-11:45 Access to Primary Care
11:45-12:00 Panelist Q&A
12:00-1:00 Lunch & Break
1:00-1:45 Workshops
1:45-2:00 Break
2:00-Sunday 2:00 Hackathon
2:00-3:30 Pitch Competition!
3:30-3:45 Judges Deliberate
3:45-4:00 Winners & Closing Remarks