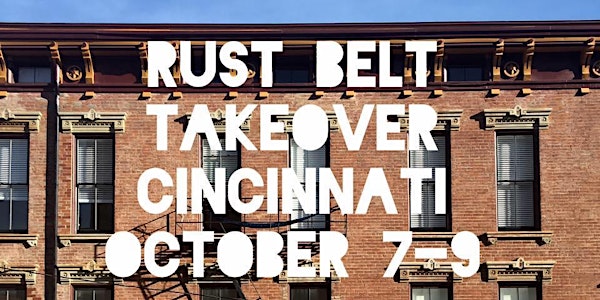 Rust Belt Takeover: Cincinnati Edition! October 7-9, 2016
When and where
Location
Cincinnati Cincinnati, OH
Description
Hi! Cincinnati Preservation Collective here. We are a group of active preservationists in our city doing our darndest to make preservation fun and accessible to all! We are so excited to be a part of the Rust Belt Coalition of Young Preservationists and their adventurous takeovers of cities across the Rust Belt. This October we are hosting the 3rd Rust Belt Takeover and we cannot wait to explore Cincy with you!
Wondering what would make you join the Rust Belt Coalition of Young Preservationists for a Takeover of Cincinnati Ohio? We'll give you a few reasons...
- We partnered with a local brewery and made a very special pale ale called 'The Preservationist'. It will be on hand practically all weekend. You do not want to miss out on this preservation inspired beer.

- Cincinnati has soo much to offer all over the city and now with the streetcar open everything is going to be a breeze to get to. Time to explore all of our art deco wonders, amazing underground lagering cellers, and experience for just a weekend why Cincinnatians have so much pride in their buidings and their city.
- Did we mention beer and streetcars? Oh we did? Well there's more. This takeover gives us all the opportunty to learn from eachother, meeting people from diverse backgrounds who share in our love of Preservation. All are welcome!
What can YOU do to make sure you don't miss out on all this fun? It's easy as 1..2...3....
1. RSVP! Sign up now and then mark your calendars the weekend of October 7-9! Travel with your Preservation Pals and bike, drive, fly, skip, run and skate your way to us the evening of Friday, October 7th for a kickoff PARTY! For you early birds, we have a super awesome pre-party tour planned starting at 5pm. If you arrive after 7, don't you fret we will have giant bean bags, beer, food, a photobooth, live music, and a historic brewery all for you. Our takeover ends Sunday afternoon--- BUT if you want to stick around for The Annual Heritage Ohio Conference you should just stay all week!
****Your RSVP will help us get an accurate headcount so we can accomodate everything! Your RSVP also turns into a welcome bag and if you need it, a great place to stay in one of our urban and walkable neighborhoods.***
2. LET US BE YOUR HOST. We have loved staying with preservationists at the takeovers in Buffalo and Pittsburgh. We cannot wait to return the favor. Members of CPC have wonderful homes throughout the city. There is plenty of space for people to crash in their homes, but we need to know how many (See RSVP! ) We promise you will be close to everything and your host will love to show you around. You can always make plans to stay with friends, relatives, or ...whoever. We don't mind. And reach out to us if you prefer private hotel accomodations - we won't be reserving blocks of rooms, but we are happy to provide recommendations for those who would like to pay for more privacy.
3. GET EXCITED! This is going to be awesome, and the more excited we are and the more we talk about it, the better. Spread the word! Invite your friends! Slap #rustbelttakeover on your posts, your photos, and your tweets! We cannot wait to meet you!
RSVP ASAP. Join our Facebook Group for updates as the takeover gets closer, and we'll also email major updates to those who have expressed an interest. And visit the brand-spanking-new RBCYP blog for posts by and about the Young Preservationists that will be attending!
If you have any questions of ideas join us on SLACK! @RBCoYP