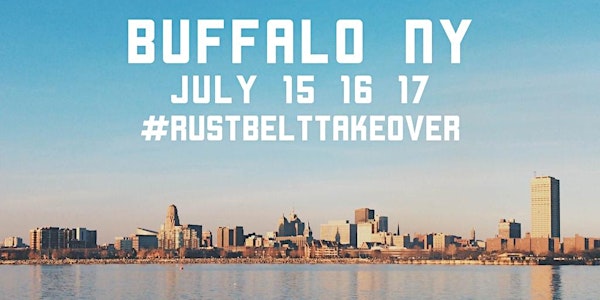 Rust Belt Takeover - Buffalo, NY! July 15 - 17, 2016.
Location
Buffalo
Buffalo, NY
Description
Let round two of the #rustbelttakeover begin!
Join us in Buffalo, NY on July 15, 16, 17 to take a deep dive into the city where Sullivan, Wright, Richardson and more made some of their best work ever! Hosted by Buffalo's Young Preservationists, we will explore deep inside abandoned grain elevators, have breakfast on the lawn of the historic H.H. Richardson Psych Ward, putt putt in the smallest micro golf course in the Rust Belt and more.
Schedule:
Friday:
7pm - ? at 1100 Niagara Street (AKA The Agway) and industrial malting house. We will eat pizza, wings and beer and get a spooky tour of a vacant industrial giant. Donations accepted for food and beer!
Saturday:
9am is breakfast / tour at Silo City. Meet at the Ohio Street Bridge... when you feel like you're lost, you're in the right space.
11am is the Rust Belt Takeover putt putt challange / tour of the Hydraulics, a historic area where the Frank Lloyd Wright designs Administration Building once stood. Food trucks / locally made beer at Hydraulic Hearth (cool spot) will be available! Meet at 716 Swan Street at 11am sharp and we will walk to Larkin Links.
3pm is the Downtown Tour which will include an inside peek at the Louis Sullivan masterpiece - The Gauranty Building along with stops at City Hall, Ellicott Square and more. Meet at City Hall, 60 Niagara Square. We will stop at new hipster market food spot EXPO to fuel up on food. Wear comfy shoes!!
8pm - Party... TBD. Secret spot.
Sunday:
9am is a locally made breakfast on the restored Olmsted lawn of the H.H. Richardson Complex followed by a tour. $15 bucks at the door (Cash / Check!). Bring a blanket to eat a yummy breakfast on!
Noon - walk around Delaware park (Olmsted!) and the Albright Knox Art Gallery.
Just like last time - the event aims to be cheap, fun and exploration driven. If you need a place to crash, the Buffalo's Young Preservationists have beds, couches and floors to crash on. We even have a vacant lot near a bathroom if you want to camp!
Stay tuned for the FINAL schedule and if you have questions, email us right away or find us on SLACK!
- RBCoYP