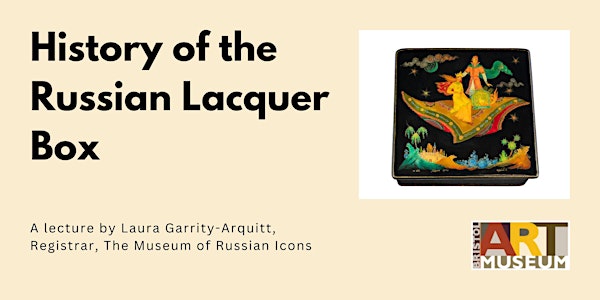 Russian Museum Lacquer Box Lecture
Russian Lacquer Box Lecture. Free admission. Send proof of vaccination to info@bristolartmuseum.org.
When and where
Location
Bristol Art Museum 10 Wardwell Street Bristol, RI 02809
About this event
The Russian lacquer box is internationally renowned for its exquisite detail and luminous colors. Its history is equally fascinating, it is a story of the artist as entrepreneur, drawing on and adapting local traditions. Lacquer artists drew inspiration from a wide variety of sources, including famous paintings, folklore, history, landscape, and the daily lives of Russian people. Artists continue to produce lacquer art today, preserving the craft for generations to come.
This lecture will explore the history of the artform in Russia, with a main focus on how it developed during and after the Soviet era. Garrity-Arquitt will also talk about some of the common fairy tales that are painted on the boxes and how they relate to Russian history and culture.
FREE ADMISSION.
Please submit a proof of vaccination to info@bristolartmuseum.org.