Say "DA" for a day! FOOD, MUSIC, DANCING, VODKA TASTING, Russian Sweets & Treats, Kids' Crafts, Face Painting & Games, Art Gallery & Museum
About this event
Enjoy all the flavor and fun of the Russian-American experience in one wild weekend!
Sample piroshki, borsch, pelmeni, and our ever popular flavored vodkas. Our three-day performance spectacular will transport your spirit to Russia of old with ballads, folk songs, ballet, folk dance, and much more; featuring such popular groups as the Slavyanka Russian Chorus, the San Francisco Balalaika Ensemble, Konevets quartet from St. Petersburg, Russia, local favorites Nikolai Massenkoff-world renowned bass, Natalia Borisova's Russian Collection, Russian Center Dancers, and Vladimir Riazantsev.
Be sure not to miss the historic treasures in the Museum of Russian Culture, and delight in our fantastic Art Gallery to peruse or purchase originals by our own local Russian artists. Face painting and crafts for the kids! Pick up souvenirs like Russian scarves, Baltic amber, lacquer boxes and matryoshka dolls!
BUY TICKETS HERE TO GET EXPEDITED ENTRY!!
Discounted parking will be available for $7 at the parking garage across the street. If you have any questions or concerns about ticketing information, ticket day/person transfers, or anything else, please reach out to svetlana.klestoff@gmail.com.
***OFFICIAL RUSSIAN FESTIVAL TICKETS ARE ONLY AVAILABLE THROUGH EVENTBRITE OR ONSITE***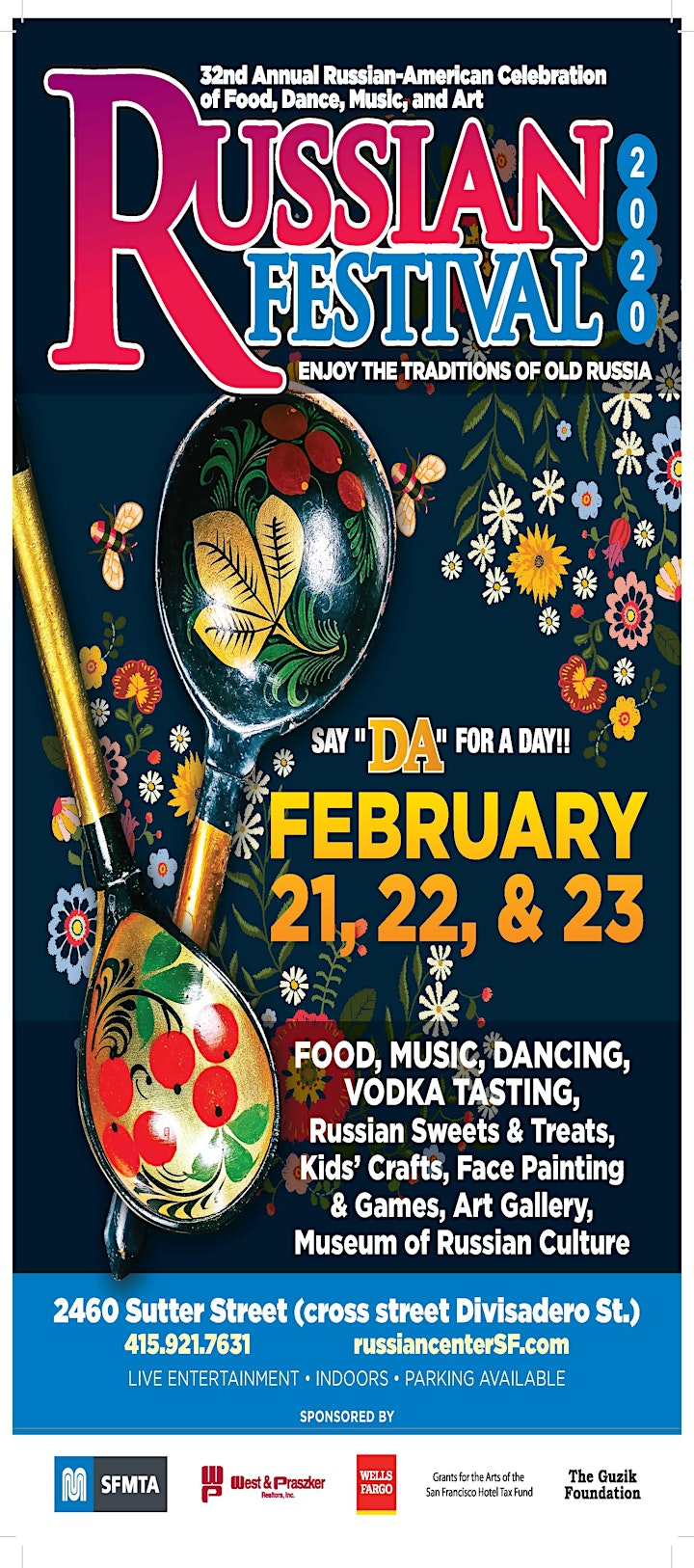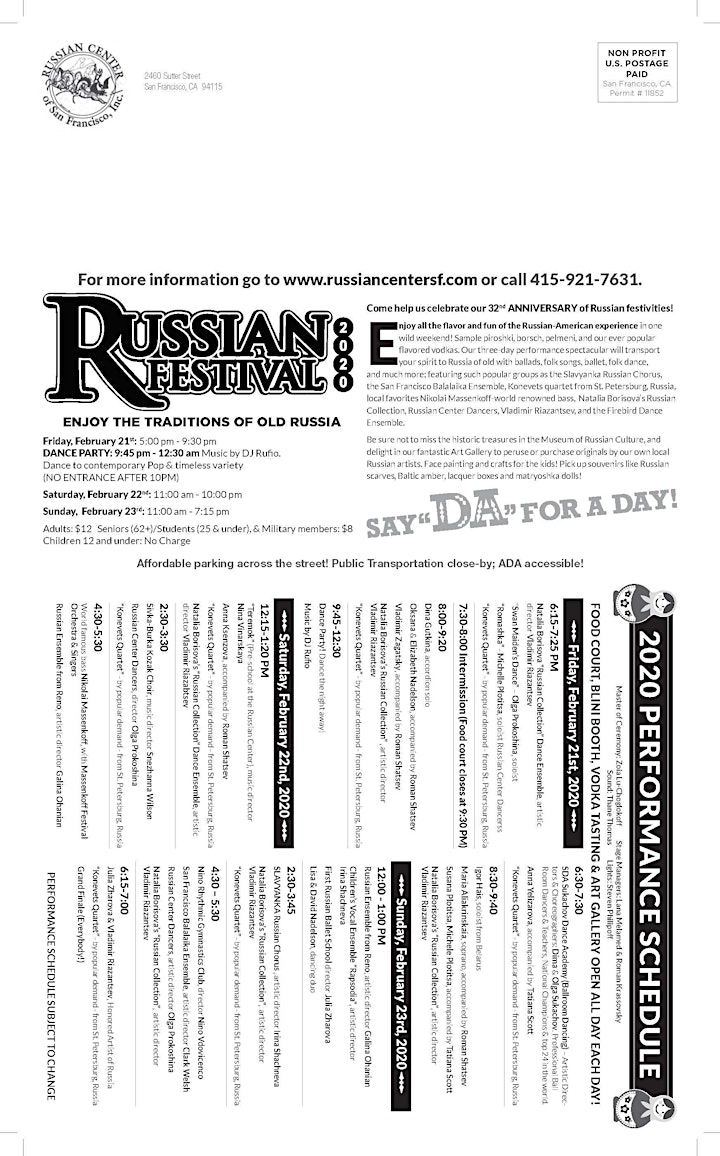 Organizer of Russian Festival 2020
The Russian Center of San Francisco was founded in 1939 by Russian immigrants as a focal point for the preservation of their rich cultural heritage. Tradition was passionately kept alive through operas, operettas, choirs, grand balls, folk dance ensembles and plays. Generation followed generation, and still the goal remains to preserve and display the warmth and spirit of the Russian culture.
As a non-profit cultural organization, the Russian Center annually produces many cultural activities including operas, dance concerts, folk dance classes, social gatherings and lectures. The Russian Festival, held every February, is a three day showcase of food, art, music and dance, and attracts thousands of people from all over the San Francisco Bay Area and the world. The Russian Center is home to Teremok, a State certified Russian pre-school, Congress of Russian Americans, Museum of Russian Culture, Russian Life Daily Newspaper, a library of Russian books, Russian folk dancing classes, rhythmic gymnastic classes, Russian Center Opera Company and the Russian American Chamber Orchestra. The Russian Center co-sponsors the city-wide "Days of Russia" celebration. The Russian Center also presents many guest artists from Russia and other parts of the world.