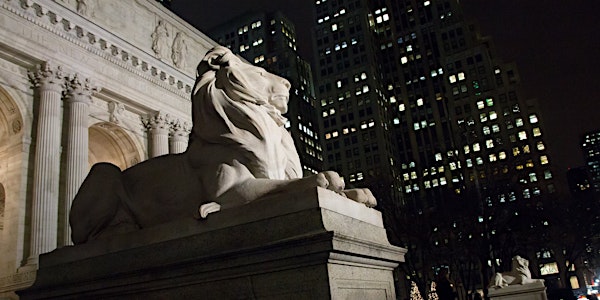 Russian Émigré Literature: The Dialog of Generations - «Литература Русского...
Location
The New York Public Library: Stephen A. Schwarzman Building
Celeste Auditorium
476 Fifth Avenue
New York, NY 10018
Description
THIS EVENT WILL BE CONDUCTED IN RUSSIAN WITH SIMULTANEOUS TRANSLATION*
ВХОД ПО ПРЕДВАРИТЕЛЬНОЙ ЗАПИСИ
*A limited number of earpiece translation devices will be available on a first come, first served basis


Literary historian, Radio Liberty broadcaster, and TV personality Ivan Tolstoy, will discuss some of the main achievements and contributions of Russian-émigré writers, poets, and journalists of the 20th and 21st centuries. He will be joined in a roundtable discussion by:
Alexander Genis, Russian-American writer and literary critic

Nina Alovert, Photographer, novelist, and ballet critic

Alexander Delphinov, Berlin-based poet

Grigorii Arosev, Writer, founder of BERLIN.BEREGA literary magazine
Tolstoy will focus on the phenomenon of "Waves"—the generations of cultural migration throughout both centuries—and try to define what drives immigrant literature today.
---
Творческая встреча историка русской литературы и эмиграции, писателя и телеведущего Ивана Толстого с ярчайшими представителями русского культурного зарубежья - писателем и литературным критиком Александром Генисом, фотографом и балетным критиком Ниной Аловерт (оба - США), - а также представителями нового поколения - автором поэтических текстов и перформанс-артистом Александром Дельфиновым, и писателем, основателем литературного журнала «Берлин.Берега» Григорием Аросевым (оба – Германия).
Вечер состоится в формате круглого стола - дискуссии, в рамках которой Иван Толстой обсудит с приглашенными литераторами русскую эмиграцию как социально-культурный феномен, поговорит о культурном и духовном наследии «русского зарубежья», о связи поколений, и о том, что же движет литературной эмиграцией сегодня, а также познакомит аудиторию с авторами, живущими за рубежом и пишущими по-русски.
---
FIRST COME, FIRST SEATED
Doors open at 4:30 PM. Registration does not guarantee admission. For free events, we generally overbook to ensure a full house. All registered seats are released 15 minutes before start time, so we recommend that you arrive early.
Предварительная запись НЕ является гарантией на посещение предстоящей встречи. В целях заполнения главного зала, регистрация на бесплатные мероприятия производится с дополнительным резервом, превышающим вместимость зала. Двери в зал открываются в 16:30. Регистрация остаётся в силе до 16:45. После указанного времени, все незанятые места освобождаются и будут предоставлены лицам, желающим посетить вечер.

This event is presented in cooperation with The New York Public Library as part of the 15th Annual Russian Heritage Month®, produced by the Russian American Foundation in cooperation with the New York Post.
This program is supported, in part, by public funds from the New York City Department of Cultural Affairs in partnership with the City Council.
All event information, including featured appearances, is subject to change.

Photo credits: Yuri Rost, Irina Genis, Roman Ekimov, Etel Pesina