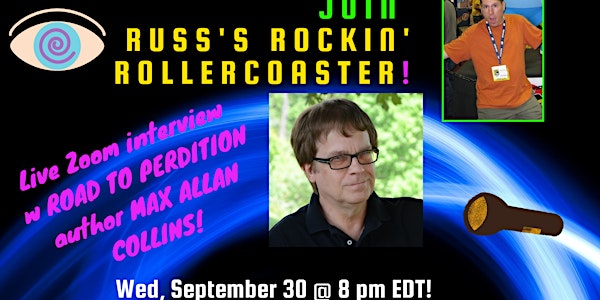 Russ Colchamiro interviews ROAD TO PERDITION crime author Max Allan Collins
Host Russ Colchamiro interviews ROAD TO PERDITION author Max Allan Collins about his career writing about crime, noir and private eyes
About this event
MAX ALLAN COLLINS was named a Grand Master in 2017 by the Mystery Writers of America. He has earned an unprecedented twenty-three Private Eye Writers of America "Shamus" nominations, winning for his Nathan Heller novels, True Detective (1983) and Stolen Away (1991), and his short story "So Long, Chief" (with Mickey Spillane). He received the PWA "Eye" for Life Achievement (2006). In 2012, his Nathan Heller saga was honored with the PWA "Hammer" award for making a major contribution to the private eye genre.
His graphic novel Road to Perdition (1998) is the basis of the Academy Award-winning Tom Hanks film, followed by two acclaimed prose sequels and several graphic novels. His other comics credits include the syndicated strip "Dick Tracy"; his own "Ms. Tree"; "Wild Dog"; and "Batman."
His innovative Quarry novels was recently adapted as a critically acclaimed TV series by Cinemax. He has created a number of other suspense series, including Mallory, Eliot Ness, Jack & Maggie Starr, Reeder and Rogers, and the "Disaster" novels. He is completing a number of "Mike Hammer" novels begun by the late Mickey Spillane; his audio novel, Mike Hammer: The Little Death with Stacy Keach, won a 2011 Audie for best original work.
For five years, he was the sole licensing writer for the popular TV series CSI: Crime Scene Investigation (and its spin-offs), writing ten best-selling novels, four graphic novels, and four award-winning video games. His tie-in books have appeared on the USA TODAY bestseller list nine times and the New York Times three, including Saving Private Ryan, Air Force One, and American Gangster.
An independent filmmaker in the Midwest, Collins has written and directed four features, including the Lifetime movie "Mommy" (1996); and he scripted "The Expert," a 1995 HBO World Premiere, as well as the film-festival favorite, "The Last Lullaby" (2009), based on his novel, The Last Quarry. His documentary "Caveman: V.T. Hamlin & Alley Oop" (2008) has appeared on PBS and on DVD, and his documentary "Mike Hammer's Mickey Spillane" (1998/2011) appears on the Criterion Collection DVD and Blu-ray of "Kiss Me Deadly."
His play "Eliot Ness: An Untouchable Life," was nominated for an Edgar Award in 2004 by the Mystery Writers of America; a film version, written and directed by Collins, was released on DVD, appeared on PBS stations in 2009, and is currently streaming on Amazon Prime. With A. Brad Schwartz, he has written a major non-fiction book on the subject, Scarface and the Untouchable: Al Capone, Eliot Ness and the Battle for Chicago (2018).
Collins lives in Iowa with his wife, writer Barbara Collins; as "Barbara Allan," they have collaborated on sixteen novels, including the successful "Trash 'n' Treasures" mysteries, Antiques Flee Market (2008) winning the Romantic Times Best Humorous Mystery Novel award of 2009. Their son Nathan has translated eight novels into English from Japanese, as well as vi
Russ Colchamiro is the author of the rollicking time travel/space adventure, Crossline, the SF/F backpacking comedy series Finders Keepers: The Definitive Edition, Genius de Milo, and Astropalooza, editor of the SF mystery anthology Love, Murder & Mayhem, and co-author of the noir anthology Murder in Montague Falls, all with Crazy 8 Press. Russ has also contributed to more than a dozen other anthologies.
His latest novel, Crackle and Fire, the first in a new scifi mystery series featuring his intergalactic private eye, Angela Hardwicke, is now on sale.
Russ lives in New Jersey with his wife, two ninjas, and crazy dog Simon, who may in fact be an alien himself.
For more on and Russ's books, you can visit www.russcolchamiro.com, follow him on Twitter @AuthorDudeRuss, and 'like' his Facebook author page www.facebook.com/RussColchamiroAuthor.