Description
Rusk Rehabilitation's Splinting for Stiffness: A Seminar on Mobilization Orthoses
Hand therapists have a diverse set of skills aimed to address range of motion deficits of the upper extremity, including stretching, targeted exercises, joint mobilization and static progressive and dynamic orthoses. Determining the appropriate intervention to address stiffness in the elbow, wrist and hand is multifactorial and critical to achieve positive outcomes efficiently. This one-day course is divided into lecture and hands-on lab whereby students will learn the theory behind treating joint stiffness and learn innovative orthosis fabrication. The goal of the splinting lab is to learn and practice simple splinting solutions to the complex problem of treating the stiff hand. Class size is limited, furthermore we will provide a 2:1 student to lab assistant ratio to allow ample opportunity to ask questions and problem solve with experienced hand therapists. Students will be provided with instructional hand-outs and videos for step-by-step fabrication of the orthoses and immediate clinical application.
TARGET AUDIENCE
This is an intermediate-level workshop designed for Occupational Therapists, Physical Therapists, Occupational Therapist Assistants and Physical Therapy Assistants. Participants will be asked to complete a quiz before and after the course.
LEARNING OBJECTIVES
At the conclusion of this activity, participants should be able to:
Identify evidenced-based treatment techniques to improve range of motion in a stiff joint
Identify contributing factors to joint stiffness
Be able to differentiate between a static progressive splint and a dynamic splint
Fabricate at least 3 mobilization splints independently

Problem solve orthosis design issues according to unique patient presentation

Describe biomechanical principles of mobilization orthosis

COURSE REGISTRATION AND FEES

Register and pay online at handsplinting.eventbrite.com
Full Fee: $320 (Non-NYU employees)
NYU Langone Health System Employee Fee*: $160 (Must provide a valid employee ID)
*Please contact michelle.bergen@nyumc.org for further details about reduced fee.
We cannot accept telephone or email registration.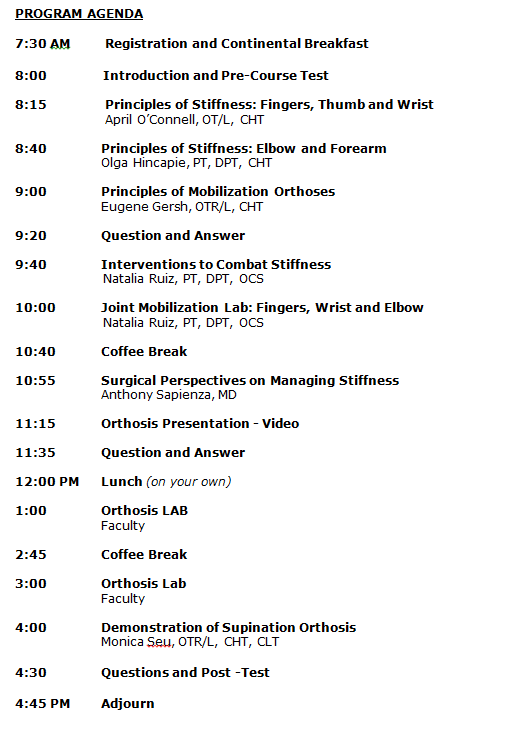 ACCREDITATION AND CREDIT DESIGNATION
Physical Therapy
NYU Langone Medical Center is a New York State Education Department approved provider for physical therapy and physical therapy assistant continuing education. This course is approved for a maximum of 8.5 physical therapy/physical therapist assistant contact hours. The following states require continuing education units with no state-specific approval: CT, IA, ID, MO, ND, and WA
Occupational Therapy
NYU Langone Medical Center is an American Occupational Therapy Association (AOTA) approved provider for occupation-al therapy and occupational therapy assistant continuing education. This course is approved for a maximum of 8.5 occupational therapy/occupational therapist assistant contact hours. This course meets the AOTA classification code of Occupational Therapy Process and is an Intermediate Level Course: Intervention and Approach-es to Intervention. The assignment of AOTA CEUs does not imply endorsement of specific course content, products, or clinical procedures by AOTA.

Upon completion of the course, participants will be provided with a course evaluation and certificate of completion.
DISCLOSURE STATEMENT
In order to resolve any identified conflicts of interest, disclosure information is provided during the planning process to ensure resolution of any identified conflicts. Disclosure of faculty and commercial relationships, as well as the discussion of unapproved use of any, device or procedure by the faculty, will be fully noted at the meeting.
SPECIAL NEEDS
Rusk Rehabilitation at NYU Langone Medical Center, in compliance with the legal requirements of the Americans with Disabilities Act, requests that any participant of this educational activity who is in need of accommodation, submit a written request to Michelle Bergen at michelle.bergen@nyumc.org at least one month prior to the course start date.
PROGRAM FACULTY
Course Director
Francoise Cherry, OTR/L, CHT
Supervisor, Hand and Upper Extremity Department
The Center for Musculoskeletal Care
NYU Langone Medical Center
Content Planners
Olga Hincapie, PT, DPT, CHT
April O'Connell, OT/L, CHT
NYU Langone Faculty
Elizabeth Courtney Coyle, OTR/L, CHT, COEE
Julie Fernandes, OTR/L, OTD, CHT
William Finley, OT/L, CHT
Eugene Gersh, OTR/L, CHT
Natalia Ruiz, PT, DPT, OCS
Anthony Sapienza, MD
Monica Seu, OTR/L, CHT
Patricia Sun, OTR/L
Jennifer Vasquez, OT/L, CHT
Laura Welsh, OT/L, CHT
REFUND POLICY
In order to request a refund you must email michelle.bergen@nyumc.org no later than 14 days prior to the first day of the course. An administrative fee of $75 will be deducted from your refund. Cancellations or no-shows after this date are not eligible for a refund. Registration is non-transferrable.
COURSE CANCELLATION POLICY
In the unusual circumstance that this course is cancelled, two weeks' notice will be given and tuition will be refunded in full. Rusk Rehabilitation at NYU Langone Medical Center is not responsible for any airfare, hotel or other costs incurred.
SPEAKER BIOS
Anthony Sapienza, MD, is an orthopaedic surgeon specialized in treating problems of the hand and upper extremity. He holds certification from the American Board of Orthopaedic Surgery. He is also a member of professional organizations including the American Academy of Orthopaedic Surgeons, the American Orthopaedic Association, the American Association for Hand Surgery, and the American Society for Surgery of the Hand. Dr. Sapienza graduated from Drexel University College of Medicine where he also received his residency training in orthopaedic surgery. He then completed a fellowship program in hand and upper extremity surgery at NYU Langone's Hospital for Joint Diseases. Dr. Sapienza is part of the core teaching faculty at NYU Langone where he currently serves as an Assistant Professor of Orthopaedic Surgery and the Associate Director of the Hand Fellowship Program.
April O'Connell, OT/L, CHT, is the Clinical Specialist in the Hand and Upper Extremity Therapy Department at NYU Langone Center for Musculoskeletal Care. She is a certified hand therapist and is certified by the American Council of Sports Medicine (ACSM) as a Clinical Exercise Specialist and has a strong interest in sports rehabilitation. She has lectured to orthopaedic surgeons and therapists in current concepts of orthopaedic rehabilitation of the shoulder, elbow and hand. She is actively involved in multiple research projects in the area of orthopaedic and sports rehabilitation.
Olga Hincapie, PT, DPT, CHT, is a senior physical therapist at the Center for Musculoskeletal Care at NYU Langone Medical Center. She is a certified hand therapist. Her thirty years of experience include areas of specialty in chronic pain, trauma of the upper extremity and wrist conditions. She has participated in multiple speaking engagements internationally and is published in the Journal of Hand Therapy.
Eugene Gersh, OTR/L, CHT, is a senior occupational therapist and certified hand therapist at the NYU Langone Medical Center specializing in the treatment of hand injuries. He completed a residency program in hand therapy at the University of Michigan in 2015, and mentorship at the Rothman Institute in Philadelphia. Eugene has presented at the AOTA conference and has participated in past conferences.
Natalia Ruiz, PT, DPT, OCS, is a senior physical therapist at NYU Langone Center for Musculoskeletal Care specializing in the areas of orthopaedic rehabilitation, occupational health and chronic pain for the past 12 years. She received an advanced degree in ergonomics from NYU in 2010 and received a Certificate in Advanced Practice in Hand and Upper Quarter from Drexel University in 2014. She became an APTA board certified specialist in Orthopaedics in 2016 and has spoken at numerous professional conferences internationally.