Rural Infrastructure Development and Economic Activity with Dr. Ritam Chaur...
Description
There is universal consensus on the importance of physical infrastructure investments for economic growth. However, estimating their causal effects has remained challenging, especially in rural settings. We evaluate the impact of a rural infrastructure development scheme directed towards India's most "backward" districts.
Using a Regression Discontinuity Design and multiple data sets covering the entire firm size distribution, as well as household employment surveys and nighttime light data, we show evidence on the effectiveness of the program. We find that villages in treated districts had higher employment and number of firms. Firm-level regressions corroborate these results, and we find an increase in employment and revenues for microenterprises in treated districts.
Furthermore, we find that both rural electrification and connectivity were important channels driving these results. During this discussion we will go over the results that suggest that alleviating infrastructure constraints can be especially beneficial for microenterprises in rural settings.
About the Speaker: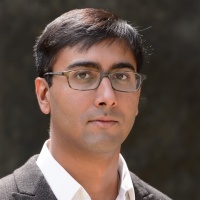 Dr. Ritam Chaurey is an Assistant Professor of International Economics at Johns Hopkins SAIS. Ritam holds a PhD in Economics from Columbia University. Prior to his doctoral studies, he completed an MA (Cantab) from Cambridge University, and a BA (Hons) in Economics from St. Stephen's College, Delhi. His research interests are in the fields of development economics and applied microeconomics with a focus on firm behavior and entrepreneurship in developing countries.