Description
The Resource Exchange Consulting Group will host a Rural Entrepreneurial Workshop in West Point, GA. The Workshop will assemble entrepreneurs, executives, and decision makers, financial institutions, micro-business development organizations, advocates policy makers, investors, faith-based institutions and influencers from across the state of Georgia. Through this networking rich opportunity we will engage in conversations about the changing economic landscape for low to moderate-income minority women and how access to local capital, resources and partnerships can positively impact them and their children.
Partners and Georgia Resources include the following:

Sonya Toomer, Ga Business Development and Owner
Isacc Roberts, USDA Rural Development--Rural Strong Initiative Program
Michael Waston, USDA
Corinne Thornton, Region 4 Representative of GA Dept of Community Affair

Monica Barber, Community Development Specialist-City of West Point

Stephaney Bolden, Senior Business Development Officer, Lift Fund
Commissioner Shirley Hines, Facilitator
Representatives have been invited from:

Micro Lenders
Local Women groups
Troup County Chamber of Commerce
Women's Chamber of Commerce
Elected Officials

RECG Staff
Workshop Highlights:
Keynote addresses from business experts and successful, local entrepreneurs

Breakout sessions along three tracts; Acess funding for your business, Startup business and Marketing your business

A panel discussion about Rural Strong with SBA and USDA Opportunity initiative for entrepreneurs

Exhibitors from businesses and business-focused organizations (limited space for vendors)


Networking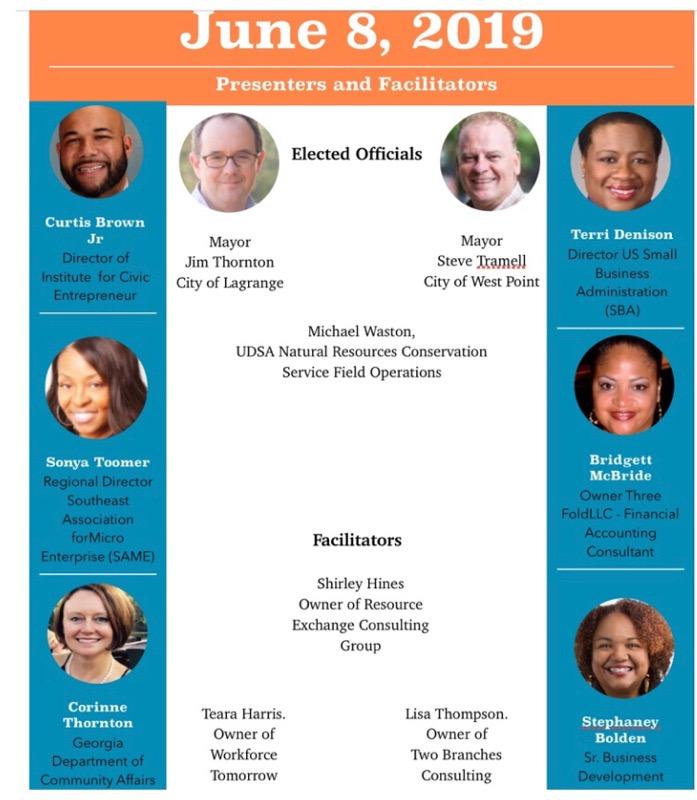 The event is sponsored by The Resource Exchange Consulting Group

This event will serve LUNCH.
Pre-Registration No onsite Payments