Description
Join Representative John Curtis on Friday, September 6, 2019, for the second annual Rural Business Summit. Participate in breakout sessions, learn how to establish a thriving business in rural areas, find opportunities for growth, and collaborate with startups, entrepreneurs, business professionals, and local leaders.

The Rural Business Summit will provide new opportunities to help businesses expand and tap into the talent pool of rural Utah. Gain insights and best practices in rural employment as you listen to our business resource panel. Take advantage of the networking opportunities and browse our business exhibit booths. Grab lunch at our food truck roundup while enjoying live music and entertainment. And hear from our keynote speakers, who will be announced soon!
Get ready to be inspired, to innovate, and to cultivate a successful business ecosystem within your community. If you're an employer who needs workers, a business who wants to expand, an entrepreneur who needs direction, or a local leader who'd like to help your residents - then the Rural Business Summit is for you. Please register and reserve your spot today!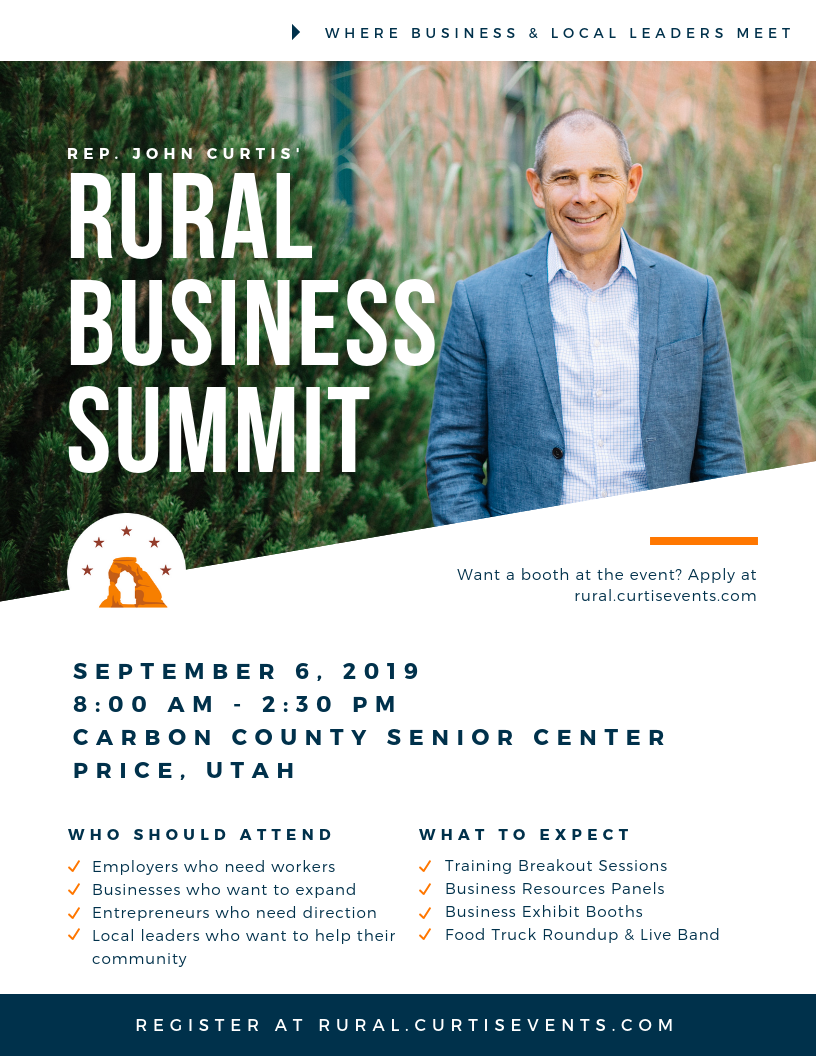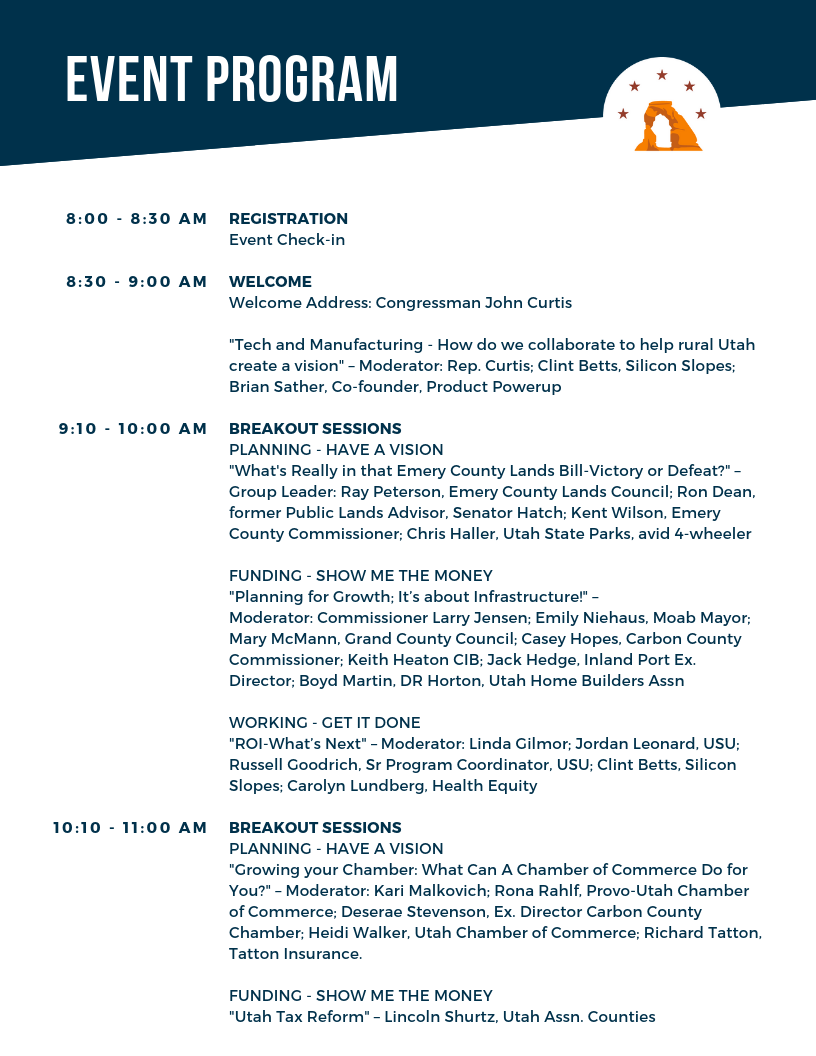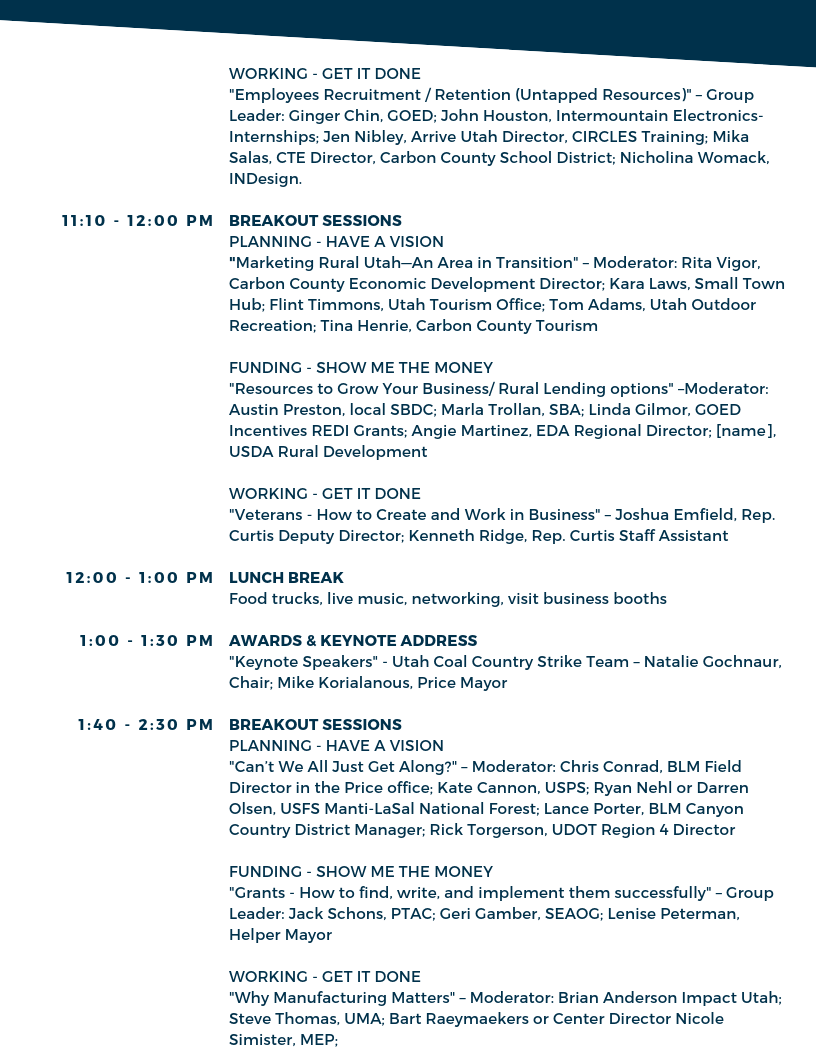 Jack Hedge

Utah Inland Port Authority Executive Director

Rona Rahlf

Utah Valley Chamber of Commerce President and CEO

Tom Adams

Utah Office of Outdoor Recreation Director

Brian Anderson

Impact Utah Senior Director of Client & Resource Management

Clint Betts

Silicon Slopes & Beehive Startups Executive Director and Editor-in-Chief

Richard Brown

Veterans Business Resource Director

Kate Cannon

Southeast Utah Group Superintendent

Ginger Chinn

Utah Governor's Office of Economic Development Managing Director of Urban and Rural Business Services

John Collings

Varex Imaging Components Director of Operations

Chris Conrad

Bureau of Land Management Price Field Manager

Ron Dean

Former Public Lands Advisor

Joshua Emfield

Congressman John Curtis Deputy District Director

Geri Gamber

SEUALG Executive Director

Linda Gillmor

Utah Governor's Office of Economic Development Rural Development Director

Russell Goodrich

Rural Online Initiative Senior Program Coordinator

William J. Greer

Utah Department of Workforces Services Local Veterans Employment Representative

Chris Haller

Utah Division of Parks and Recreation Off-Highway Vehicle Program Coordinator

Dr. Nathan Hansen

Conductive Group President and Co-Founder

Keith Heaton

State of Utah Community Development Director

Tina Henrie

Carbon County Tourism Specialist

Commissioner Casey Hopes

Carbon County Commissioner

John Houston

Intermountain Electronics Chairman

Winthrop Jeanfreau

UVU Business Resource Center Director

Commissioner Larry Jensen

Carbon County Commissioner

Mayor Michael Kourianos

City of Price

Kara Laws

Small Town Hub Co-Owner and CEO

Jordan Leonard

Rural Online Initiative Program Coordinator

Ian Lorenzana

SBA Utah District Office Economic Development Specialist

Carolyn Lundberg

Accelerant Business Solutions Provider Vice President

Kari Malkovich

McKell, Thompson, and Hunter, Attorneys at Law Director of Public Relations

Boyd A. Martin

DR Horton Homes Utah Division President

Angela Martinez

U.S. Economic Development Administration Regional Director

Mary McGann

Grand County Council Member

Ryan Nehl

Manti–La Sal National Forest Forest Supervisor

Jen Nibley

Arrive Utah Director

Mayor Emily Niehaus

City of Moab

Randy Parker

USDA Rural Development State Director of Utah

Mayor Lenise Peterman

City of Helper

Ray Peterson

Emery County Public Lands Administrator

Lance Porter

BLM Utah Canyon Country District Manager

Austin Preston

Small Business Development Center Regional Director

Mika Salas

Carbon County School District CTE Director

Brian Sather

Blacksmith International CEO

Jack Schons

Procurement Technical Assistance Center Regional Manager

Lincoln Shurtz

Utah Association of Counties Director of Government Affairs

Nicole Simister

University of Utah Manufacturing Extension Partnership Center Director

Natalie Gochnour - Keynote Speaker

David Eccles School of Business at the University of Utah Associate Dean

Deserae Stevenson

Carbon County Chamber of Commerce Executive Chamber Director

Richard Tatton

Tatton Insurance

Steve Thomas

Utah Manufacturers Association Director of Regional Services

Flint Timmons

Utah Governor's Office of Economic Development Destination Development Specialist

Rick Torgerson

UDOT Region 4 Director

Marla Trollan

SBA Utah District Office District Director

Rita Vigor

Carbon County Economic Development Director

Heidi Walker

Salt Lake Chamber COO

Commissioner Kent Wilson

Emery County

Nicholina Womack

FutureINDesign Founder & CEO