Description
Join Representative John Curtis on Friday, November 9, 2018, for a Rural Business Summit - where business and workers meet. Participate in workforce training sessions, learn how to establish a thriving business in rural areas, find opportunities for growth, and collaborate with job seekers, startups, entrepreneurs, and business leaders.
We've found that the most effective way to increase employment in rural Utah is to help businesses grow. There is a shortage of labor along the Wasatch Front, so it can be difficult to fill positions - yet we have high unemployment in rural areas. The Rural Business Summit will provide new opportunities to help businesses expand and tap into the talent pool of rural Utah.
Lieutenant Governor Spencer Cox will be the Keynote Speaker followed by interactive training sessions and business breakouts. Take advantage of the networking opportunities and browse our business exhibit booths. Enjoy a catered lunch along with a presentation by Derek Miller of the Salt Lake Chamber. Gain insights and best practices in rural employment as you listen to our business resource panel. And hear from our closing Keynote Speaker Vale Hale, Executive Director at Utah Governor's Office of Economic Development.
Get ready to be inspired, to innovate, and to cultivate a successful business ecosystem within your community. If you're a worker who needs a job, an employer who needs workers, a business who wants to expand, or an entrepreneur who needs direction, then the Rural Business Summit is for you. Please register and reserve your spot today! Seats are limited.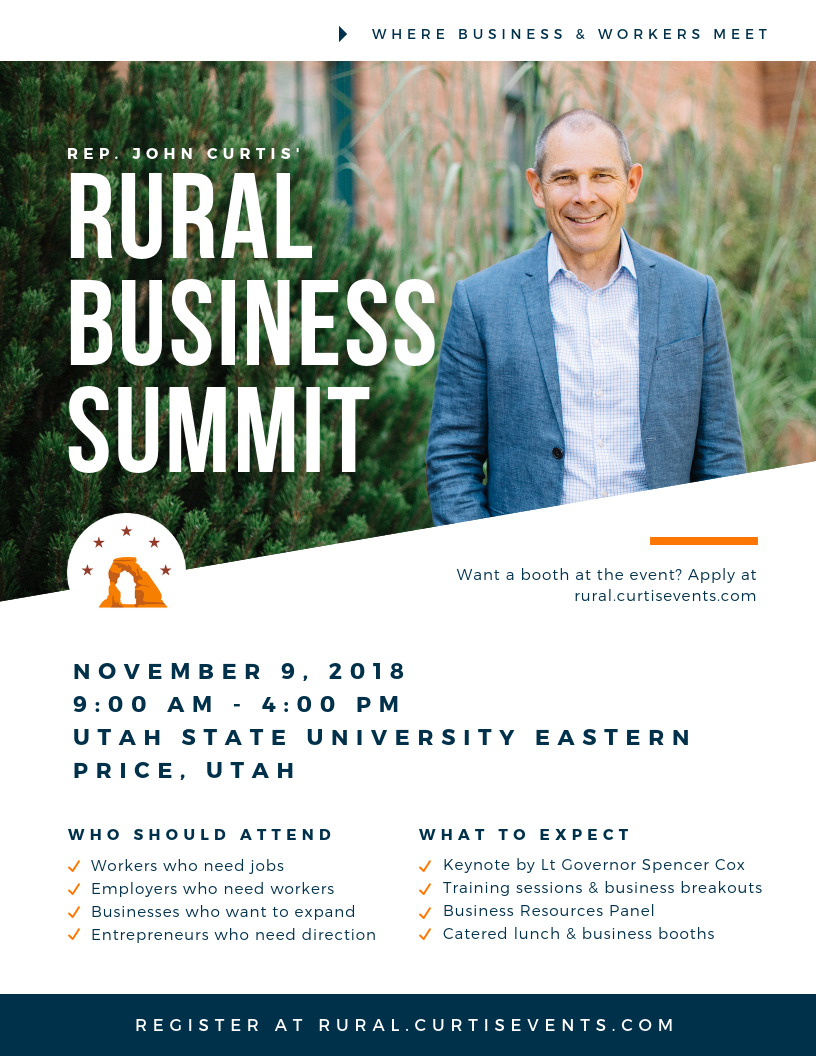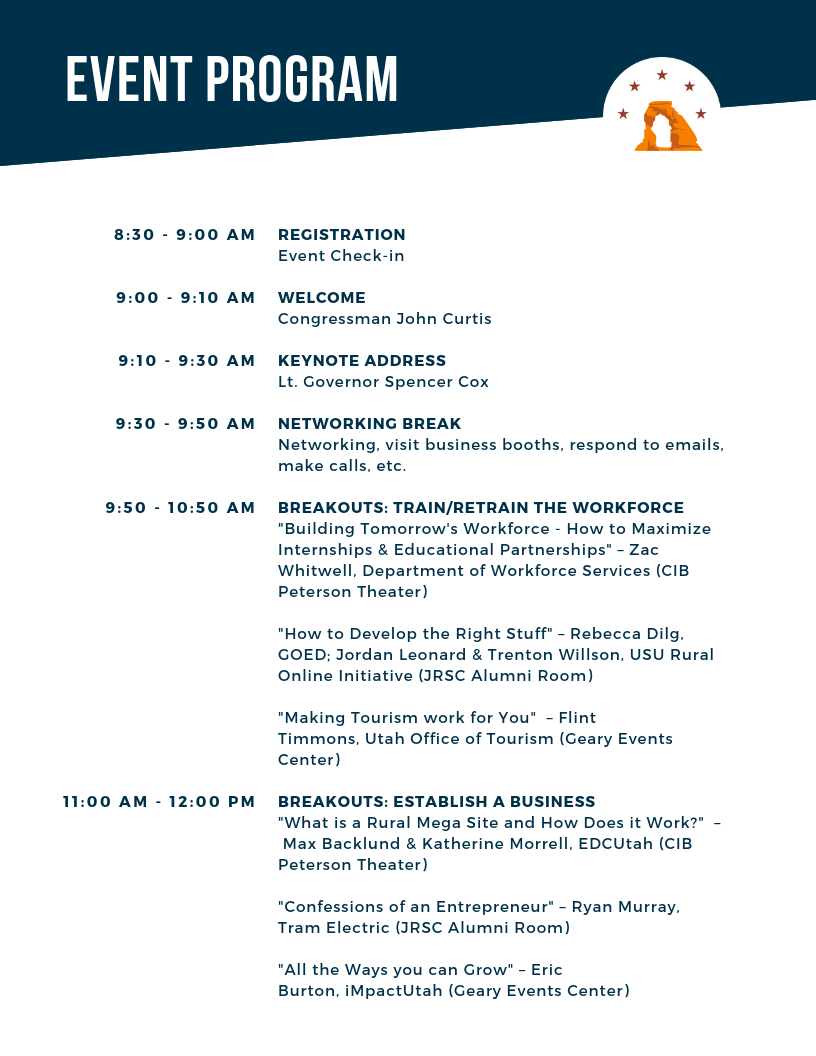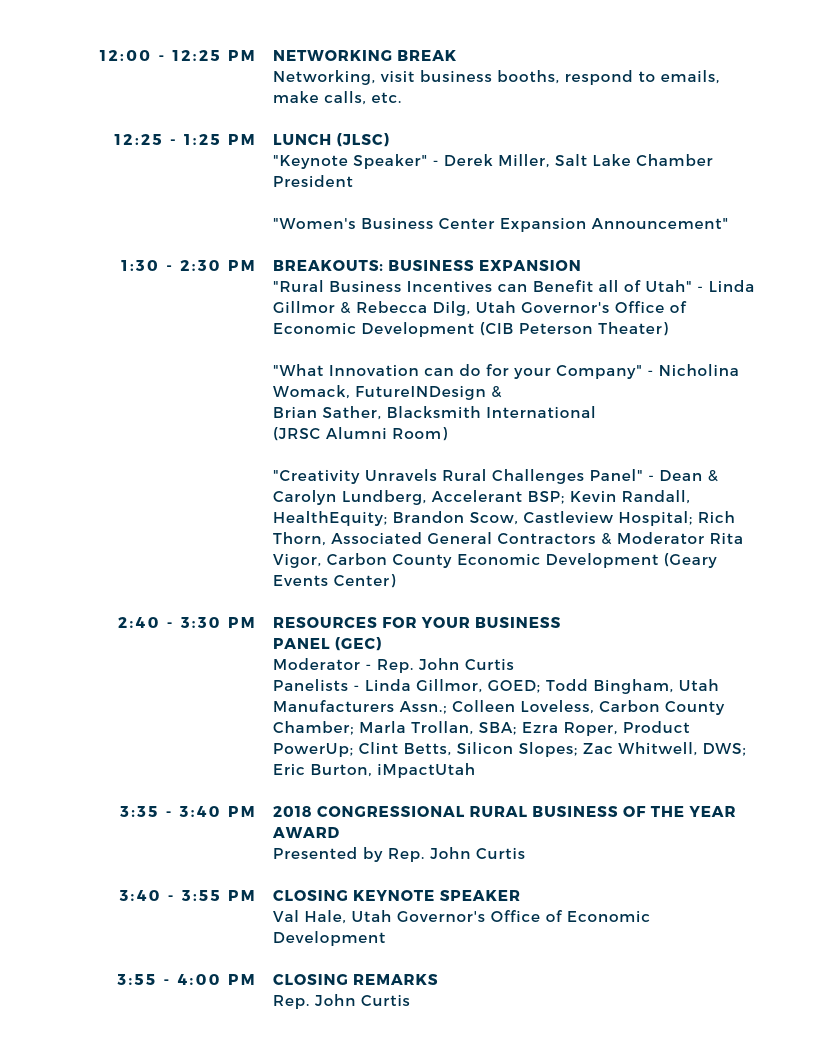 Max Backlund

EDCUtah

Director of Community Strategy

Clint Betts

Silicon Slopes & Beehive Startups

Executive Director and Editor-in-Chief

Todd Bingham

Utah Manufacturers Association

President & CEO

Eric Burton

IMPACT, Inc

Senior Project Manager

Lt. Governor Spencer Cox

Lieutenant Governor of Utah




Rebecca Dilg

Utah Governor's Office of Economic Development

Rural Community and Outreach Manager

Linda Clark Gillmor

Utah Governor's Office of Economic Development

Director of Rural Development

Val Hale

Utah Governor's Office of Economic Development

Executive Director

Jordan Leonard

Utah State University

ROI Program Coordinator

Colleen Loveless

Carbon County Chamber

Vice President

Dean Lundberg

Accelerant BSP

President

Carolyn Lundberg

Accelerant BSP

Vice President

Derek Miller

Salt Lake Chamber

President & CEO

Katherine Morrell

EDCUtah

Community Strategist

Ryan Murray

Small Business Development Center and Custom Fit

Regional Director

Kevin Randall

HealthEquity

Vice President of Service Experience

Ezra Roper

Product PowerUp

Co-founder

Brian Sather

Blacksmith International

CEO

Brandon Scow

Castleview Hospital

RN, Economic Director

Rich Thorn

Associated General Contractors, Utah Chapter

President & CEO

Flint Timmins

Utah Office of Tourism

Destination Development Specialist

Marla Trollan

SBA, Utah District Office

Director

Rita Vigor

Carbon County

Economic Development Specialist

Zac Whitwell

Department of Workforce Services

Assistant Director of Workforce Development Division

Trenton Willson

Utah State University Extension

ROI Program Coordinator

Nicholina Womack

FutureINDesign

Founder & CEO