About this Event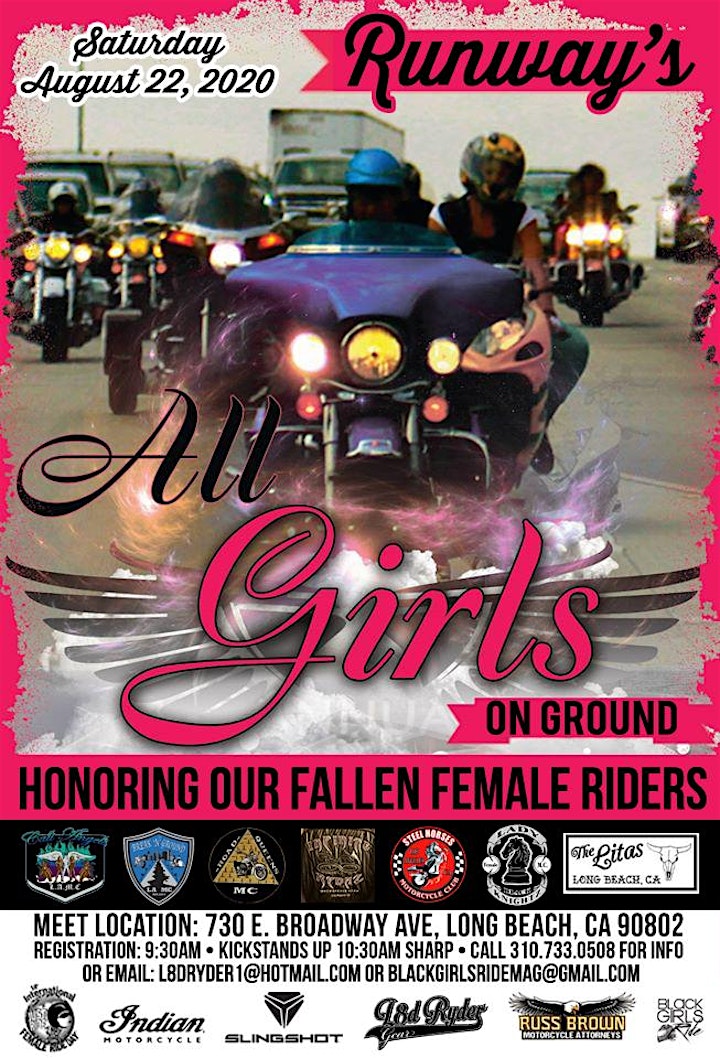 About All Girls On Ground:
THE ANNUAL ALL GIRLS ON GROUND RIDE WAS FOUNDED IN 2013, BY CHARMANE "RUNWAY" BAILEY AND LONNIE "L8DRYDER" BROWN. IT REPRESENTS BEAUTIFUL WOMEN OF ALL NATIONALITY WHO ARE ROLE MODELS, WIVES, MOTHERS AND CAREER DRIVEN ENTHUSIASTS. ON TOP OF ALL THAT WOMEN WHO RIDE MOTORCYCLES. THIS IS AN OPPORTUNITY TO MEET, GREET, AND HAVE FUN AT THE SAME TIME.
For International Female Ride Day, we are hosting All Girls On Ground, in honor of our Fallen Female Riders. All Riders Are Welcome! Yes, Men, you are invited! We welcome your support!
We Ride in Honor Of:
CHARMANE "RUNWAY" BAILEY - ALL GIRLS ON GROUND
KEISHA "STILETTO" JUNIOUS - STEEL HORSES MC
KRISTANNE "TOPAZ" CANTY - ROAD QUEENS MC
DENA "BLUE EYEZ" LIVESAY - INFINITE RYDAZ
SJ HARRIS - THREADER 24 RACING
JEANETTE "GRANNY" SMITH - RARE PEARLS SC
JERILYN "QUIET STORM" DORSEY - CALI ANGELS MC
LISA "BUTTACUP" MCCALLISTER - HIGHWAY ROYALTY MC
Event Details:
Date: Saturday, August 22, 2020
Registration: 9:30am
Ride: 10:00am
Fallen Riders Tribute: 12:00pm
Celebration: 1pm - 5pm
SPECIAL THANKS TO OUR HOSTING CLUBS:
CALI ANGELS MC
BREAK N GROUND MC
ROAD QUEENS MC
INFINITE RYDAZ MC
STEEL HORSES MC
LADY KNIGHTZ MC
THE LITAS LONG BEACH CHAPTER
SPECIAL THANKS TO OUR SPONSORS:
L8D RYDER GEAR