Description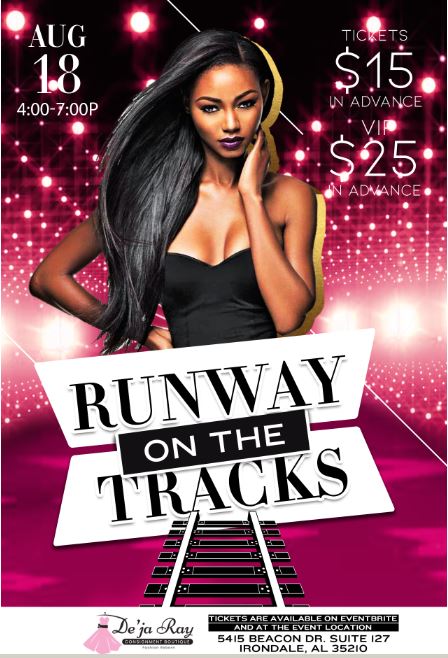 Come one, come all aboard the fashion train!!!!!
De'ja Ray, one of the hottest consignment boutiques in town is turning a year old!

We are celebrating this milestone by presenting a fashion show like no other. Guests will have an elite experience, full of unique and vintage fashion, that will allow this Sunday evening to be spent in a most fabulous way.

There will be vendors, food, mimosas, swag bags, a mini step show, a guest DJ to hype our models as they slay the "PINK CARPET", special guests and MORE.

The boutique will open for business from 2 pm to 3:30 pm. Then guests should feel free to take pictures and mingle aboard the train until the Fashion Show begins PROMPTLY at 4 pm.
Advance tickets: VIP - $25, General - $15
At the event: VIP - $30 (if available), General - $20
So, grab your ticket today and get your best outfit ready. Then, make sure to look both ways as we present "Runway on the Tracks"!

Please call Nikki at (205) 540-7561 with any questions. We are excited to see everyone on August 18th!!!!!
#FashionTrain #Networking #IrondaleTreasure