TICKETS WILL NOT BE SOLD AT THE DOOR
About this event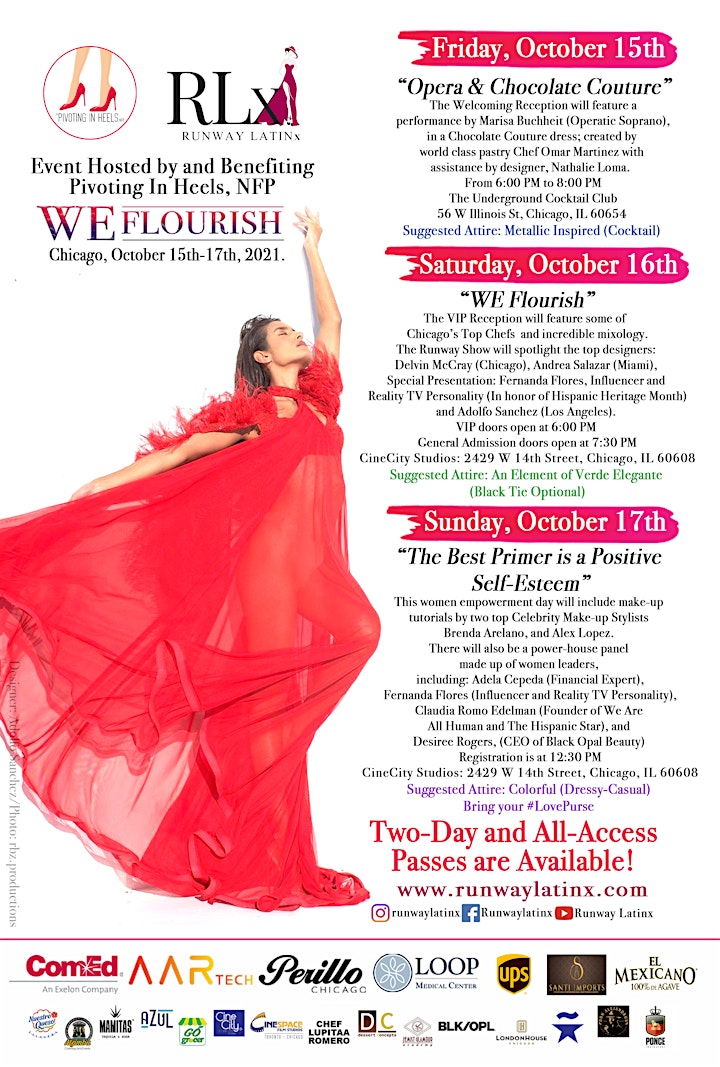 ANNOUNCEMENT: TICKETS WILL NOT BE SOLD AT THE DOOR.
This year, the event will be hosted by Pivoting in Heels, a digital Non-for-Profit dedicated to empower women and provide them with insight and professional tips to successfully pivot through every area of their lives. Some of the profits raised during RUNWAY LATINx will be used towards the Pivoting in Heels Intern Scholarship Program.
RUNWAY LATINx (RLx) will showcase top Latinx designers in order to expose their artistic talents and bring exquisite fashion to the Chicago stage. Top-chefs and mixologists will also be in the spotlight.
"WE Flourish! We are proud to open the door for those who are interested in the industries that will be represented during Runway Latinx." - Founder, Arabel Alva Rosales, J.D.
RUNWAY LATINx will be on Friday, October 15th, 2021 through Sunday, October 17th, 2021. A 3-day closing event to the Hispanic Heritage Month.
CALENDAR OF EVENTS:
Day One: Friday, October 15th: "Opera & Chocolate Couture" Welcoming Reception / From 6:00 PM to 8:00 PM
The opening night will be a meet and greet reception honoring designers. The night will feature a chocolate couture dress created by world class pastry Chef Omar Martinez, with assistance by designer, Nathalie Loma. Marisa Buchheit, an operatic soprano singer, and former Miss Illinois will perform while wearing the chocolate creation. The event will include an introduction to the designers that will be featured on Saturday. Additionally, there will be local designers in attendance. Don Alejandro's will also be present with their finest hand-rolled cigars. Complimentary appetizers and a specialty drink will also be served.
Recommended "Metallic Inspired" Cocktail Attire.
Location: The Underground Cocktail Club56 W Illinois St, Chicago, IL 60654
Day Two: Saturday, October 16th: "We Flourish" Runway Show + VIP Reception VIP Doors open at 6:00 PM General Admission doors open at 7:30 PM
The VIP Reception will be featuring some of Chicago's Top Chefs. Including, the amazing Chef Atzimba in collaboration with Nuestro Queso, Chef Lupitaa Romero as seen onTelemundo's Master Chef, the award-winning Azul Restaurant, Chicago's best and finest Puerto Rican Cuisine, Ponce Restaurant, and world class Pastry Chef Omar Martinez who will delight us with amazing pastry desserts. We will also have incredible mixology featuring creative drinks made with El Mexicano's100% Agave tequila. At 8:45 we will begin a Runway Show featuring three top designers: Delvin McCray from Chicago, as seen on Project Runway, Andrea Salazar, Miami designer from Colombia that is featured in the hit Amazon series, Making the Cut, and Adolfo Sanchez, Los Angeles, CA. Designer that is featured in the Next in Fashion Netflix series. The Runway will also feature a special surprise from Fernanda Flores, Influencer and Reality TV Personality.
The event will start off with a red carpet from 6:30pm-7:30pm, following will be the VIP reception from 7:00-8:30 PM and we will end the night with the "We Flourish" Runway Show.
The Recommended attire is an element of Verde Elegante (Black tie optional)
Location: CineCity Studios: 2429 W 14th Street, Chicago, IL 60608
Day Three: Sunday, October 17th: "The Best Primer is a Positive Self Esteem" Makeup Tutorials + Women's Leadership Panel. Focusing on the Empowerment of Women. / From 1:00 PM to 5:00 PM / Registration is at 12:30 PM.
The day will include make-up tutorials by two top Celebrity Make-up Stylists, Brenda Arelano, andAlex Lopez. There will also be a power-house panel, made up of women leaders, including Adela Cepeda, a financial expert who has served on several corporate boards,Claudia Romo Edelman, Founder of We Are All Human and The Hispanic Star, Fernanda Flores, Influencer and Reality TVPersonality, and Desiree Rogers, CEO of Black Opal and the make-up sponsor for this year's event. The amazing panel of women will be discussing self-esteem. The Recommended attire is Colorful Dressy Casual. In addition, Pivoting in Heels has partnered with the #LovePurse campaign, encouraging everyone to donate a #LovePurse filled with items that will go to benefit girls "Pivoting" into the workplace, and will be distributed by Instituto del Progreso Latino.The purses will be collected upon check-in to the event. By using the code: LPRLX, those who donate a #LovePurse will receive a 15% off discount for Sunday's ticket purchase. The first 50 donations of a #LovePurse will receive a T-shirt. PIH suggests a purse under $20.The #LovePurse could be filled with masks, keychains, wipes, hand sanitizer, and a positive note from the contributor.For more details on the #LovePurse campaign, please visit: www.LovePurse.or
Suggested Attire: Colorful (Dressy-Casual) Bring your #LovePurse
Location: CineCity Studios: 2429 W 14th Street, Chicago, IL 60608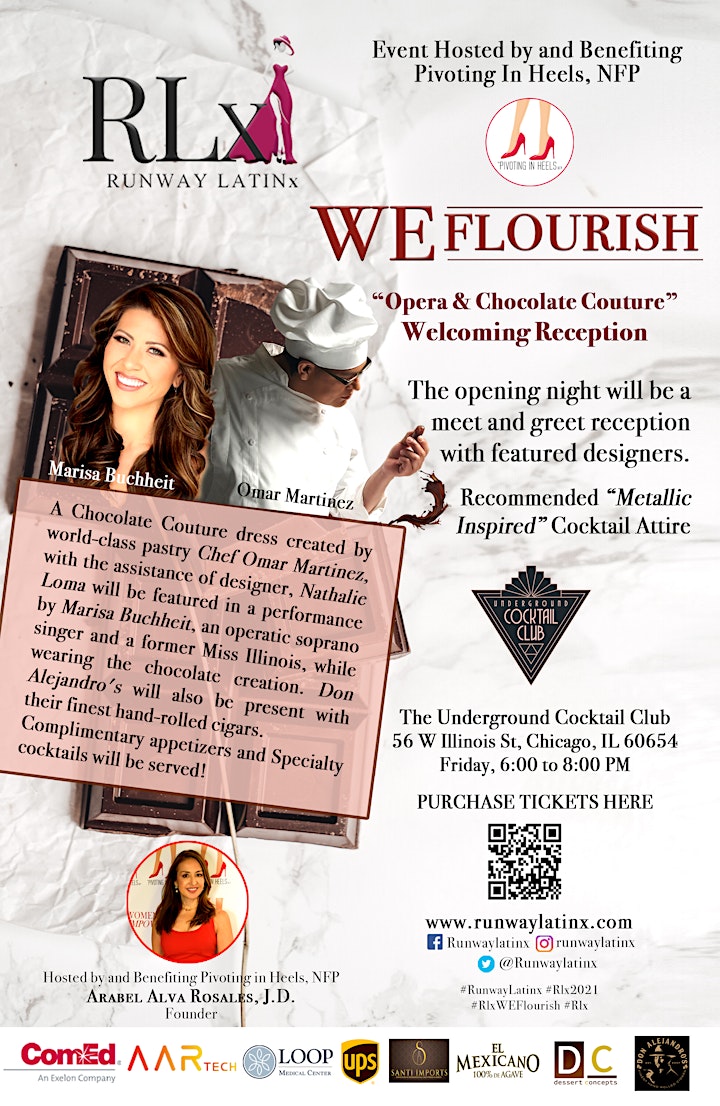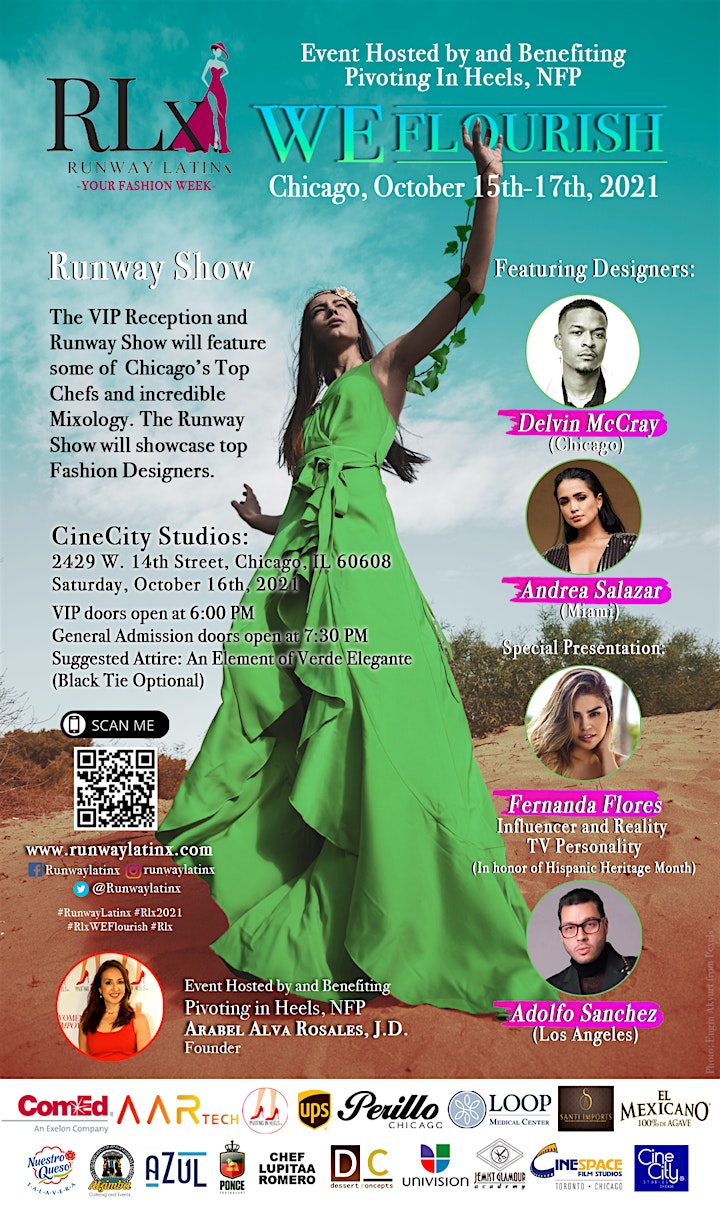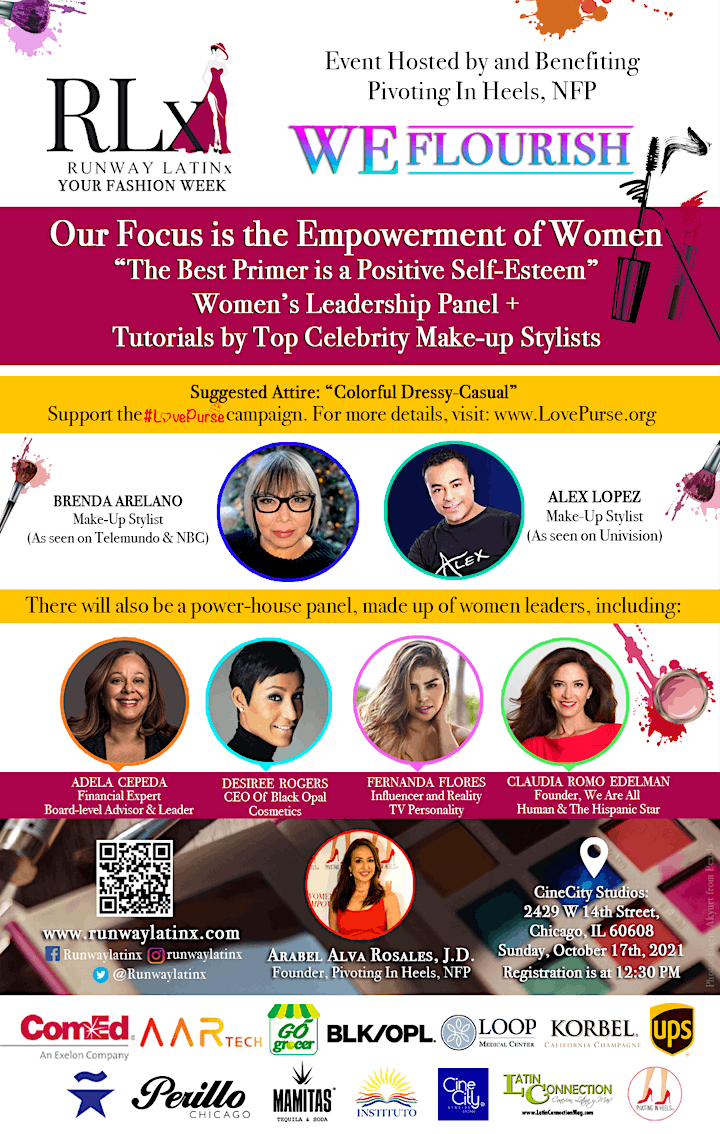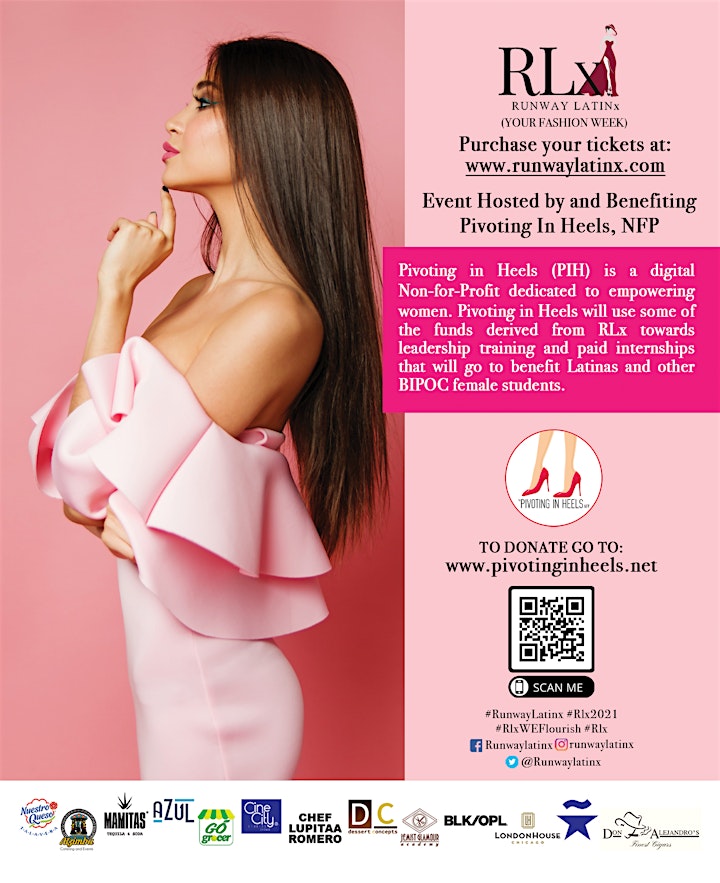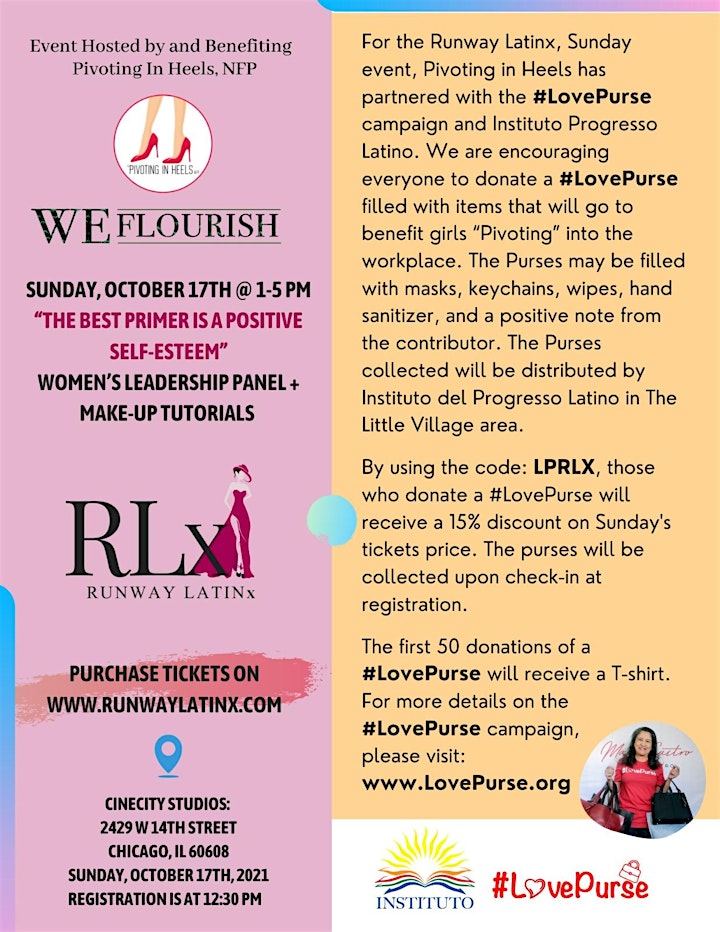 Organizer of Runway Latinx 2021 - WE Flourish
Join us for RUNWAY LATINx – a global fashion movement 
RUNWAY LATINx has created a platform for top Latinx designers from around the world to express their creativity and expand their market- without limits. Produced by Arabel Alva Rosales, co-founder of Latino Fashion Week, the multi-day branded entertainment environment provides opportunities for fashion designers and sponsors to come face-to-face with celebrities, musical talents, media, and major consumers.