About this Event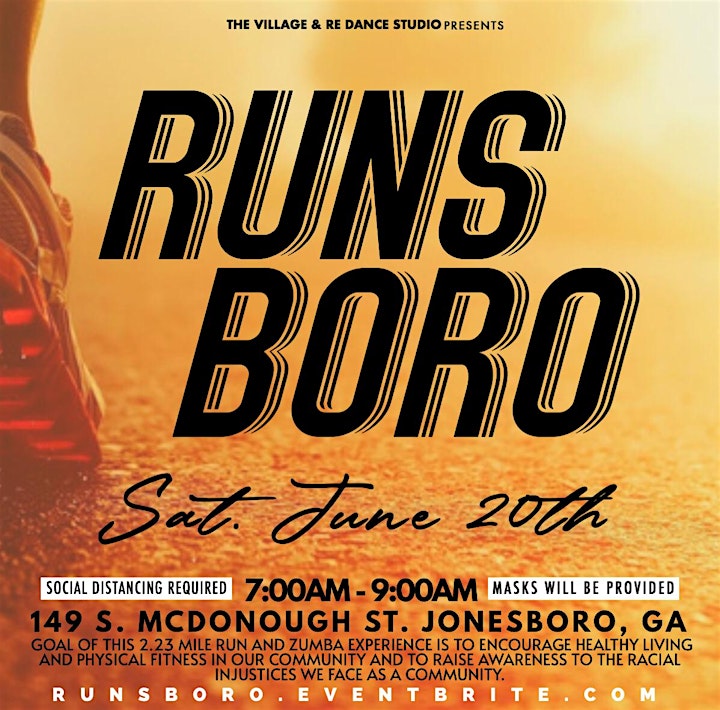 #RUNSBORO This Saturday!
💭We ALL Need This💭 🏃🏾#RUNSBORO This Saturday, June 20th. Come Get REFRESHED! The MOST Therapeutic, Community Building, Fitness Experience in GEORGIA IS BACK!! Join Us As We Get Lost In The 🎶 With @QUILLERBEAN + 🏃🏾 2.3 Miles Through The Heart Of #ClaytonCounty. We're practicing Social Distancing and Masks Will Be Provided!
Meet At : 149 South McDonough St. Jonesboro, GA
Time: 7AM Sharp 😬
Purpose: The Goal is to encourage healthy living and physical fitness in our community as well as bring awareness to the racial injustices we face as a community. RSVP @ Runsboro.eventbrite.com
#RUNSBORO
#ZUMBORO
#JONESBORO
#JUNETEENTH
#ITSTHEVILLAGE
#CLAYTONCOUNTY
▪️
Lets Continue To Live Healthy, Encourage Healthy Eating Habits, and Stay Fit Physically. After #RUNSBORO join us at #FreshSmoothieCafe!! $2 SMOOTHIES Until 12!