Description
Online registration is now closed but you can still get registered by stopping by RunnersWorld Tulsa on Friday, September 27th from 10AM-6PM.

Join us for the fifth annual RunnersWorld Tulsa 26.2, 50, or 100 Mile Urban Adventure Race!
Route Map Here: http://www.mapmyrun.com/routes/view/1283863087
Visit the website for more information: https://www.urbanadventure.run/

The RunnersWorld Tulsa Urban Adventure Race promises to be an unforgettable running experience. It is an urban adventure, a running tour of Tulsa, beginning and ending at RunnersWorld Tulsa. There is a distance for most everyone beginning with the marathon. The marathon is an exciting tour around Tulsa to experience seeing a vast amount of the iconic sights that represent our town! Upon finishing you will receive your Urban finisher's medal! (picture is actual size of medal!)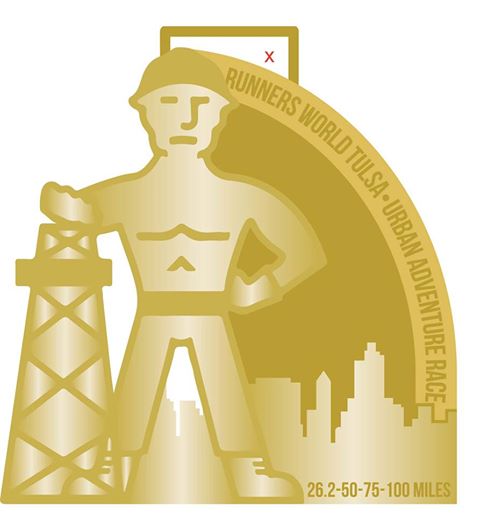 Due to the nature of the 100 with the running on pavement, the traffic and using QT's. etc as aid stations it makes it a fun and challenging event.... But, it is completely manageable....
Do YOU have what it takes to complete it?

The start is Saturday, September 28, 2018 at 7:00 a.m. The start/finish is at RunnersWorld Tulsa.,3920 S. Peoria, Tulsa, OK.
WHAT'S WITH THE NAME? First of all, it's Tulsa! It's an exposition because it will expose you to parts of the city that you may or may not have run before and will show you what a great city this is to run in on your Urban Adventure
CUTOFF: The cutoff time for finishing all distances of the race is 34 hours (5:00 PM. Sunday).
COURSE: The course is 25 mile loop with a 1.2 mile out and back for the 26.2 mile distance. Run one lap, do a marathon. Two laps for a 50, three for a 75 and four to complete a 100!!! It starts and finishes at RunnersWorld Tulsa, 3920 S. Peoria, Tulsa OK. You will be given a map with turn by turn directions to carry with you during the event and you must find your way around. The course is not marked and the map and turn by turn directions will be the only thing to show you the way. The terrain is generally flat to gently rolling. There are sidewalks to run on almost the whole race. I've tried to minimize running on streets with traffic as much as possible, but NOTE that much of the race is run next to or on streets where there may be heavy vehicular and/or pedestrian traffic, which is part of the "urban adventure" aspect of the race, so prepare to take extra care in traffic when you're exhausted near the end.
COURSE MAP: http://www.mapmyrun.com/routes/view/724596039
AID STATIONS: Your aid stations will be Quik Trips that are located approximately every 2-3 miles on the course. We will give you a Quik Trip card to use to purchase food and drink when you pick up your packet for the race. Quik Trip is not a sponsor nor are they involved in putting on this event and therefore you will act just like any other "paying" customer. You may NOT take anything for free. There will be only one other aid stations along the course at RunnersWorld Tulsa, providing water and sports drink, some simple food items (fruit, chips/pretzels, cookies) and maybe some more substantial food items.

You may enter to run 26.2, 50, 75 or 100 miles:

WHAT YOU GET: You will receive a QT debit card. (different amounts for each distance) A fabulous race shirt. An Urban Adventure buckle and medal for the 100 or a finisher Huge 6inch Golden Driller medal for the other distances. And any other fun BLING we can come up with!
Packet Pick-up: Packet pick-up is Friday, September 27 between 10:00AM-6:00PM at RunnersWorld Tulsa. Out of towners may pick up their packets on race morning starting at 6:00AM.
Thank you to everyone that attended our race in 2018! Here is a link to the race results
https://itsyourrace.com/results.aspx?id=11407