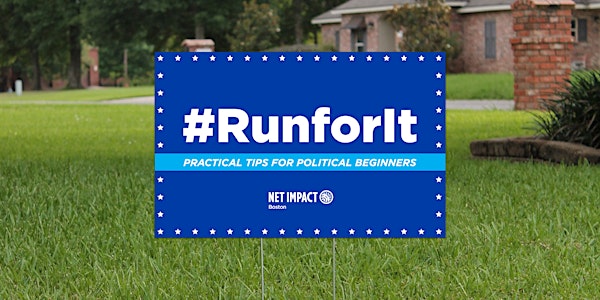 #RunforIt: Practical Tips for Political Beginners
Thinking about running for office, but where to start? Hear from door-knocking and handshaking experts on how to be successful.
When and where
Location
Suffolk University Institute for Public Service Sargent Hall | First Floor Function Room 120 Tremont Street Boston, MA 02108
About this event
The 2016 election and 2018 mid-terms sparked a sense of civic pride and obligation in thousands of Americans across the country. Activists, community leaders, and professionals from all political backgrounds are now viewing elected office not just as an opportunity to impact change in their community, but as a responsibility. Those new to the world of campaigning, stump speeches, and handshaking will have a lot to learn in a short amount of time. But what happens when you don't know where to start your door-knocking? How do you start a fundraising committee? Where's the Secretary of the Commonwealth's office?
#RunforIt: Practical Tips for Political Beginners will be an opportunity for emerging leaders in Boston's social impact space to hear from political experts about how to get started, how to make yourself into a candidate, and how to be successful. Attendees can expect to learn how to harness their resources, set a strategy, and make a difference in their communities during the process.
Please bring a photo ID to check in at the security desk prior to the event.
After the program, we'll head to Democracy Brewing for a beer (35 Temple Place). It's Democracy Brewing's mission to brew the best beer in Boston and serve its customers with two great American ideals in mind: democracy and owning your own business.
Guest Speakers:
Representative Andres X. Vargas (D - 3rd Essex), Commonwealth of Massachusetts.
Chelsey Cartwright, Deputy Political Director, Elizabeth Warren for MA
Ted Steinberg, Former Candidate for Massachusetts State Representative (13th Norfolk)
Emily Michalakes, Northeast Regional Outreach Manager, ActBlue
Stas Gayshan, Managing Director, Cambridge Innovation Center