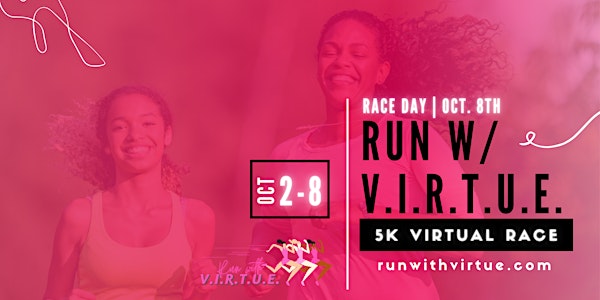 Run with V.I.R.T.U.E.
Join the 2022 Run with V.I.R.T.U.E., October 2-8, in recognition of breast cancer awareness!
About this event
Join the Race & Save the Date!
October 8, 2022
Engagements will include our annual Run with V.I.R.T.U.E., virtual 5k race, simple workout tips and more! The celebrations will give individuals an opportunity to recognize survivors, as well as donate in support of breast cancer research and program development. Our focus is to have the message of women's health and empowerment ring loudly!
Join the global cause with thousands of others on race day Saturday, October 8, from 8am - 2pm. The race can be complete at any time between October 2 - 8, with events occurring all week. Run at your pace, on your own time and at your place of choosing!
The race is ideal for anyone who wants to get active while staying socially distant. All race times must be posted to Run with V.I.R.T.U.E. no later than 12pm central by Saturday, October 8th. At 3.1 miles, you can start from anywhere!
Purchase Race Ticket: https://www.runwithvirtue.com/Race/Register