Sales Have Ended
Ticket sales have ended
ONLINE REGISTRATION IS NOW CLOSED. YOU MAY REGISTER ON SITE THE NIGHT OF THE RACE, FRIDAY, NOVEMBER 11TH AFTER 6 PM AT SILVER DOLLAR CITY. CALL SO WE MAY ADD YOU TO THE ON SITE REG LIST. 417-334-0131
Sales Have Ended
Ticket sales have ended
ONLINE REGISTRATION IS NOW CLOSED. YOU MAY REGISTER ON SITE THE NIGHT OF THE RACE, FRIDAY, NOVEMBER 11TH AFTER 6 PM AT SILVER DOLLAR CITY. CALL SO WE MAY ADD YOU TO THE ON SITE REG LIST. 417-334-0131
Description
Greetings! Thank you for participating in Run to the Lights...a 5K fundraiser!
About the Run:
Elite Automotive's Run to the Lights 5 K Fundraiser will be held Friday, November 11, 2016 at 10:00 pm. Come help celebrate the season and raise funds for area non-profit the Caring People, serving Single Moms and their families. The 11th anniversary of Run to the Lights will be an extraordinary night not to be missed. Millions of Christmas lights will once again adorn the streets of Silver Dollar City for this unique run. Families say, it is their family "holiday tradition." Hot wassail and cookies are provided for the crowd. Guests may contribute to the charity as well at the refreshment stands.
The Course:
The 5K course begins at Cave Road and is an out and back course to the outer parking lots of SDC, winding back in through the streets of Silver Dollar City, finishing at the singing Christmas trees by the Gazebo. Awards are given to the overall male/female finisher and top 3 runners among 8 age categories.( new this year a Jr. 11-14 age category) As always, exciting door prizes will be given out as well. Participants must register by November 1 to be guaranteed a specific tee-shirt size.
Visit www.runtothelights.com to stay updated or on Facebook at https://www.facebook.com/runtothelights/.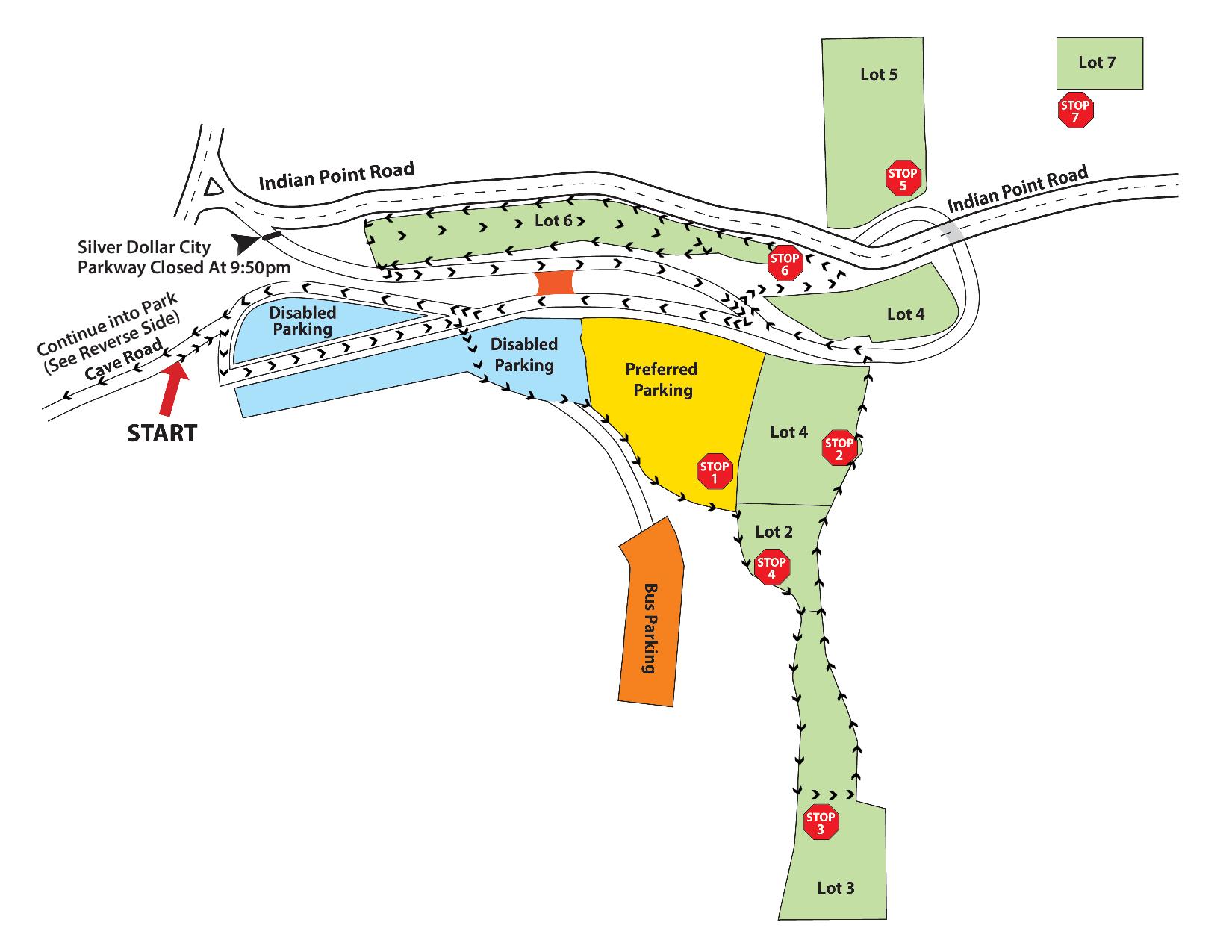 ---
A TREMENDOUS VALUE!
All participants receive:
A commemorative t-shirt ( specific sizes can only be guaranteed until November 1) VALUED at $20.00

Eash registrant receives a wristband that allows you and your family early entry to enjoy the park as early as 6:00 pm on the night of the race. Immediate family only may come in as spectators to cheer you on but they must come in with you, and you must show your wristband pass at that time. ( VALUE OF AT LEAST $61.00 PLUS PER GUEST)

A one day pass, good for one visit of the remaining 2016 Silver Dollar City season. The pass is not valid on the friday after Thanksgiving or Saturdays. (includes the day after, Nov. 12 Saturday) (VALUED AT OVER $61.00!)
---
Packet Pickup Dates and Locations:
Branson, Mo. Wednesday, November 9th, 12:00 - 6:00 PM Advanced Spine and Joint Center, 2001 Mo - 248 #6 hosted by Ultra Max Sports.

Springfield, Mo. Thursday, November 10th, 12:00 - 6:00 PM The Fleet Feet Sports (formerly Ultra Max) at 1254 E Republic Road.

Silver Dollar City, Race Night, Friday, November 11th, 6:00 - 9:00 PM
---
Night of the Race, Order of Events:
4- 6:00 PM - Register ( if slots are open) or pick up packet/t-shirt by Guest Relation. Please park in Lots 2 and 3. Stay till completion of the race, you may not leave while walkers are still on the course. This is a safety issue.
6:00 pm Early entry into SDC with wristband for the runners, immediate family may come in with you at this time as long as you are with them to show your wristband - proof of participation. They do not need a ticket to enter.
9:30 PM - 10:00 pm Park attendees exit. RTTL participants gather at the gazebo, singing Christmas tree for welcome, entertainment, and race instructions.
10:15 PM - Race Begins when the course is cleared for safety.
RUN TO THE LIGHTS!!!!
11:00 PM - Awards ceremony and giveaways
11:10 PM - Thank you and dismissal
CANCELLATIONS AND REFUNDS: In the event of inclement weather the night of the run, no refunds will be issued. Runners will receive their pre-ordred shirts and SDC passes. We will notify registrants as soon as possible. (historically, the run has never been cancelled due to weather)
---
Lining up for the run .....
It is important that the fastest runners line up first when the instructions are given to line up. WALKERS AND THOSE WITH SLOWER TIMES, PLEASE STAY TOWARDS THE BACK FOR THE SAFETY OF ALL. Special instructions will be given regarding this prior to the race. Please follow the instructions on lining up as it makes for a more enjoyable and safe run for all participants and alleviates congestion.
Please Note: Safety First!
At the close of the race, many runners and walkers are still on the course after the top finishers cross the line, including families with small children. Parking trams are not available after the race. There will be a small shuttle, available to transport those who need assistance returning to their vehicles after the event.
Thank you for your understanding on this matter. It all helps to make a better experience!
A waiver is requested for each runner and a photo release for the event. This will be one the registration page.