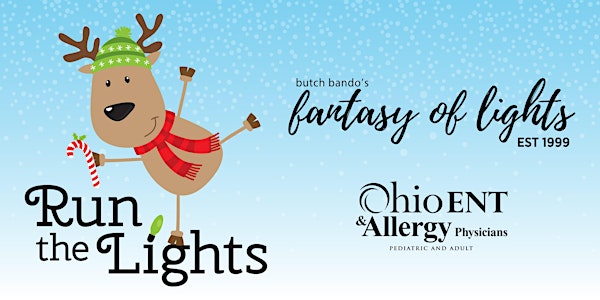 Run the Lights 2022 - Presented by Ohio ENT & Allergy Physicians!
Magical run through the 3 mile light show at Butch Bando's Fantasy of Lights!! The most exciting run of 2022 - plus awards and more!
When and where
Location
Alum Creek State Park 3305 South Old State Rd 43015 Delaware, OH 43015
About this event
Hurry to sign up for this super fun race. We are limited to 700 registrations. Special time to experience the entire Butch Bando's Fantasy of Lights show by running the 3 or 6 mile option of non-stop lights! The only time to experience outside of a car! Please note the following:
Race Week Registration Open - Limited # of Registrations Still Available - T-SHIRT Sold Out
RACE WEEK PACKET PICKUP DETAILS:
Options #1 – Thursday 5:30 to 7PM
1901 Northwest Blvd, Columbus OH 43212
It says Merkel Financial on the outside (we share office space)
This is your best option.
Option #2 – Race Day: Starting 4AM
Olentangy Berlin High School Parking Lot (3140 Berlin Station Rd, Delaware, OH 43015)
Near the football stadium/tennis courts
FINAL RACE INSTRUCTIONS:
Find all the details regarding Race Day: CLICK HERE
Race Details:
When: Saturday, December 17th, 2022 (race waves times every 10 min from 4:40AM - 6:30AM)
Race Details: Run the 3 or 6 mile option. Huge light show of Butch Bando's Fantasy of Lights! It's simply a magical run of not stop lights. Normally only accessible via vehicle - your chance to run it! Have fun and treat yourself. 3 or 6 mile option (6 mile is 2 loops)*.
Race Limit: This year we can only accept 715 runners (11 waves of 65 runners)! Don't delay to sign up!
Wave Starts: Racers/walkers will be placed into groups of 65 and staged at 10 minute wave start times (see below if you want your own private wave start).
Wave Start times (needs to be dark): 4:40AM or 5:40 (6 Mile), then 4:50AM and every 10 minutes afterwards (all 3 miles). Special family wave at 6:20AM. Wave start time will be assigned after registration - except 6 mile only happens at 4:40AM or 5:40AM and Family Wave at 6:20AM. Guarantee your wave time range by purchasing a parking pass. Wave times preference will be assigned based on order date/time - register to get your preferred time!
Location: Butch Bando's Fantasy of Lights (Alum Creek State Park 3305 South Old State Rd, 43015, Delaware, OH, 43015)
Race Distance: 3 Mile (or 6 mile - 2 laps for 4:40AM or 5:40 time slot - limited space!)
Family Wave: Special Family Wave 6:20AM. Families and kids only in this wave. Special prize at finish line for the kids!
Awards: Each Wave Start we'll award medals for 1st, 2nd, and 3rd place - yes, each wave! Race your friends, or others.
Reindeer Finish Line Medal (NEW): Reindeer Finish Line Medal for all runners!!
Interested in being a vendor: CLICK HERE
Note: No spectators or pets allowed. Strollers are fine.
*Note: Actual distance is about 2.9 miles and 5.8 miles
Race Fees (+ $5 for 6 mile):
Super Sale ($32!): Starts Tues 8/30 8AM - 9/1
Early Entry ($37): 9/2 - 10/27
T-Shirt Deadline Entry ($42): 10/28 - 12/1 - 10AM
Late Entry ($45 - shirt not guaranteed): 12/1 (after 10AM) - 12/10
Packet Pickup Day ($50): 12/11 or later
Parking Options
Parking (Optional #1 - Onsite - LIMIT 100): $10 - Park at race start. (See further down for details)
Parking (Optional #2 - Firehouse - LIMIT 75): FREE - Park at firehouse across the street from the race. So close you can almost walk to race. We will have a shuttle that gets you to the race
Parking (Option #3 - Olentangy Berlin High School): FREE - We will have a shuttle to get you back and forth from the race
All Runners Receive:
Pint Glass or Mug at the finish line
Reindeer Finish Line Medal for all runners - NEW!
Free Carnival Game Ticket at Packet Pick-up Party!
$5 off Butch Bando's Fantasy of Lights drive-thru show (come back and drive thru with your car!)
Race T-shirt (must register by (Wednesday, 11/30/21) After date, limited # of shirts available
Special item from Ohio ENT & Allergy Physicians
Ticket to Packet Pickup Party! See details below
Wave Starts & Awards:
Wave Frequency: Starts every 10 minutes
Wave Size: Will consist of 60 runners or walkers
Race Awards by Wave: Top 3 runners in each age group will receive a medal
Race Wave times: 4:40AM & 5:40 (6 mile) - all others 3 mile - 4:50, 5, 5:10, 5:20, 5:30, 5:40, 5:50, 6:00, 6:10. Family Wave only 6:20 (purchase a parking pass to guarantee the range for your race wave)
Want your own wave start? Contact Greg Yoakam at greg@kidslinked.com. Must have 50 runners and up to 60 max. You will have your own race wave and we'll still give awards to the top 3 + all the finish line items!
How to get grouped together: There is a field called "Team Name". Have everyone in your group use the same Team Name and we will group you together. Maximum grouping is 60.
Staging Area: 10 minutes prior to your race, your wave start will be announced. At that time you will be requested to report to the staging area.
IMPORTANT PARKING INSTRUCTIONS:  3 Options for Parking:
Option #1 - Parking Pass $10 - at race site - LIMIT 100 (guarantee race wave range by purchasing a parking pass): 50 Parking spaces at the Alum Creek Park per race range (race start times of Section 1 - 4:50-5:30, Section 2 - 5:40-6:20) You need to purchase a parking pass in order to get one of these very limited spaces.  $10 per car.  Your name will be on a list, no need to print out a ticket. We will admit your car being on our registration list.  Parking Pass is required to park at the Alum Creek Park.  $10 per parking pass. Your race wave will happen within whatever parking pass range you select.
Option #2 - Parking Pass FREE - LIMIT 75 - Berlin Township Fire Department - so close you can almost walk to event! (2708 Lackey Old State Rd, Delaware, OH 43015): 75 Parking spaces at the fire department. Take a quick shuttle to the start of the race! Free, but must pre-register. Your name on will be on a list, no need to bring ticket.
Option #3 - Race Shuttle - FREE:   Everyone else will need to park at the Olentangy Berlin High School (3140 Berlin Station Rd, Delaware, OH 43015).  It's a short 5-7 minute shuttle ride over. Parking at the high school is free!
Packet Pickup Party
We have an exciting Packet Pickup Party planned! Super fun way for your to get your race packet. Below are the details:
What: Packet Pickup Party!
When: Sunday, December 11th from Noon - 3PM
Where: Otterbein University - Clements Recreation Center (180 Center St, Westerville, OH 43081)
Details: This will be a fun packet pickup party! Stop in to get your race bib / t-shirt / and other goodies.
Fun Items: Includes tons of activities, carnival games, holiday shopping, live magician, free ornaments, park, free candy canes, and lots of other goodies! Neat items for the holidays, great things to improve your home, and lot of other helpful items! For the kids we have a huge bounce park ($6) and tons of activities.
Santa Visit Option: 90 of the race registrants will receive a special Santa Visit (optional for those racers with younger children), plus a visit from one of Santa's elves. Children can drop off their wish list to Santa & receive a fun candy cane! Free, but requires a ticket you request during the registration process. You will be assigned a Santa Visit time between noon -3PM).
Carnival Games at the event: 1 free carnival game to play of our 5 fun carnival games at the packet pickup party for all registered runners/walkers.
Friends / fellow runners can also pickup the packet for you.
Note: No Race Day packet pickup.
Butch Bando's Fantasy of Lights Details:
Find out more details about the amazing Butch Bando's fantasy of Lights evening drive-thru light show CLICK HERE. Season starts November 18th! 
Please note: KidsLinked has a NO REFUND policy for all events.  Course closes at 7:15AM, must be completed with your run by 7:15AM.
There will not be chip timing on either race.  Final times will not be posted, but finish line awards and holiday pint mug or Santa Mug (all) will be presented in order of finish!
Health and Safety Plan
You can not leave the road during the course to go to the bathroom (there will be one at each of the shuttle pick up areas, but no bathroom at the Delaware State Park where the race happens). There are wires and other items that you can easily trip over that will take down the entire light display, so please do not leave the course during the run/walk. Thank you :)!
Course Maps
Coming soon.  
Sponsorship Opportunities
Would you like to be a sponsor of this fun event? Great way to be seen by a lot of runners. Sponsorship Opportunities: CLICK HERE
Race Day Updates
Race Day Updates on the Run the Lights will be either posted on the KidsLinked Facebook page or via email.  Final runner instructions will be sent the week of the race.
Spectator Information
No spectators are allowed.  Only runners with an official race bib for Run the Lights will be allowed on the race course.
Inclement Weather Policy
The Run the Lights will start as scheduled at 4:40AM/5:40AM for the 6 mile or 4:50AM - 6:20AM for various 3 mile wave starts. on December 17, 2022 regardless of rain, snow or cold temperatures.
If there is visible lightning in the area, the race will be delayed for a minimum of 15 minutes. The race would only be further delayed, postponed or cancelled if extreme conditions jeopardize the safety of participants.
Please follow KidsLinked for constant updates and listen closely to all public address announcements on Race Day for information and instruction.
3 DAY SUPER SALE STARTS NOW - ENDS THURSDAY AT 11:59PM - 9/1/22!
Super Sale Special Only $32 ($37 for 6 mile)!
Huge Scene 75 Bonus (1st 50): 1 Free Go Kart Pass!
On-site Parking Pass: Will sell out hurry!
Preferred Race Time - Super Sale Only!
1 Free Carnival Game Ticket - at Packet Pickup Party!
Reindeer Finish Line Medal for all Runners - New this year!
Hurry, Super Sales ends on Thursday, Sept 1st at 11:59PM!