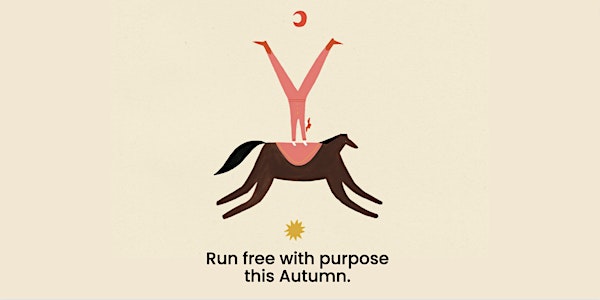 Run free with purpose this Autumn.
A workshop for creatives, like designers, makers, artists and photographers, to reset and renew their focus and feel energised for Autumn.
Refund Policy
Contact the organiser to request a refund.
Eventbrite's fee is nonrefundable.
About this event
If you're a creative in business. It's important to take the time to pause and step back. So, you can take stock of where you are now and where you're heading.
This workshop creates the space for you to do just that. So, you can check in on your creative business. Reset and renew your focus. Then take the reins in the right direction.
Whether your focus is growing your audience, launching a new product, or making a dream project happen, this workshop will help you get clear on your path for the next three months.
So you can align your most important resources - your creativity, time and energy in the places to help you get the results you want. So you can run free with purpose this Autumn.
In the workshop, Nicola from Brand Warrior will help you:
• Find your feel good goals for Autumn.
• Explore how to make goals work for you.
• Discover how goals can fuel creativity.
• Map out your path for the next three months.
• Give you the tools to run free with purpose.
So, book a place to connect with other creatives and to make this Autumn count. Count for you and count for your creativity. Because the world needs creative people with ideas. It can't evolve without you.
(Event image: illustration by Sarah Wilson on instagram at @swillistrations and online at swillistrations.co.uk. Buy Sarah's prints, including this fab illustration, via her shop).
---------------------------------------------------------------
About Nicola at Brand Warrior.
Hi everyone. I help creatives, such as designers, makers, artists and photographers, to find their distinctive warrior spirit, so they can stand out in crowded markets.
I developed The Brand Warrior Method from my 20 years' experience of working with arts and culture brands. Through my 121 programme, Through the Trees, I helps clients create point of difference through celebrating their creative individualism. So they have edge in the market and get more customers, get more sales.
I live with my two children, James and Rose, and our cavapoo called Darcey. I regard my Brompton bike as my friend and one day I'd like to live by the sea :)
-----------------------------------------------------------------
What people say about working with me.
"I wanted to give Nicola at Brand Warrior a shout out because I'm loving every moment of her programme, Through the Trees. If you're an artist of any type and need help wiht branding, refining your message and what it is you really do. I highly recommend contacting Nicola. Such a beautiful soul to work with and so good at what she does." Gemma Troy, Artist
"I have been trying to get my business off the ground for a while and I couldn't see what direction to take any longer. The 121 sessions with Nicola were incredible! I got so much out of it. It felt so good to be able to talk things through with a professional and to get an impartial opinion on my business.
The sessions gave me structure, more clarity and purpose. I highly recommend Nicola for her professionalism and her caring approach. It's a breath of fresh air to come across someone that cares about their business and other people too." Jessica Barbagallo, Designer and Maker