Run For Your Life! Childhood physical activity effects on brain and cogniti...
Actions and Detail Panel
Run For Your Life! Childhood physical activity effects on brain and cogniti...
Wed, May 3, 2017, 5:15 PM – 6:30 PM AEST
Description
Professor Hillman's presentation will focus on the relationship between both acute and chronic physical activity participation and cognitive function from a neuroimaging perspective. Using this approach, he has examined the relationship of cardiovascular activity on underlying processes involved in attention, memory, and cognitive control. Generally, results from this line of research have suggested that cardiovascular activity benefits cognitive processing for tasks that require greater amounts of cognitive control; an effect that is less pronounced for tasks requiring lesser amounts of cognitive control. Accordingly, his findings indicate that cardiovascular activity may have a greater effect on cognitive processes that are more effortful, rather than a general benefit on overall cognitive function. Professor Hillman will also provide a brief overview of the 'Burn 2 Learn' program, which will be evaluated by researchers from the University of Newcastle, Northeastern University and Australian Catholic University in NSW secondary schools in 2018. Burn 2 Learn is a time efficient solution for increasing vigorous physical activity and improving health and cognitive function in senior school students.
Professor Charles Hillman, Ph.D., currently holds appointments in the Department of Psychology and the Department of Health Sciences at Northeastern University. He has been appointed to the 2018 Physical Activity Guidelines Advisory Committee, which is comprised of some of the country's most accomplished physical activity and health experts, and is charged with providing science-based guidance on how children and adults can improve their health through physical activity. Prior to this, Chuck was at the University of Illinois at Urbana-Champaign in the Departments of Kinesiology and Community Health, Psychology, and Internal Medicine, and was also the director of the University's Neurocognitive Kinesiology Laboratory. Chuck's research and professional interests focus on exercise psychology and psychophysiology, cognitive neuroscience, and physical activity and cognition across the lifespan, with a special emphasis on children and youth. Chuck is an internationally-recognized researcher and expert on the connection between physical activity, cognition, and learning.
Please note that the pin drop on the displayed map was not able to accurately locate the ATC (Advanced Technology Centre) on campus. The following images will help you locate the ATC:
Below, the Advanced Technology Centre is marked with a red 'X', and the most convenient carparks are marked with a red square outline: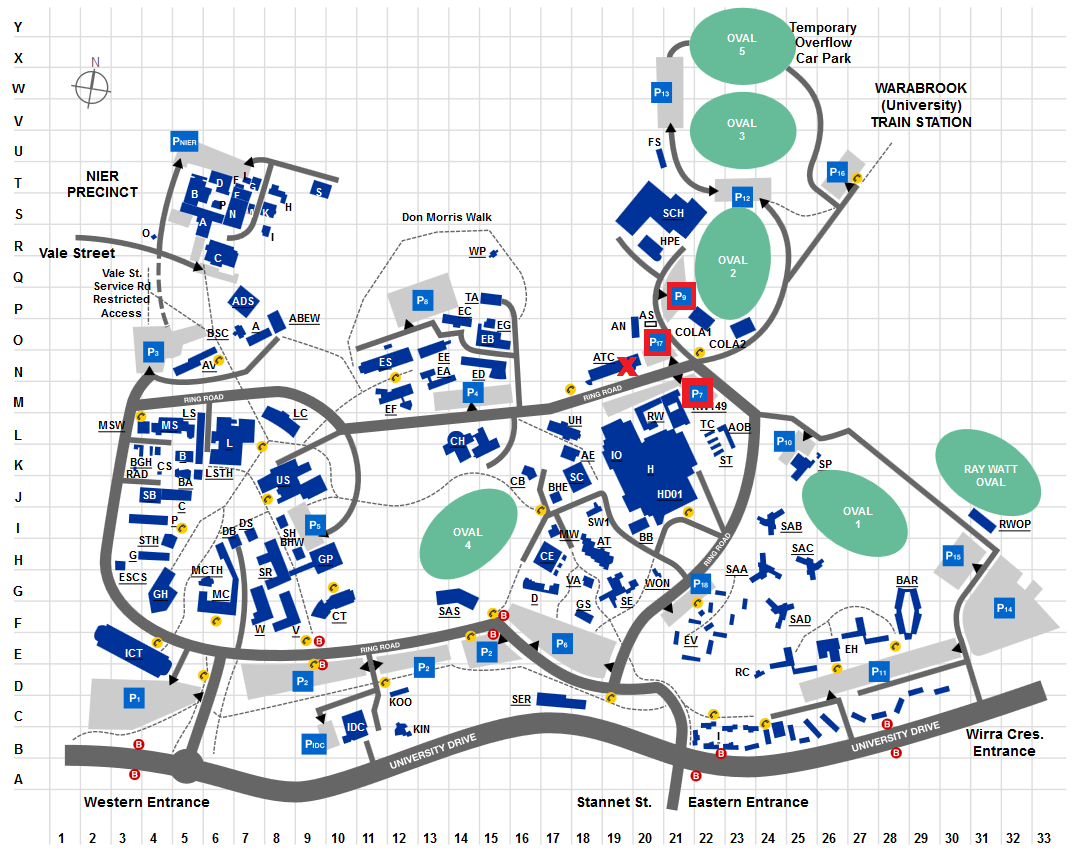 Date and Time
Location
Advanced Technology Centre
University of Newcastle
University Drive
Callaghan, NSW 2308
Australia