| | |
| --- | --- |
| Run Dad Run! Virtual 5K Walk/Run | |
Event Details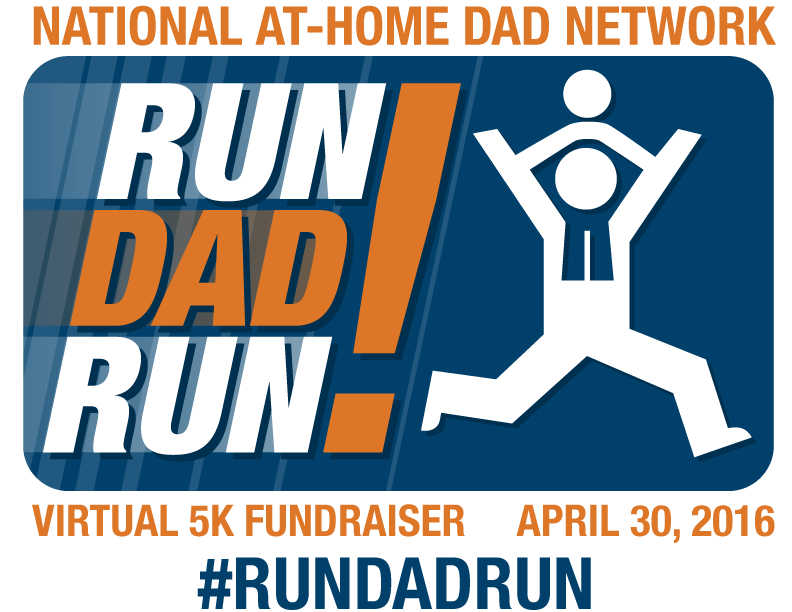 REGISTRATION NOW OPEN!
Join us for the first ever Run Dad Run Virtual 5K Walk/Run, the spring fundraiser for the National At-Home Dad Network. All funds raised go towards the ongoing operating expenses of the NAHDN, a 501c3 non-profit organization dedicated to providing support, education and advocacy for fathers who are the primary caregivers of their children.
WHAT IS A VIRTUAL 5K?
So glad you asked! A virtual 5K is an organized, co-ordinated event where participants can do their run where they are, when they want, at their own pace. This is an opportunity for dads and families to be active in their own neighborhoods, running with their friends and family and community. Since our organization represents dads and families from all over the country (and beyond!) this is a great way for us to be out and active together without being together.
HOW DOES THIS WORK?
Run Dad Run works pretty simply: just register for the run here — the cost for participation is $25 for individuals, or $50 for families — and on the day of the race you run (or walk!) the 5K at your own pace, where you are. For participating you will be sent a shiny exclusive medal! In addition you will have the opportunity to purchase a Run Dad Run t-shirt to commemorate their participation.
WHAT IF I CAN'T RUN OR WALK?
No problem. This supposed to be a fun event and a fundraiser first and foremost, so if you want to ride a bike, skateboard, unicycle, or crawl, feel free! No one is keeping score. And if you want to help contribute to our fundraiser but are not able or interested in participating in a 5K, please feel free to simply DONATE to the cause! We appreciate your support!
WHERE DOES THE MONEY RAISED GO?
This is the National At-Home Dad Network's major annual fundraiser, and all registration fees will go to funding the costs of running the organization throughout the year. This includes things like administrative costs and filing fees, web hosting and marketing costs, accounting fees, as well as the numerous expenses related to the planning and execution of the Annual At-Home Dads Convention. As always, we are a volunteer-run organization, and no money goes to paying salaries.
---
To learn more about the National At-Home Dad Network,
check out AtHomeDad.org/RunDadRun
* T-Shirts and Medals will be mailed to registered participants after the event.
Organizer
The National At-Home Dad Network is a 501c(3) nonprofit dedicated to providing advocacy, community, education, and support for families where fathers are the primary caregivers of their children. Our purpose is to empower fathers and champion a culture that recognizes them as capable and competent parents.