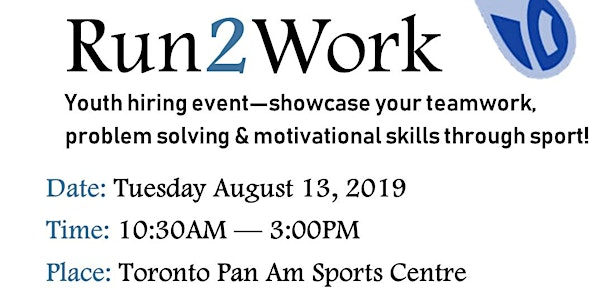 Run 2 Work - Youth Hiring Event
Run2Work is a youth hiring event helping showcase skills via physical activity, supporting secure employment. Lunch & snacks provided.
About this event
875 Morningside Avenue, Toronto, Ontario, M1C 0C7
On Tuesday August 13, 2019, the City of Toronto will be hosting Run 2 Work – a hiring event bringing together Footlocker & community agencies designed to bring together young people around the importance of healthy body, healthy mind, healthy living initiatives. Lunch & snacks will be provided. Gently used clothing items will be available for attendees of the event at the closing of the event.
The day will involve a number of activities where youth and employers work in teams to showcase employability skills including teamwork – motivation and problem solving.
Activities include; 3-point basketball competition, soccer skills & drills, 5KM run/2KM walk & team building training
Please dress in comfortable or active wear, bring physical and or digital copies of your resume and keep connected with your Job Developers and Employment Counsellors to prepare prior to this hiring event.
Pre-registration is requested. Please arrive to the event before 11:00AM to ensure you have enough time to take part in our day's activities and meet with employers and agencies present.
This event is open to all job seekers 16-24 years old, pursuing opportunities in retail. All job seekers 16 - 29 are welcome to attend after 2:00PM.
Need Help? If you are not currently receiving support with your job search and you would like help with your resume, interview preparation or anything employment related, please contact arjun.sahota@toronto.ca
Questions:
Please connect to your Job developers/Coaches with any questions about this event or e-mail arjun.sahota@toronto.ca. A representative will call you back within 2 business days.
Frequently Asked Questions (FAQs):
FAQs
My Job Developer/Councellor at the Agency or Social Services Office that is supporting me in my job search told me that I am already registered for the Job Fair through them, do I also have to register through Eventbrite?
No, you do not have to register again through Eventbrite. If you have been registered by a Job Developer/Councellor at your Agency or Social Services Office, please make sure you bring the registration form or ensure you have the office Name and Job Developer/Coach's information (Name, Email or Phone) prior to checking in to the job fair on the day of the event.
FAQs
Do I have to bring my ID?
You do not need your ID, however, if easily available, please bring your Eventbrite ticket to the event. If you have a Job Developer/Councellor supporting you with your job search, please have that information available.
FAQs
What are the age restrictions for this Job Fair?
This event is intended to support residents of Toronto who are between the ages of 16 – 24
FAQs
Can I print a resume on site?
We encourage all job seekers to bring digital copies of their resume as computers will be present to apply to job links online. You will not be able to print resumes on-site.
FAQs
How can I get prepared for this Job Fair?
There are two great ways to prepare for this job fair, learn how to write a resume, gain interview skills and build an elevator speech. You can connect with a Community Employment Agency in your neighbourhood through Youth Employment Partnerships by e-mailing arjun.sahota@toronto.ca. You can connect with a City of Toronto Employment Centre. Locations and Employment Centre hours can be found here: www.toronto.ca/youth.
FAQs
Where can I contact the organizer with any questions?
Please connect with your Job Developer/Coach first with any questions prior to e-mailing. If you are e-mailing, please leave a note with your First and Last name and inquiry. A representative will call you back within two business days. Please ensure your e-mail address is professional and that you check it daily.
FAQs
Which retail employers are going to be there and what roles are they hiring for?
The list above will be updated as we get closer to the event. Coaches and Job Developers are updated weekly with any new employers that are registering. Please connect to them first for any updates. An email will be sent to you a week before the event with all confirmed employers and roles.
FAQs
Will every employer that has confirmed, be at the job fair?
Although employers confirm and fully intend to participate, sometimes on rare occasions a representative is unavailable to attend on event day. We will do our best to continue to update the employer list leading up to the event and will connect you with an employer if they have to drop out at the last minute. Please connect back to your coach/job developer to learn more about the specific roles each employer is hiring for leading up to the event.