"Round 1" the opening event of a series tournament showcasing top amateur boxing talent local to the Gulf Coast region and across the nation
About this event
HOUSTON, LET'S GET READY TO RUMBLE!
Rumble on the Rooftop Round One! Saturday June 26th Community Athletic Partnership will bring you a night full of action packed amateur boxing. Doors swing wide open at Greenspoint Mall at 4pm the action starts at 5pm!
CAP has brought in top local talent as well as boxers from across the nation! Come see who is up next! We have sent our invites out, there are exciting match ups on the card. Keep your eyes wide open there will be special guests in the building. Rumble on the Rooftop Round 1, the inaugural opening event of a 4 series tournament culminating with a rooftop rumble finale. Who will take the tournament?
Please join us for a spectacular night of amateur boxing and FUNdraising for the CAP organizatin. Proceeds benefit the CAP organization
CAP- Community Athletic Partnership is a 501c3 non-profit organization with the mission to deeply impact the lives of amateur boxers who wish to train and compete in the sport of boxing by providing support in the form of scholarships to cover the cost of training, competing, and equipment donation. CAP firmly believes "Boxing Changes Lives." Through CAP training, and the expantion of high school/ college programs our goal is to develop the skills amateur boxers will need inside and out of the ring. Skills such as leadership, determination, and perseverance they are able to carry throughout their lives. Proceeds from Rumble on the Rooftop "Round 1" and your generous donations will continue the CAP mission. Thank you!
USA Boxing is adhering to COVID 19 precautions. Masks are required for entry, all attendees are required to wear a mask during the event.
Event sponsorship opportunities are available. Please email capboxingtx@gmail.com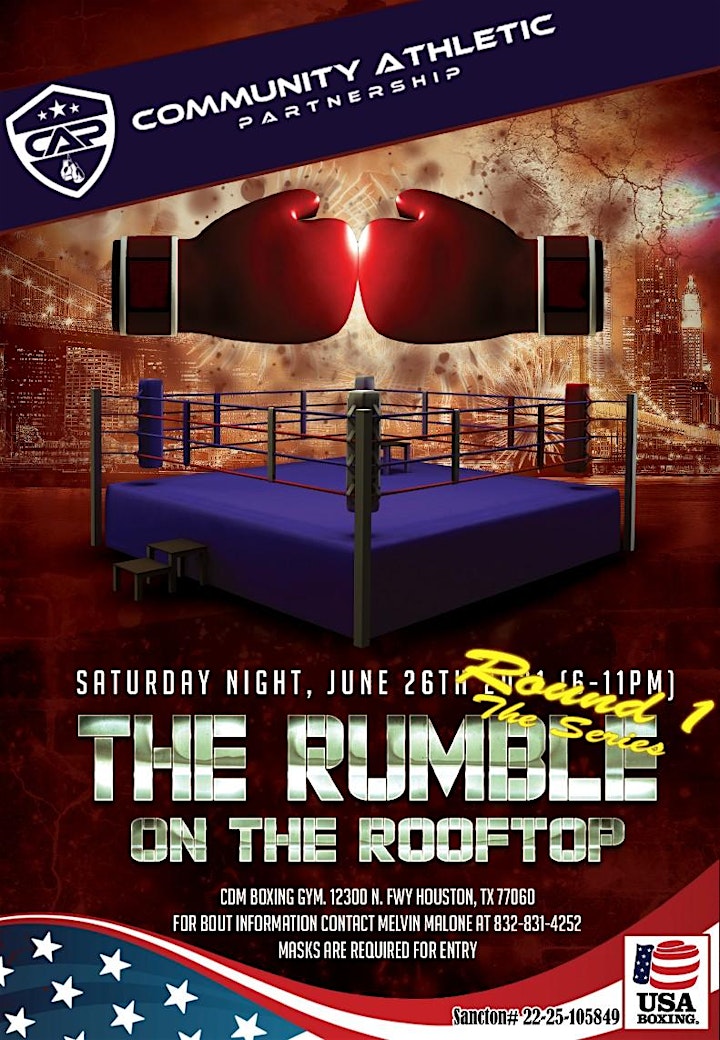 Organizer of Rumble on the Rooftop Round1 "The Series"