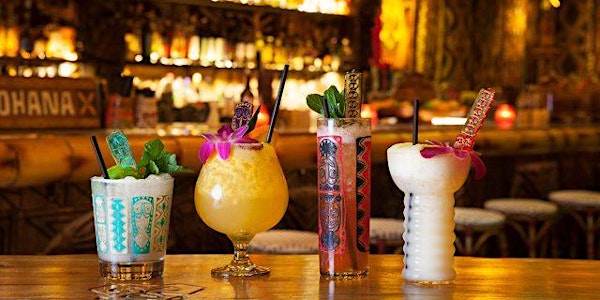 Rum Academy - In Person TiKi Seminar
NY's Top Rum Education Class is back for this exclusive tiki work shop!
When and where
Location
Ode to Babel 772 Dean St Brooklyn, NY 11238
Refund Policy
Contact the organizer to request a refund.
About this event
This Class is currently being rescheduled! Please stand by for new date!
New York Cocktail Expo - Bar Education
Presents...
RUM ACADEMY Class 1 & 2: In Person TiKi Work Shop
Application of Rum for the Modern Inspired Bartender
Preface:
"This is an Immersive class for serious bar Industry professionals, who wish to increase & empower their knowledge of Rum for application in cocktails and leveling up their beverage program. This is no fluffy seminar...this is real education!"
-Matt Kourie, Founder - New York Cocktail Expo
Instructor Shannon Mustipher is the Best Selling Author of "TIKI Modern Tropical Cocktails", a seasoned spirits educator and has been featured in IMBIBE Magazine, Liquor.com & Punch Magazine. Her passion & knowledge of Rum is Industry acclaimed and as an instructor, she delivers the spirit of this exciting category with clarity, grace and expertise.
Students Will Enjoy Learning and Putting Knowledge to Use From this Highly Anticipated & Engaging Class!
CURRICULUM HIGHLIGHTS:
Learn about Rum & Rhum, History and Classification in a focused environment
Taste a variety of Rum styles
Make a TIKI Cocktail
Be Tested and Graded on your Knowledge
WHAT TO EXPECT:
RUM ACADEMY CLASS 1:
History and Classification: "Know Thy Rums" Featuring Mezan Rum.
Time: 12pm -1:30pm
Rum is a sprawling category, defying simple categorization - "white, "gold" and "dark" can mean dozens of flavor profiles from bottle to bottle, making it essential to "know thy rums."
What you will learn and do:
Students will taste through a selection of rums from around the world, discuss their production methodology, and the best way to apply them in Tiki and tropical cocktails.
Students will walk away armed with a solid understanding of the category and a base of knowledge from which to continue an intelligent exploration and study of the world of rum.
Class Inspirations:
As Don the Beachcomber famously quipped, "What one rum can do, three can do better." He created a style of cocktail that had never been seen - or imagined - in his "Rhum Rhapsodies" which combined multiple spirits to capture the best of what each had to offer, laying the foundation for layered, complex and richly flavored cocktails.
Testing / Class Project / Recess:
1:30pm-2pm
Rum 101 Quiz - Asses what you have learned and receive Rum Academy Level One Certification
Activity - Create your own custom Daiquiri and Tiki Punch blend
RUM ACADEMY CLASS 2: Featuring STROH Rum
Styling and Profilin': Advanced Flavor Mapping and Presentation Techniques
Class Time: 2pm-3:30pm
What you will learn and do:
How to taste spirits and ingredients and evaluate the role they can play in balancing 4 main elements of a cocktail: Sweet, Sour, Body/Texture, Aroma.
How to use classic templates as a point of departure for creating originals.
Best practices for incorporating non traditional ingredients and techniques into cocktails
Traditional and contemporary garnish technique
Specialty ice for TIKI
Hands on TIKI Garnish tutorial
CLASS PROJECT: Create your own custom Tiki rum/spirit blend/infusion
What you will receive:
Link to online PDF/recap of information covered in class
Class Description:
From Donn the Beachcomber's "Rhum Rhapsodies" - cocktails that blended multiple spirits and components in a way that had never been attempted up until that point, to the way bartenders of today are incorporating newly available ingredients such as agave, yuzu, and fat washing into drinks. The realm of Tiki cocktails proves time and time again to be a hotbed of cocktail innovation, inspiring bartenders to experiment with a spectrum of flavors and applications that seldom appear on other styles of cocktail.
In the realm of presentation, Tiki cocktails have led the way in attention to detail in terms of elaborate vessels, garnishes, and the use of smoke, fire, and the like. The adage "The feast starts with the eyes" speaks to the role
the appearance of a cocktail plays in creating anticipation and impact in a cocktail. In this class we will cover specialty ice for Tiki, garnish cuts, and more.
Networking & Tropical Cocktail Happy Hour: with STROH RUM / Mezan Rum at Ode To Babel! 3:30pm - 5pm (Food Available for Purchase at Venue)
Enroll Today, there are less than 30 seats for an intimate classroom experience! This class always fills up quick! Thank you!
Follow us on Instagram!
www.nycocktailexpo.com