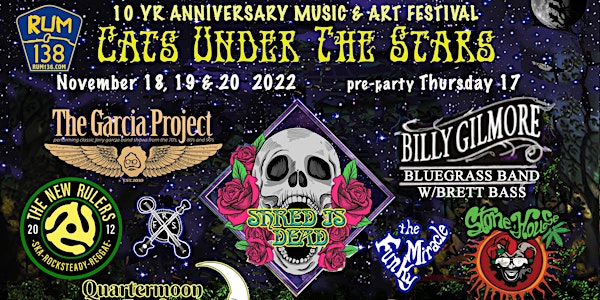 Rum 138 - 10th Anniversary "Cats Under The Stars" 3 Day Music Festival
Rum 138 celebrates its10 yr Anniversary 3-day Music Festival with The Garcia Project, Shred is Dead, Billy Gilmore Bluegrass Band and more
When and where
Location
Rum 138 2070 Southwest County Road 138 Fort White, FL 32038
About this event
Pre-Party November 17th with "In The Moment" and "The Glass Camels"
"Cats Under the Stars" Rum 138 - 10 year anniversary November 18, 19 & 20
The Garcia Project, Marcus Rezak "Shred is Dead" Billy Gilmore Bluegrass Band featuring Brett Bass, StoneHouse, The New Rulers, Free Range Strange, QuarterMoon, Ambient Benevolent, Kittens in Spacesuits, The Funky Miracle, Vowls, plus Yoga by Erica
The Garcia Project's performances are based on actual set lists performed by The Jerry Garcia Band. All of their shows are classic recreations of a Jerry Garcia Band set list from 1976 to 1995. For anyone that never had a chance to experience the Jerry Garcia Band or for fans that want to relive a classic show, The Garcia Project delivers.
Marcus Rezak "Shred is Dead" Led by guitarist Marcus Rezak with an all-star group of musicians from across the universe, Shred Is Dead deliver progressive instrumental and vocal performances of The Grateful Dead & Jerry Garcia Band, harvesting a pure blend of inspirational jams and fierce rock n roll. "I like to take the Grateful Dead and make it a little more high-octane, a little faster and a little more energized." -- Marcus Rezak
Billy Gilmore Bluegrass Band with Brett Bass,. Progressive bluegrass multi-instrumentalist Billy Gilmore started playing music with the five-string banjo when he was seven years old, moving on to learn the guitar, mandolin, Dobro, fiddle, bass, and keyboards, and is known to do a good bit of percussion, too. Gilmore has performed, toured, recorded, and contributed to an impressive number of groups, including Brittany Reilly & the Almost Acoustic Band, Crazy Fingers, the Grass Is Dead, the Bluegrass Travelers, Quartermoon, Aquaphonics, Stonehouse, and the Hickory Project. Joining Billy on stage is Brett Bass, the founder and front man of Grandpa's Cough Medicine. Throughout his career, he has taken first prize at the 2015 RockyGrass flat-picking guitar contest and shared the stage with the likes of Jim Lauderdale, Steep Canyon Rangers, Yonder String Mountain Band, and Larry Keel. Bass brings his own style to a family-friendly, high-energy bluegrass sound.
· Picking Tent
· Live Silent Disco
· Food and Craft Vendors
· Daily Canoe and Kayak Trips (reservations at Rum138.com)
The Camping Area is for enjoyment and you're welcome to bring your own food and drink, including alcohol
Ticket prices include primitive tent camping. Vehicle camping passes must be purchased in addition to admission passes. Weekend Van/Car camping passes are $40 (Vehicles 20 feet and under). Weekend Camper passes are $80 (Vehicles 21 feet and over). Weekend parking passes (outside of campground) are $15. Vehicles in the camping area will not be permitted to leave the campsites until Sunday; there will be no driving in the camping area and no leaving the camping area, as the gates will be closed for the duration of the festival. The gates will be reopened on Sunday morning at 8 am. If you need to drive during the weekend, we recommend "regular" $15 parking instead of camping parking. Carpooling, whenever possible, is recommended.